Pacific Crest Trail... photos and journal
Summer of 2001... The Desert continued...

(Page 7 of 10 pages)
| | |
| --- | --- |
| | Just before reaching the road to Wrightwood we crossed Nona from Vancouver, B.C. who was hiking south. She was also at the Kick-off at Lake Morena in late April so it was nice to see her again. |

From my journal(May 15, Day-20)..."It was a cold and windy night but I set my tarp very low so I was okay. Hiking north we soon ran into Nona, a hiker from Vancouver walking southbound that had also been at the Kick-off at Lake Morena. We enjoyed sharing our trail stories for a while then Larry and I hiked on to Highway 2 where we caught a ride into Wrightwood with a trail maintainer who had just cleared away some trees. He dropped us off directly out front of the only restaurant in town where we had a great breakfast, then wandered on down to the post office and grocery store to take care of obvious details. I debated for a long while on whether to layover in town for a night or push on. One kind gentleman had offered us a ride to his ski resort for the night if we would meet him at the grocery store at 6:00 p.m. so the decision to return to the trail was tough!
At noon another fellow gave Larry, "Daybreak", and myself a ride back to the trailhead and we were hiking north again before mid afternoon. I climbed Mt. Baden powell with full zeal finally losing the trail in a thick snow cover somewhere above 7,000 feet which was the highest mountain so far before reaching the Sierra's at 9,000 feet. At the top of the mountain I run into Galen, Willow, and Big John who I joined for a late evening walk along the ridge. At times we just plowed through the snow while at other times we dropped to the south of the ridge to bushwhack our way to avoid the snow. Just at dark we all shared a campsite directly on the ridge where we were blessed with a magnificent orange sunset to remember! "

Town of Wrightwood
| | |
| --- | --- |
| (L to R) it's Galen, Big John "Sasafrass" and Larry "G.T." at the post office in Wrightwood. | |
| | |
| --- | --- |
| | Me at a mileage sign after getting out of Wrightwood. |

From my journal(May 16, Day-21)..."It was a cold windy night and Baden Powell had taken a lot out of me, but I was still up and going at daybreak. Coming off the ridge was a long and hard hike where I continued to make my way over a lot of snow that made the exact location of the trail confusing to say the least! I take a detour off trail to a fresh water spring where I find Anna and the 3 Amigo's filling their water bottles and begining to eat breakfast. They had been camped just a short distance up the trail from us last night. I also filled up a water bag then joined the group sitting on the trail in line with everyone else along the steep mountainside bank for some breakfast cereal. Just as I begin to unload my backpack I yell out a loud shrill of surprise and terror as the fresh orange that I'd packed in all the way from Wrightwood got away from me and began a long roll and bouncing down the steep mountainside until it was out of sight. During the commotion my cooking pot also got away and rolled down the bank just behind the orange but fortunately a fallen log brought it to a stop only 30 yards away. Luckily Willow was coming down the trail toward the spring and was able to see the approximate resting spot of my beloved orange! After a long climb I had recovered my orange and pot then finally joined my laughing hiker's in breakfast. Wow, what a morning!
The trail soon crossed Highway 2 again then took me in and out of some neat canyons for most of the day while making repeated crossings of the highway. At Camp Glenwood I stop shortly to fill my water bag at the faucet and talked briefly with Willow, her sister and mother. The trail from here was a good one so I moved on with a vigorous momentum in the cool afternoon temperature, until about a mile past the highway I stop just at dark to make camp on a small knoll near the trail. "

| | |
| --- | --- |
| "Daybreak" and "G.T." under the massive shaddow of Mount Baden-Powell just ahead. | |

From my journal(May 17, Day-22)..."On the trail at 6:00 am I immediately run into Sage and Tish of the 3 Amigo's hiking south with no packs. Late yesterday Tish had discovered that he'd left his fanny pack back at Camp Glenwood so they were backtracking to retrieve it. The trail was once again a hot and hard day with a lot of ups and downs and I made it all the way to the North Shore Ranger Station just at dark and camped under the stars near the huge powerlines there. "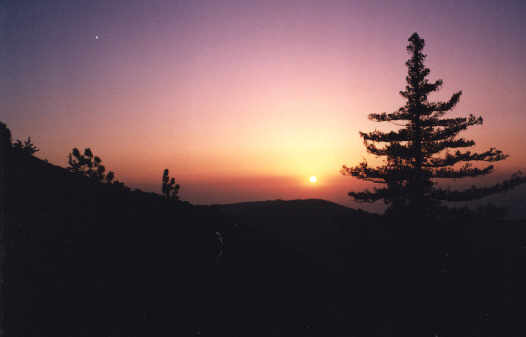 A typical southern California sunset from our campsite on the ridge just past Baden-Powell.

The Saufley's "Hiker's Heaven" at Agua Dulce

For most hiker's one of the most anticipated stop overs is Donna and Jeff Saufley's Hiker's Heaven at Agua Dulce. This has got to be one of the very top rated rest spots along the trail and greatly needed after coming so many miles through the desert. Donna and Jeff have a complete understanding of the thru-hiker scene so they'll probably identify what you need at the moment better than you can. I could go into great detail about what to expect here, but that might spoil the grandest surprise if you plan to visit the Saufley's during a future hike. They were certainly some of the most wholesome and helpful folks that I encountered along the way and went out of their way to help everyone unconditionally!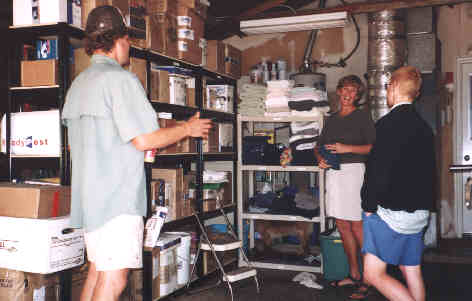 Donna greets Galen and "Copper Top to her home inside the garage which serves mainly for a lot of dirty laundry and storage for hiker maildrop boxes.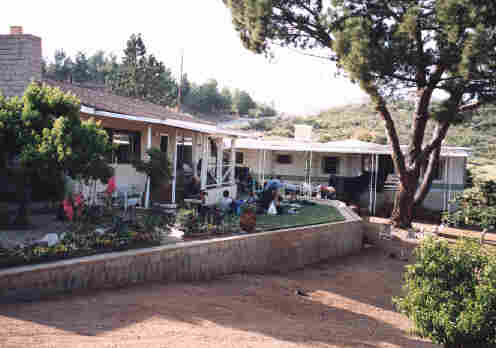 A very relaxing oriented backyard which is actually very spacious with a small grape orchard and fruit trees, although most of it can't be seen from this view.

From my journal(May 18, Day-23)..."It is another very hot morning and I try to utilize the advantages of the low morning sun, but the shade don't last and I'm soon hiking in the full hot sun down the canyon then through a long dark tunnel under Interstate 15. The trail then follows a nice path through a beautiful narrow canyon and creek where posted signs warned about the presence of mountain cougars. It warned me not to crouch down in the grass and to stay tall and to appear big, but I probably broke the rule when my stomach began to growl and I stopped for lunch. Continuing through the desert trail I eventually come out on the road at Agua Dulce where at the store on the corner I go inside to purchase a Big Slurp cola drink on ice...ahhhhhhh!!!
On my way out a car with three hiker-looking folks immediately identify me as a hiker and stop to offer me a ride to Donna and Jeff Saufley's home who have been hosting hiker's for several years. Upon arriving I'm given a very warm welcome by Donna as she places a clean towel, shorts, and even a pair of sandals so that I can first enjoy a nice warm shower. Seemed like the best way to begin my layover at Hiker Heaven so I headed in that direction when I then ran into Larry (G.T.) who had arrived a few hours before me.
Later that evening Donna had to make a run into LA to pick up her son from school and thus takes a car load of us hiker-folks along with her for a stop at the grocery and sports store also. She also purchased a couple of large tents for the overflow of hiker's to stay in and several of us helped to set them up. Later tonight the Saufley's invited everyone into their home as Donna and Jeff told the story of how all of this got started and Donna insisted that I give my cup demonstration that I had presented at the Kick-Off so I had a lot of fun giving my little talk and demonstration once again for a very wonderful evening with a lot of good friends! Tonight I found a nice spot to sleep in the very spacious backyard under a pecan tree with a nice view of the bright desert stars. I was content, happy, and ready for some rest. "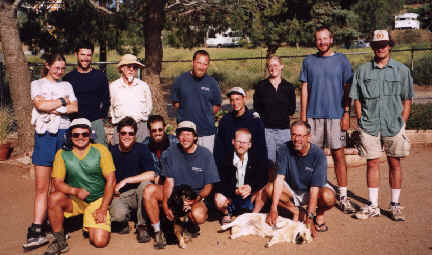 Donna said that we were the front wave of thru-hiker's and that this was the largest overnight group of the season so far this year.
| | |
| --- | --- |
| | Yes, I managed to get a little bit lazy as me and one of the family dogs nap on the hammock. |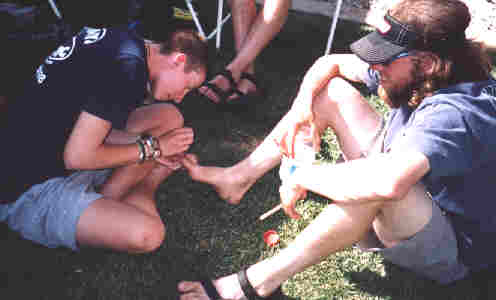 "G.I." Jane is painting a hiker's toenails hot pink in celebration of the first 500 miles. She seemed to be catching most everybody and finally pinned me down for a toe painting. After I explained that I was from the south where gosh, a fellow can still be hung for doing such a thing, we finally made a compromise and I let her paint just my big toes! When I reach my first 1,00 miles I fear that she'll pop out from behind a tree and get me again!

Join me on the next page where I continue my very relaxing visit with the Saufley's at "Hiker's Heaven".