Pacific Crest Trail... photos and journal
Summer of 2001... The Desert continued...

(Page 6 of 10 pages)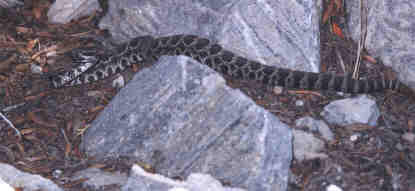 We were surprised to find rattlesnakes in the higher altitudes after leaving Big Bear City, but there it was!

From my journal(May 12, Day-17)..."Up and going at daybreak I stop shortly at Bear Spring to tank up on water then after a few hours I found myself hiking down a spectacular canyon to the Hot Springs where I found Larry who had been soaking his feet in the 120 degree (F) spring water. Amid the skinny dipping people we finally opted for more miles and hiked to the base of the dam where we had to crash thru some thick creek bed growth then ford across the stream where we set up camp just at dark. "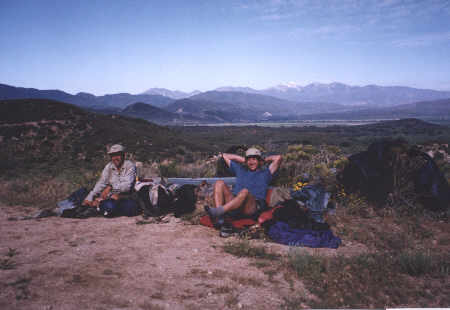 We camped at the base of the West Fork Mojave river last night and had to spread out all our gear to dry in the morning sun.

From my journal(May 13, Day-18)..."Yesterday we had hiked in the first rain of the hike so all of our gear was soaked. In an open spot I caught up with Larry and we stopped for an hour to dry out in the sun. It was a long hard and hot hike around the lake then finally making camp about four miles before Interstate 15 at Cajon Pass near the buzz and crackling of a huge powerline"

Cajon Pass at Interstate 15
and the begining of the San Gabriel mountains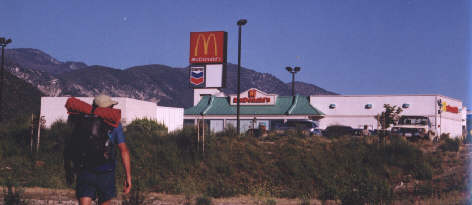 Less than half a mile from the PCT crossing of I-15 at Cajon Pass was a pleasant morning stop. I don't normally eat at Micky D's (nor have I ever before spent more than $15.00 at such a place) but I swear that that final milk shake pushed me all the way to Guffy Campround!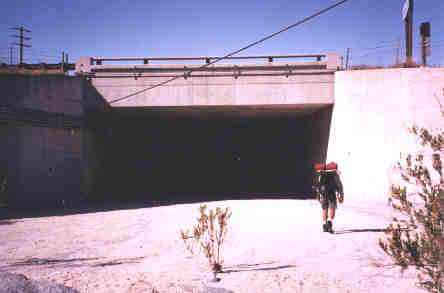 The PCT goes under Interstate 15 at Cajon Pass.
| | |
| --- | --- |
| ...Then passes under the busy railroad tracks. | |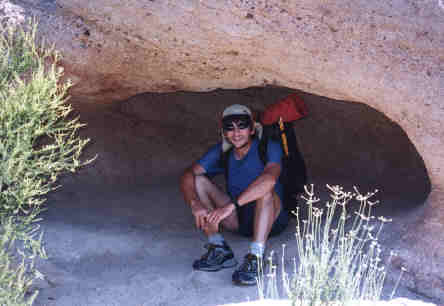 Just as we began climbing out of Cajon Pass and into the San Gabriel mountains, we found this great shaded cave out of the parching sun.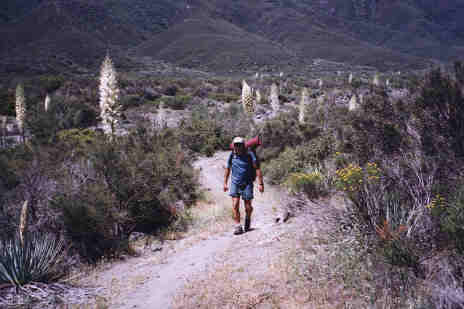 More hot, yet beautiful desert floor.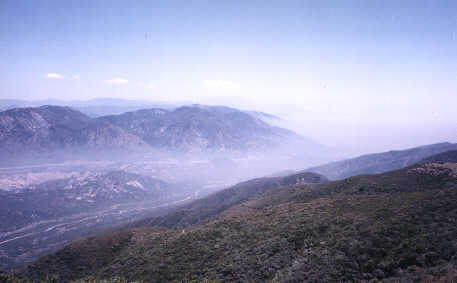 The Los Angeles smog stood out loud and clear along Cajon Pass as we climbed higher.

From my journal(May 14, Day-19)..."Coyotes came in very close last night yelping out loudly like we were about to be attacked by Indians! Looking back I should have been more concerned but ended up basically just ignoring the wild animals near us, but Larry told me that he had lifted up with concern several times during the night as the coyotes came fairly close to our campsite.
At Cajun Pass we sat and ate at the McDonald's for almost two hours ending with a vanilla milkshake that was the perfect finale. I really had the momentum today and hiked hard and fast all the way to Guffy Campground arriving just at dark.At the campground we had caught up to Tish of the "3 Amigo's" who was reading a book beside a nicely set tarp. He said that Anna and the other two Amigo's had detoured into Wrightwood for their resupply boxes and would be back later. I had to set my tarp up very low tonight since there was a very strong and cold wind blowing us silly. It was such a snug and secure feeling being bundled up under my tarp tonight, after such a hard days hike up from Cajun Pass and as the cold wind blew around me. A hot meal and warm thoughts made sleep come quick and content. This has been a great day"

| | |
| --- | --- |
| | Before the day ended at Guffy Campground we had once again climbed from the desert floor up into the snow again. |

Join me on the next page as I visit Wrightwood, climb a very snowy Mount Baden-Powell, and spend a couple of grand days with the Saufley's in Agua Dulce.