Pacific Crest Trail... photos and journal
Summer of 2001... The Desert continued...

(Page 8 of 10 pages)

The Saufley's "Hiker's Heaven" continued...
| | |
| --- | --- |
| Donna caught this harmless (to her!) garden snake that a few of us rough and tough hiker's managed to touch before she let it loose again. | |
| | |
| --- | --- |
| | Is this a memorable scene to behold or what?!? It's Larry "G.T." giving his sore feet a good soaking. |

From my journal(May 19, Day 24)..."As planned, this would be a "working" layover day since I had to buy enough groceries for three food drops to be mailed ahead of myself. Once again we went into LA for groceries and various gear then back to Donna and Jeff's by mid afternoon. I finally get done making my packages and I pay Donna the postage so now I can really begin to relax... reading, sending e-mails, making phone calls, napping with a dog in the hammock, eating, and just enjoying the company of other hiker's. For supper Jeff takes us back into LA to an all-you-can-eat salad and supper bar where we dispose of massive amounts of food at what must have looked similar to the Last Supper table. "
| | |
| --- | --- |
| We went into L.A. to replace blown gear and to replenish groceries for the trail. (L to R) Galen, "Copper Top", Tish of the 3 Amigos, and Larry "G.T.". | |
| | |
| --- | --- |
| | Donna and Jeff invited us into their home one night as they told us the story of how their hostel all began. It's a story that must be heard first hand to truely appreciate but hopefully they will have it recorded on tape in the future. |
Everyone had a great time sharing stories and not having to wonder where the next water source would be.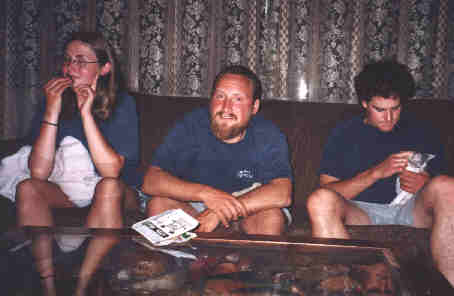 Anna, Bohdie, and Galen.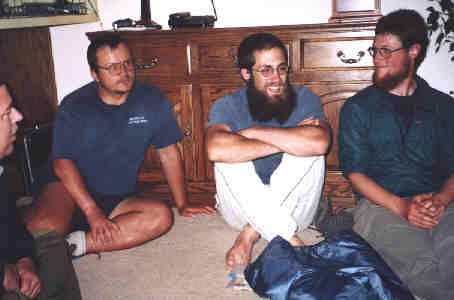 Walking Stick and two of the 3 Amigos.
| | |
| --- | --- |
| That's "Billygoat" just before leaving Agua Dulce. He was recovering from an unfortunate injury so he was "singing" glad to be getting back on the trail. | |

Join me on the next page as I meet the PCT famous Jack Fair then cross the Mojave Desert.