Pacific Crest Trail... photos and journal
Summer of 2001...Oregon...
(Page 4 of 4 pages)

Finally in sight and reach of Mt. Hood.

From my journal (July 24 Day-90)..."A bit slow getting up I was hiking at 6:30 am and just 200 yards out I came to a gentleman sitting on a log cutting out the hells of his boots. "Good morning", I said as he looked up with a greeting of his own. We had a short but nice conversation and he was hiking Oregon from Ashland to Cascade Locks, but was having a severe heel blister problem. He later caught up to me on the trail and we hiked together to Warm Springs Rive in the Indian reservation. At this point I realized that at 10:00 am I'd already done 12 miles which was more than usual at this point in the morning so I thought that this might finally be the day to go for a 40 miler... just once to say that I'd done it and to see if I could do it... sort of like stretching the envelope on my ability. Hiking day in and out can so easily become a rut, like just going in circles in a stock car race and I am always looking for ways to seize the day and to sponge up all that it has to offer and this was just one more opportunity to enlighten my day... I was going for it!
Fortunately for my challenge the trail remained most favorable toward success with mostly gentle ups and downs, a soft pine straw type trail tread, and a lot of cool shady forest... all the conditions for success just seemed to fall in place coupled with my very optimistic attitude to make it happen, so I hiked on in a flash and at peace, finally stopping at 41.4 miles, just past Barlow Pass at the foot of Mt. Hood. What a day to remember! I set my goals high and it was sweet success... just once I'd wanted to do this and somehow I knew that this was the day early on so I just seized upon it! A great day it was!"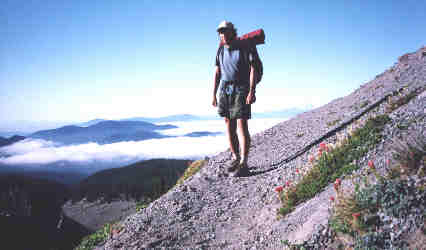 Early morning fog in the valley below just before Timberline Lodge at the base of Mt. Hood.
| | |
| --- | --- |
| | This is Timberline Lodge located at Mt. Hood on the PCT and is a very well know ski resort. |

From my journal (July 25 Day-91)..."This morning was quite warm with a lot of fog and dew in the valley, but I would soon rise up above it shortly as I climbed a short distance up to the base of Mt. Hood and to Timberline Lodge where I stopped briefly but was quickly back moving on the trail. Somewhere along the way a husky looking dog begins following me and stayed with me for over 20 miles to Lolo Pass. Ramona Falls was a highlight and like something found in a tropical rain forest. Finally I made it all the way to a junction with the Eagle Creek Trail at Wahtum Lake where I camp at an obviously established campsite and the places that I normally try to avoid. But good flat spots were in very short supply so here I stopped. Early in the night I caught a mouse gnawing on the outside netting of my backpack so I had to get up, stumble around in the dark and hang it from a tree! "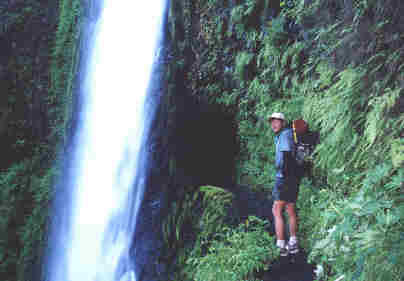 This is the magnificent Tunnel Falls located on the Eagle Creek alternate route just before Cascade Locks.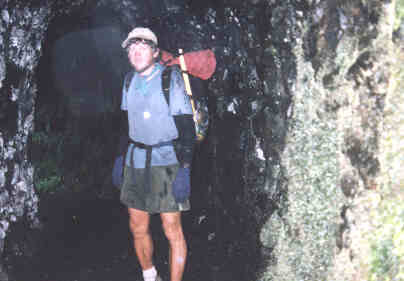 Walking through the cave trail behind the waterfall.

From my journal (July 26 Day-92)..."This morning I was really anxious to get going since I was close to my next trail town- Cascade Locks, the Columbia river, completing Oregon, and I was taking the Eagle Creek alternate route for the last 16 miles into town, an alternate route talked about more by hiker's during the last 2,100 miles than any other trail deviation. It was truely a fantastic walk down this tall, narrow canyon/gorge to the Columbia River which was pulsating with so many water falls and clear, deep pools of clear water with a trail in many places blown right into the rock cliffs with drop offs exceeding several hundred feet. The highlight was most assuredly Tunnel Falls with it's 150 foot waterfall where the trail followed a tunnel behind the falls. Finally into town just after noon I check into Bridge of the Gods Motel and prepare my remaining four food drops for Washington and finish before 5:00 pm. Eric, Ira, and Ethan also arrive in town this afternoon. "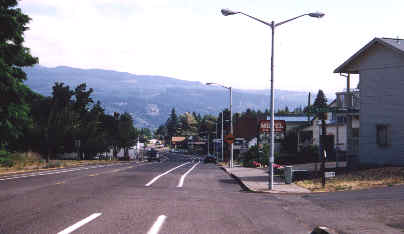 Looking down the main street at Cascade Locks where I prepared all my food drops for Washington.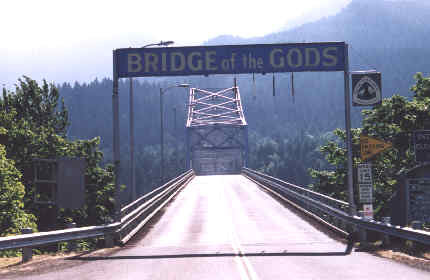 The Bridge of the Gods over the Columbia River gorge took me from Oregon into Washington.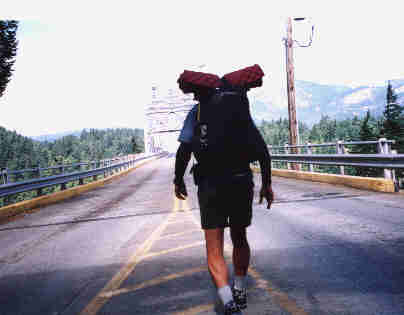 The wind was blowing hard on the bridge but spirits were high as I entered my third state.

From my journal (July 27 Day-93)..."I took the liberty of a leisurely morning in the motel room brewing a cup of coffee then getting my journal up to date. About 9:00 am I went back to the grocery store for a final pint of ice cream, then finished up various chores at the room and got my backpack ready. At 10:00 am I'm walking out of town and up to the Bridge of the Gods which is the toll bridge spanning the wide and historic Columbia river. The lady in the toll booth was excessively friendly and said that hiker's were free of all tolls so I proceeded to walk on across the bridge toward Washington in the cold strong wind. There was no walkway for pedestrians so I had to fend for my own along the narrow passage along with moderate traffic. On the other side of the river I suddenly realized that this was the final state... the end was now in sight after overcoming more than three months of trail life. This really motivated me to hike on in very high spirits knowing that another dream was nearing reality!
Along the trail I picked some really nice juicy blackberries and also passed through a logging operation, as I continued to grasp hold of the reality of being in Washington. After 11 miles of hiking I get a great view of the Columbia river far below as it meandered through the base of surrounding mountains. I stood still at several overlooks trying to imagine the Lewis and Clark expedition of the early 1800's. This is exactly where they were. Also, somewhere just after crossing the bridge was the lowest point on the entire PCT at just 140 feet above sealevel.
Since reaching northern Oregon and now Washington I've noticed a distinct change in vegetation with a thicker more lush growth of bunch berries, ferns, and moss growing on most everything. Some of the low valleys were like the Garden of Eden. Finally I find a slow water seepage and in 10 minutes get a liter of fine cool water, then set up my tarp on a nice wooded ridge. "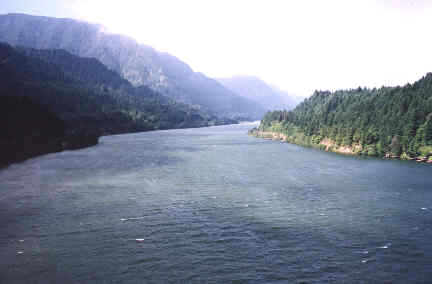 Note the whitecaps on the Columbia river below as the wind howled against the bridge. When I crossed the river I paused for a moment and saw the historic Lewis and Clark expedition rounding the corner.
An historic sternwheeler churns it's way down the river.

Join me on the next page as I move into Washington and the Mount Adams area.