Pacific Crest Trail... photos and journal
Summer of 2001...Washington...
(Page 1 of 6 pages)

Into southern Washington!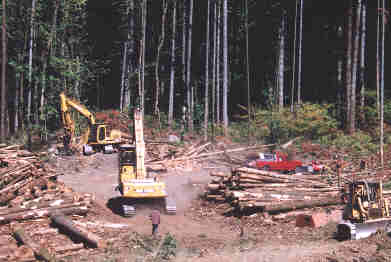 On the first day into Washington I passed by this logging operation along the trail. Yes, I wish that we lived in a world where an ever growing human population didn't require so much timber for homes, but we do... and I greatly respect the difficult job of the forest managers who must attempt to find an acceptable balance between natural forest resources and outdoor recreation.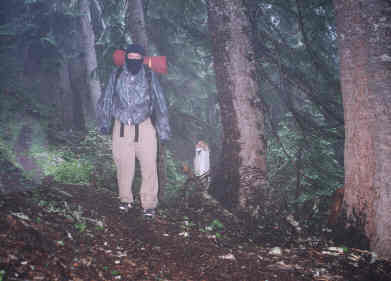 This was another one of those cold and wet days, but I usually had my highest mileage days with this kind of weather.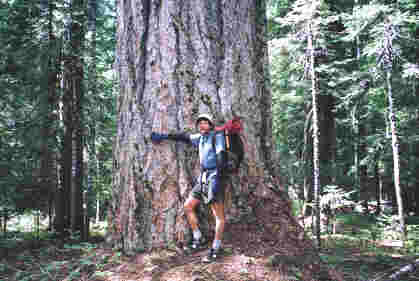 One of those huge Washington hemlocks!

From my journal (July 28, Day-94)..."Sometime during the night a star full sky began to rain all night long... such a secure feeling to be in a warm, dry shelter although visions of wet pruned feet filled my mind. It was a slow wake up as my backpack had to be waterproofed, eventhough the rain had stopped for now. Just yesterday I'd heard on my radio about a cold front coming and a snow warning for hiker's in the North Cascade's at 7,000 feet and above to "be prepared". Here it is almost August which shows that it can happen anytime. However, for me in southern Washington it would just be a cold rainy day.
During the morning I crossed a lot of low and semi-populated valley land in the areas of Wind river and Panther creek. From there I had to climb back up on the ridge so I just bowed my head and went into the climbing mode. On one ridge there was a good view of Mt. Saint Helen and Mt. Adam's, but it was much too foggy to see. It rained for about an hour today but my feet stayed soaked despite a few teasing rays of sun. This afternoon I passed through some nice lake country with lakes scattered about all along the way. Deer are so common here that I almost ignore them now! "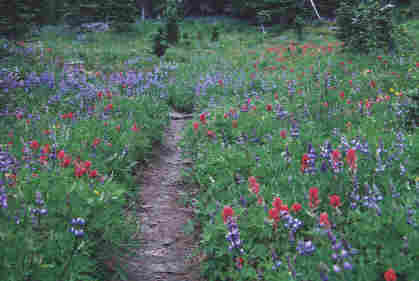 Beautiful flower's in their prime beauty around the Mt. Adam's area.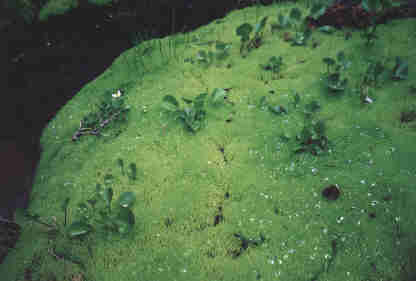 Some very delicate and fragile moss and vegetation near a spring.

From my journal (July 29, Day-95)..."There was some drizzle during the night but it had stopped by daybreak. It was also quite cold at 39 (F) and I was glad that I had put my thermax ski mask back in my pack at Cascade Locks because I used it during the night and morning to my good advantage! The sky would be overcast all day today with a few sun teasings which made it a most perfect hiking day. For the most part it was a cold, quiet forest walk and I even spooked a huge elk. At the first paved road crossing I came upon Ira and Ethan who were resting at the creek, then a couple of hours later I caught up to Eric who walked with me for a few more hours. I admit that I was so pumped today and that I only stopped once for five minutes with Eric. I ate finger food all day and didn't cook a meal until days end at 9:00 pm. making it a record day at 43 miles! When I realized that it was going to be a good hiking day it was both fun and challenging to stretch the envelope just to see what the mind and body could actually accomplish. Finally coming through the Mt. Adam's Wilderness was an afternoon treat with so much flower color although the peak was mostly under clouds. Good night! "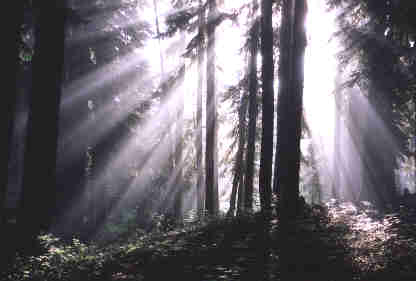 Early morning sunray's piercing through the fog and trees.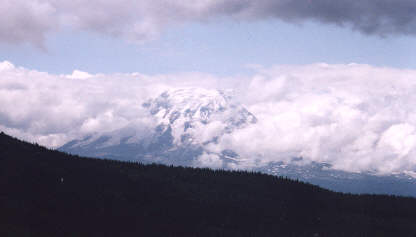 Looking back at Mt. Adam's under heavy clouds.
| | |
| --- | --- |
| | The trail toward Cispus Pass. |
| | |
| --- | --- |
| A 20 foot waterfall alongside the trail. | |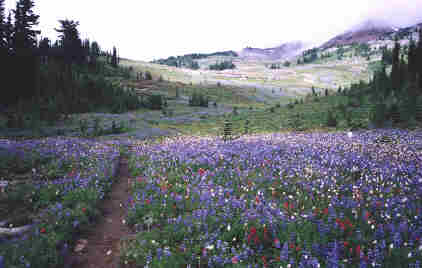 The tundra sure was beautiful as I hiked toward Packwood Glacier.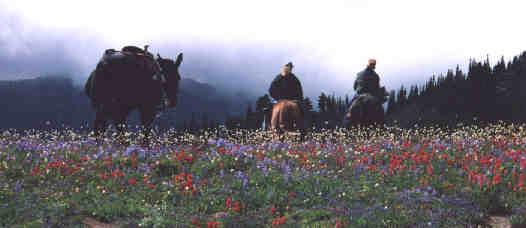 Some horses in the area.

Join me on the next page as I hike into the Mount Rainier area, White Pass, then on to Chinook Pass.