Summer of 2000
(Page 4 of 8 pages)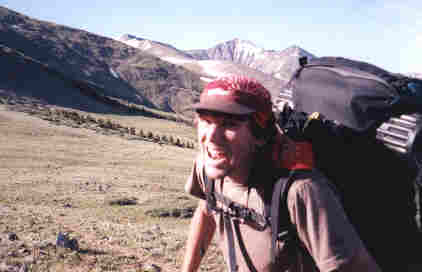 Early morning atop the Tenmile Range. There just can't be a more beautiful place on the planet! The trail was a lettle bit scattered on the ridge but the rock cairns kept me on track.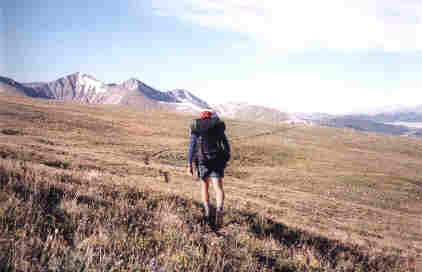 Hiking across the tundra of Tenmile Range toward the treeline.

From my journal (July 6th;Day-8)..."Coming down from the Tenmile Range this morning was a great experience, especially as I climbed up the remaining elevation on the east side where the early morning sun helped to keep me warm. Down in the meadows near treeline I watched about 12 elk grazing and then moving away from me. The mountains and the flowers were all so beautiful and overwhelming that my eyes suddenly swelled as I gazed out at the natural beauty around me and I was overcome by the presence of God. It was moments like this that I fully understood why I had chose to come here."

Copper Mountain Resort
| | |
| --- | --- |
| | This is the post office in Copper Mountain Resort which was quite upscale and flashy. Copper Mountain is the only community where the Colorado Trail actually goes directly through a town. I spent about an hour under a shade tree on the lush green lawn out front of the post office re-sorting and packing my maildrop. I then visited the community grocery store for things like cheese, bread, snacks, etc. The store owner gave me several free doughnuts which I gulped down with a quart of milk! |

| | |
| --- | --- |
| Just a couple of miles out of Copper Mountain the trail goes directly under the busy Interstate I-70 and begins a gradual ascent up the gorgeous Guller Creek valley to above treeline at Searle Pass. | |

| | |
| --- | --- |
| | There were several creek crossings along Guller Creek with some tipsy logs but I made it over them okay. It was a hot and sunny day hiking mostly in the open, so it was nice having the creek nearby all afternoon plus several small cold streams intersecting the trail. |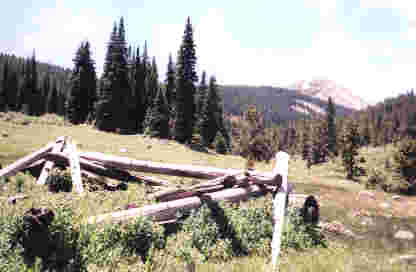 There were several remnants of old log cabins in the valley that all got a close inspection from me! I made my camp just above treeline at the head of Guller Creek and about two miles from Searle Pass.

Searle Pass to Camp Hale and West Tennessee Creek
Day Nine (Hiked 20.4 miles)
July 7, 2000
| | |
| --- | --- |
| That's Searle Pass directly behind this hiker who I met early in the morning. He had quite a fiesty pack dog which was anxious to move on just as fast as he could! | |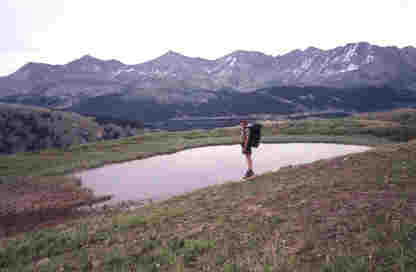 A couple of miles from the Pass I found a nice mountain top lake just off the trail. My forward progress through this early morning tundra was quite slow with so much to absorb and to see, but I had to keep moving if I didn't want to run out of food before my next maildrop!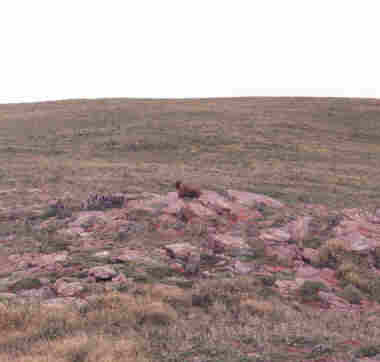 Somewhere along the tundra I met this fiesty groundhog which just couldn't stop whistling at me!

| | |
| --- | --- |
| | ... and I know exactly where he went when I got too close! |

From here I descended into the abandoned Camp Hale area which was built during WWII as a training base of the 10th Mountain Division. It was mostly a long hot walk, then up to Tennessee Pass where I met another Trail Crew. From here I hiked on to a wooded campsite near West Tennessee Creek.

Passing by Mount Elbert, highest peak in Colorado!
Day Ten (Hiked 18.2 miles)
July 8, 2000
| | |
| --- | --- |
| The Holy Cross Wilderness area came up first this morning. | |

| | |
| --- | --- |
| | While ascending out of the valley in Holy Cross, I suddenly saw this amazing spruce tree towering high above all. Look at the top section of the tree and see if you see a cross with perhaps Jesus nailed to it! Well, that's what I saw! |

Click on to page 5 as I hike on to Twin Lakes, Sargent's Mesa, Saguache Park, San Luis Pass, plus a side trip into the historic mining town of Creede!