Summer of 2000
(Page 3 of 8 pages)


Day Five
July 3, 2000
| | |
| --- | --- |
| | Walking through a very lush growth of aspens just before reaching a very busy highway (US-285) at Kenosha Pass. |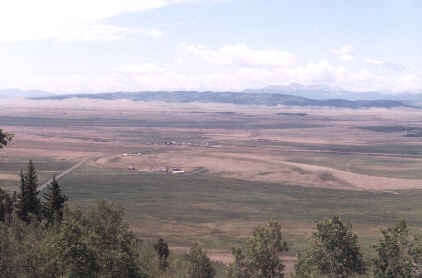 High up on the ridge the small town of Jefferson can be seen far below on the open plain where only a highway from nowhere and a highway to nowhere link it to the world.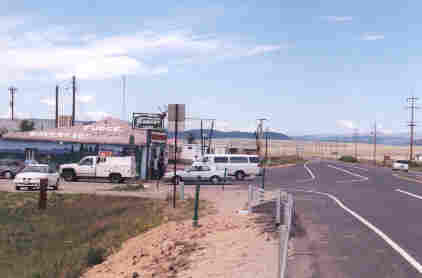 From Kenosha Pass I easily got a ride to Jefferson to pick up my second maildrop, about 4 miles from the trail. There was only one store with the post office inside but they had a small yet adequate selection of groceries. The open plain was very windy here and I had a time re-packing all my gear outside on a picnic table while a constant stream of passer-bys looked on as I gulped my quart of chocolate milk, two egg salad sandwiches, and apple pie. Gosh, I love trail towns... even the little ones!

From my journal (July 3rd;Day-5)..."Waking up this morning my feet were so swollen from adjusting to trail abuse. This evening before setting up campsite I stopped at Jefferson Creek and soaked them in the ice cold water as I cooked supper and this seemed to help a lot.
My 8 mile morning walk was most pleasant to Kenosha Pass because I was almost out of food. It was mostly open hiking so I was glad for an overcast sky, but no rain. The trail sharred a lot of open hilly range with scattered cattle that I kept spooking. It was so beautiful with distant scenic views all around of the Kenosha Mountains, Black Canyon, and even my second view of the Continental Divide!
At one spot I passed by a lone injured elk on the trail. There was no obvious wound but it would struggle with it's front legs to move and it appeared that it's rear legs just mostly drug behind. It finally got off the trail enough and I passed on by, feeling somewhat sorry for the animal but also realized that nature can be quite cruel at times."

Georgia Pass on the Fourth of July!
Day Six
July 4, 2000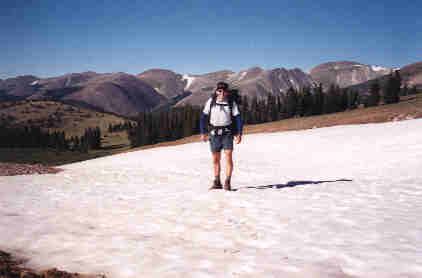 I'd spent the following night down in the valley near Jefferson Creek and was on the trail just at first light this morning, climbing steadily more than 1,800 feet to a snowy Georgia Pass. Georgia Pass is also the first crossing of the Continental Divide at 11,800 feet.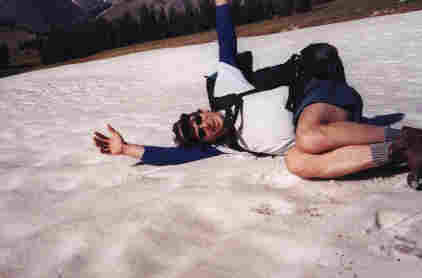 I was just a little excited to see my first snow of the hike and took a few minutes to enjoy the slushy mush leftover from winter.

From my journal (July 4th;Day-6)..."This has been a milestone day in that I have crossed the Continental Divide at Georgia Pass. I was hiking at 5:45 a.m. and the coldest morning so far. I didn't pack any water but found a couple of seasonal streams on the way up. At the top the tundra was refreshing to see and reminded me of Alaska, as I ascended from the black spruce treeline. I stopped for amoment to roll in a big patch of snow and all on the Fourth of July! I took a lot of photographs, stopped in the pass for a while to rest, snack, and to just gaze out at the distant mountains.
During early afternoon I was back down in the valley of the North Fork Swan River where I stopped for a two hour break. I was tired and my spirits were low so I spread out all of my gear, cooked a hot meal, then heated some water to was my hair and clean up. After all of this pampering I really felt great and had my second wind so I packed up all my gear and hiked up to the next ridge which was just above 11,000 feet and just across the valley from the Keystone Ski Resort. I enjoyed a very nice evening using my map and compass to locate Georgia Pass behind me and forward to Tenmile Pass."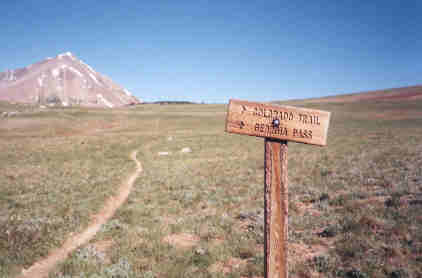 In the background is Mount Guyot (13,370 feet) which is a well known landmark and named for the Princeton geography professor, Arnold Guyot.

| | |
| --- | --- |
| A mighty Mount Guyot towers above the Continental Divide at Georgia Pass. Notice the little brilliant clump of sun flowers hugging the trail. | |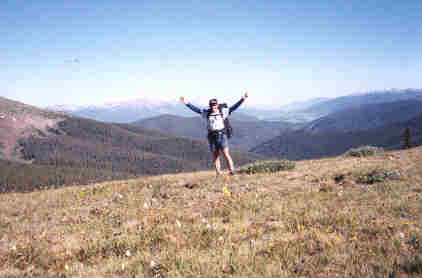 Victory on the Divide!

Keystone
Day Seven
July 5, 2000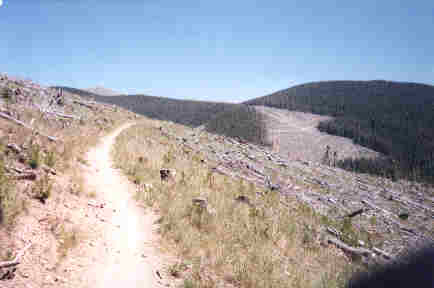 For an honest essay, I have also included this section of the trail that has been clear-cut, just past the North Fork Swan River. The National Forest Service is a land of many uses which include backpacking, canoeing, rock climbing, hunting, fishing, motorcycling, four wheeling, and even professionally managed timber cuttings.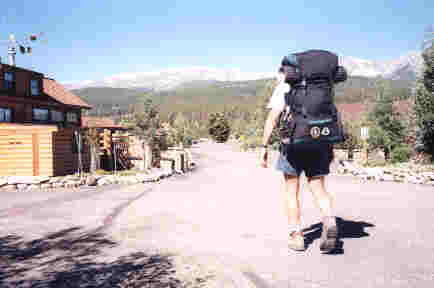 This was certainly a strange section of the trail at the Highway 9 crossing, where the trail dropped down out of the wilderness and went straight through the Tiger Run RV Resort. The Colorado Trail Foundation is working on a re-route but this is it for now, but it was nice to get a newspaper at the front office!

From my journal (July 5th;Day-7)..."Wow! What a day and I made it to the ridge that I'd laid bearing on last night with my compass and I'm camped in one of the last clumps of black spruce before the trail gives way to tundra. It is such a beautiful spot where I can see the lake reservoir in the valley far below and I'm at the very base of snow topped Tenmile Peak where it's glacial stream runs just 20 steps away."

The Tenmile Range
Day Eight
July 6, 2000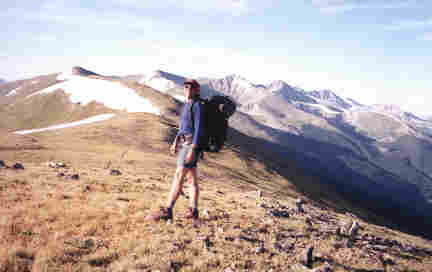 Early morning atop the Tenmile Range. I had just seen a herd of elk and my spirits were high since I was also descending into the Copper Mountain Resort to pick up my next maildrop!

| | |
| --- | --- |
| | Here's Copper Mountain Resort from high above the Tenmile Range. This is the only part of the trail that actually goes straight through a town. |

Join me as I continue across the Tenmile Range then on to the Holy Cross Wilderness!