Summer of 2000
(Page 5 of 8 pages)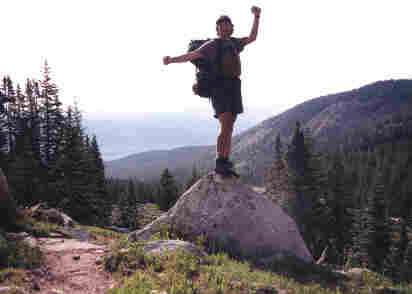 Up on a rock in the Holy Cross Wilderness Area.

Twin Lakes
Day Eleven (Hiked 11.8 miles)
July 9th, 2000
| | |
| --- | --- |
| | Descending down to Twin Lakes. Notice the narrow strip of land separating the two beautiful lakes. I was into the small community of Twin Lakes during late morning and got a nice room at the roadhouse there. I spent the afternoon packing my maildrop, eating good food, and making a few phone calls. |

Twin Lakes to Hope Pass
Day Twelve (Hiked 12.4 miles)
July 10th, 2000
From my journal (July 10th;Day-12)..."Tonight I camp in one of the most beautiful places so far... in a little clump of spruce at treeline in the tundra on the north side of Little Gulch Lake near the base of Hope Pass. It has been a very steady and hard climb to get here and I wondered at times if I would because I've been feeling weak and puny with several bouts of low energy. I had wanted to make it up and over Hope Pass today but just couldn't do it. I even had to pull over and take a 45 minute power nap along side the trail, but I did make it here!
"This area is most amazing and enclosed like an ampitheatre encircled by the peaks and ridges of Mt. Hope on the one side and Quail Mountain on the other. At the base of Mt. Hope is what appears to be half of a mountain of crumbled rock where at some past time in history the mountain just fell like an avalanche spilling into the head of the watershed. Mt. Hope is a very fragile looking mountain that I certainly wouldn't venture out to climb upon.
"After a most relazing afternoon and evening in Twin Lakes I'm now back on the trail and hope that I'll feel better in the morning. It was so great to be hiking through the sage meadows along the north shore of Twin Lakes in the early morning sun and it reminded me much of an old west desert. The south shore was in contrast with its moist north shore green forest of trees and streams. I stopped briefly at the old stage coach town of Interlaken and imagined a time long gone."

| | |
| --- | --- |
| The Colorado Trail and the Continental Divide Trail share the same path for about 127 miles. | |

From Hope Pass to the Collegiate Range at Pine Creek
Day Thirteen (Hiked 15.8 miles)
July 11th, 2000
From my journal (July 11th;Day-13)..."Considering my physical condition I was amazed to see that I'd come nearly 16 miles today. For most of the night I had tossed and tumbled with aches and pains with illusions similar to having the flu. At about 2:00 a.m. I got completely dressed and walked outside where I tried to vomit for a while with no luck. Back inside the tent I continued to have chills and I left all my clothes on for the rest of the night and got some semi-sleep until my alarm went off at 5 a.m.
"I had absolutely no appetite so I didn't have breakfast which I knew that I needed. Up and over Hope Pass went slow, but then it was down to Clear Creek Road which was a 6.3 mile gravel road walk very similar to the Waterton Canyon walk back on the first day out of Denver. I'm just glad that it was still early morning because there wasn't much shade on the road!
"Finally I had reached the east side of the road walk and it was then a half mile across the private property of the Clear Creek Ranch. At two points during the afternoon I had to pull over for some 45 minute naps, then struggled on still quite weak. Finally I made it to Pine Creek where I knew that the day was over. Some folks with two llamas are camped not far from me."

From Pine Creek to the town of Buena Vista
Day Fourteen & Fifteen (Hiked 18.4 miles)
July 12th & 13th, 2000
From my journal (July 12th & 13th;Days Fourteen and Fifteen)..."To still be so sick with some kind of stomach virus I somehow managed to hike a fairly long day. Just as I got to the beaver pond before my planned last big climb of the day over Yale Pass, the sky began to rain. It was a struggle but I chose to go on pulling out my parka. I was up and over the saddle in just 40 minutes as the rain became more steady and as I descended to county road 306 at Cottonwood Pass. I could see the road as I came down and didn't see too much traffic. Two young fellows in a jeep pick me up then tell me I'm thumbing in the wrong direction. The map really was confusing at this road, but they turned around and took me 8 miles all the way back to Buena Vista where I layover for two nights.
"On the morning of my second day in town I wake up with an erupting stomach and diarrhea. I finally got in to see a doctor this afternoon who offered to treat me for giardia, but I decided to give it until Salida to clear up."

Cottonwood Pass to the Chalk Cliffs
Day Sixteen (Hiked 15.6 miles)
July 14, 2000
From my journal (July 14th) Day Sixteen)..."Good sense would have kept me in town but for some reason I felt obligated to get back to walking. I quickly got a ride back to the Pass and just as I had set foot back on the trail my stomach began erupting in pain and I was making little forward progress. It was truely a horrible way to hike and I really had no business being there, but somehow I just pushed myself on and on. Most of the hike was a traverse in and out of various drainages along the base of Bald Mountain. My virus made me so cotton mouth that I was gulping water at every source.
"Due to my sickness I hadn't reviewed my trail guide very well or I would have known about a six mile detour roadwlk coming up, mostly paved county roads which took hikers around the magnificent Chalk Cliffs. It wouldn't have been so bad if a huge thunderhead weren't moving my way across the huge expanse of the Arkansas valley. Here distances are so huge and it is easy to keep an eye on all weather activity for many miles. This thunderstorm was producing quite a bit of lightning and there I was on the open road. Fortunately I kept just ahead of it.
"Finally off the road and back on the trail I quickly fill my water bottle in Chalk Creek then set my tent up on the bank just as the rain tore loose. It was the longest and wettest rain so far and I was so exhausted that I went to sleep immediately."

The Chalk Cliffs to Sand Creek
Day Seventeen (Hiked 10 miles)
July 15, 2000
From my journal (July 15th) Day Seventeen)..."Hiking wise, this has been a horrible day and my sickness is more serious that I had once thought and I will definitely seek treatment when I can get to Salida. At wake-up my appetite still isn't there so I pack up and move out with a steep switchback climb right off. Like so many times before, for a while I thought that maybe my virus was gone but it was just lying dormant. I was soon feeling very weak and each step was once again a real struggle so I stopped near Brown Creek and took a 40 minute nap then cooked up some ramen noodles. That was the wrong choice because it immediately brought my virus back to life... to the point where I had to stop early near Sand Creek. My stomach hurt so bad and I was so weak that I just lied there for 4 hours. Finally I felt better and cooked myself some plain brown rice which was bland enough for my system to accept."

| | |
| --- | --- |
| | Just before the trail intersected with US 50 near Salida, the path went straight under this high voltage power line tower. Unfortunately I didn't pack my lead suit to protect me from the electro magnetic field, so I just walked fast!!! Notice the black thunderhead chasing me over the not too distant horizon! |

A healing layover in the town of Salida!
Day Eighteen & Nineteen (Hiked 10 miles)
July 16 & 17, 2000
From my journal (July 16th &17th) Day Eighteen & Nineteen)..."There was some more rain through the night but I slept on as I was continiously aware of my rumbling stomach. A lot of my energy seemed to be back as I continued my traverse along the western base of the Arkansas valley. It was a morning of ups and downs and some good level walking, then I was finally out on highway US-50 and got a ride into Salida where I checked into the Super 8 Motel.
"Later this evening I went to the E.R. at the Salida Regional Hospital where they immediately hooked me up to an IV and put 3 liters of fluids back into my dehydrated body. They also ran blood and urinal tests and finally treated me for giardia and bacteria. I felt cured the second that I left the hospital near midnight. I spent the following day just resting and getting my strength back."

US-50 at Foose's Creek to Silver Creek
Day Twenty (Hiked 13 miles)
July 18, 2000
From my journal (July 18th) Day Twenty)..."This morning Don, the Motel 8 owner gave me a ride 13 miles back to the trail and 'Oh, Boy' was I ready to hike! My energy and my spirit are back and it feels so good to be well on the trail again!
"The Fooses Creek valley is so lush and green and it was a refreshing hike up to the Continental Divide, then on to Marshall Pass.This afternoon I had my campsite completely set up near Marshall Pass, then decided to pack up and move on. Simply said, I felt great and hiked until near dark to the Silver Creek side-trail spur."

On to Sargent's Mesa and Colorado highway 114
Day Twenty One (Hiked 27.2 miles)
July 19, 2000
From my journal (July 19th) Day Twenty One)..."During the night I was awaken by one of the brightest lights ever shining blindingly into my eyes. Rising over the eastern horizon and mountain top was a near full moon, so huge, brilliant, and mystifying. Once again, I was suddenly overcome with contentment and I knew why I was here. Sunrise was nice too from my open perch at the Silver Creek trail junction. Tank Seven Creek would be my only water source for many miles so I packed a liter.
"Sargent's Mesa was so beautiful with its huge open grass expanses. Finally at Razor Creek there is just a mere trickle of water flowing and I had to compete with a lot of birds and a lone deer standing by the trees awaiting his turn in this dry section of the trail. There were so many fresh cow tracks and feces around the water that I treated my water with iodine in addition to filtering it. Just 3 miles earlier I had by-passed a half mile side trail to Baldy Lake in hopes that Razor Creek would be flowing. Thank God that it was despite the cows because the next water is far away from here.
"After an hours rest this afternoon I hiked on for two more hours making camp just before descending to highway 114. This was my longest day ever and I was on a high. My legs throbbed, not with pain but the muscles certainly needed some down time. What a day!."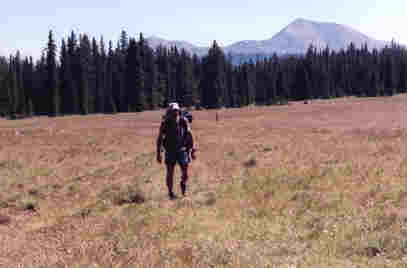 Hiking through the Sargent's Mesa, a beautiful open area.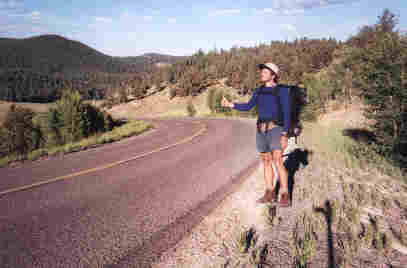 Demonstrating about the only way to get into the trail towns for re-supply. Except for Creede, rides were very easy to get and I never had to wait more than 20 minutes anywhere.

Through Saguache Park to the amazing Cochetopa Creek valley
Day Twenty Two(Hiked 27.7 miles)
July 20, 2000
From my journal (July 20th) Day Twenty Two)..."I was excited to be hiking this morning to the point that I was "pouncing" down the trai to highway 114. Across the road and over a small pass I stocked up on a liter of water then set out across what is called Saguache Park, a huge expanse of open space which reminded me more of a desert than anything. It took all day to get through it and the path followed already existing jeep trails. There was no shade except for a few clumps of trees here and there.
"In the late afternoon I stopped to rest about a half mile down Cochetopa Creek to rest as the sun had taken its toll as I was exhausted. It was a most perfect spot down by the water, so nice that I stepped into the fast flowing stream and took a splash bath, then washed my hair. I made some coffee and then went over my maps. Later, I hiked on up the valley to Nutra's Creek."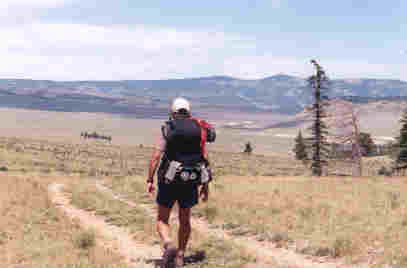 Beginning my hike through the amazing open range of Saguache Park. This was a great high mileage area without a lot of the normal trail obstructions... like mountains! It was also an easy place to get burned by the sun so covering up is important.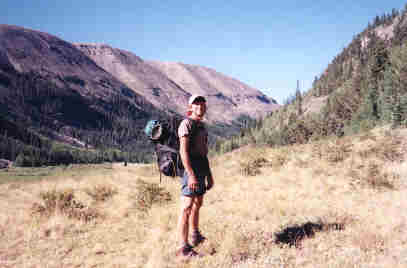 Here I'm entering a gradual ascent up the beautiful Cochetopa Creek valley. From this point on to Durango was my favorite section of the trail, mainly through the San Juan Mountains. I was constantly above treeline and in the tundra which I liked, plus the vegetation became generally more lush and green but there was also a bit more precipitation to deal with.

Welcome to The San Juan Mountains and into Creede
Day Twenty Three
July 21, 2000
From my journal (July 21st) Day Twenty Three)..."It's been another long days walk, over the Pass at San Luis Peak and into Creede. When I was finally to San Luis Pass I ended up walking the 8 miles into Creede on a very little used forest service road. I should have planned for one more days food and took four and a half days from Salida to highway 149. During planning I had no idea that I could do consistent 28 mile days, but thanks to a lot of wide open spaces and a backpack base weight of just 19 pounds it was very possible to move at 3 mph- plus. Tonight I'm camped inside the Creede town limits up Windy Gulch, a tiny narrow canyon which served me well."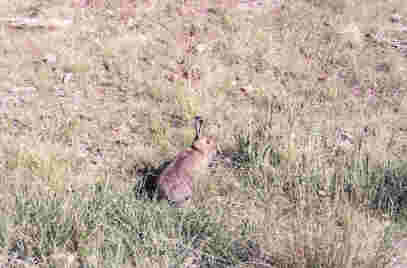 A bunny that let me take his picture in the Cochetopa valley.

| | |
| --- | --- |
| On the way up to the base of San Luis Peak. | |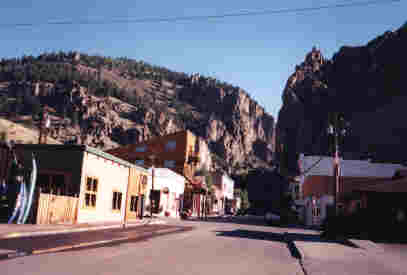 Early morning on Main Street in downtown Creede, my favorite trail town. This historic mining town sits at the base of an amazing canyon with the tallest walls of rock that I've ever seen. The town has been restored to much of it's original historic roots and I wish that I'd had more time to browse around.

| | |
| --- | --- |
| | Here is the canyon directly behind Creede where the gravel forest service road leads back to San Luis Pass. Look above the road to where 19th century miners built their buildings on the edge of the steep canyon walls. |

On the next page I continue hiking through the amazing San Juan mountains from San Luis Pass to the mystical beauty of the Snow Mesa!