DOWN THE YUKON-Page 4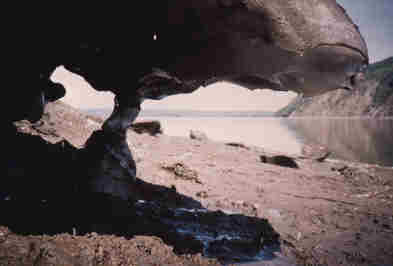 It is already June and there is still frozen evidence of a river that was sealed under a thick blanket of ice just months before.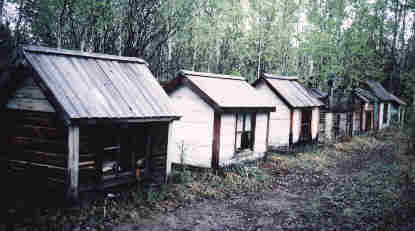 From the river I had been passing by several places where it appeared that a whole community existed of little "hobbit-like" miniature houses. I finally couldn't take it anymore so I stopped to investigate. I later learned that these were indian spirit houses, a cemetery for the local indians. The little 4-foot high houses complete with windows and doors were built over a grave of a beloved brother or sister and inside were scattered about the various belongings of that person such as pots & pans or whatever. Very interesting and definitely unique.

Five Finger Rapids
Unfortunately I didn't get any photos of the biggest rapids on the Yukon, but they certainly deserve mentioning. Five Finger Rapids are created by 5 house-sized boulders scattered across the river. Fortunately the river wasn't in flood stage and the rapids were very manageable and I was through in a short time taking on just a small bit of water through my cockpit spray cover.

Welcome to Stewart Island!
Although once a small thriving community with a post offfice, telegraph station, and a trading post, Stewart Island was now occupied only by Mr. Rudy Burian and his family. The old settlement had been swallowed by the river many years ago.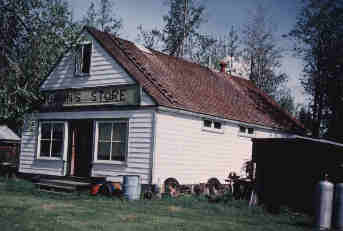 From prior research I was looking forward to Stewart Island, a plunk of land right out in the river. This is the islands store that Rudy and his family have operated since 1951 and before this he and his wife had operated a roadhouse during the last days of the steamboat trade on the river.

From my journal (June 4th;Day-16)..."In the distance I could see the brightly sunlit buildings on Stewart Island. After hitching the Voyager next to a Canadian Water Survey boat, I climbed up the embankment where I found a true island paradise in the midst of a very untamed wilderness. There was beautiful green grass, nicely painted buildings, and even a family dog greeting the stranger with its barking."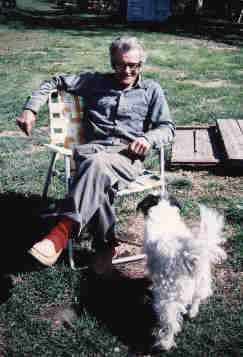 After a lengthy talk with Rudy I learned that he had come to Stewart Island in 1936 when the sternwheelers still ruled on the river, but their service faded out in the early 1950's. He raised his family over the years on this secluded wilderness island running a general store for folks like myself, renting log cabins, and trapping for fur in the winter months.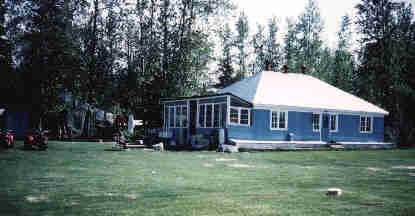 Rudy Burian's home on Stewart Island which sits about 200 feet back from the ravaging currents of the Yukon river. Rudy has a small Cat bulldozer which he uses to pull back his buildings from time to time when the river decides to take a bite!

From my journal (June 4th;Day-16)..."After several hours on the island, talking with Rudy, shopping his store, and visiting the museum it was sadly time to get back on the river. As the miles began to separate myself from the island, the warm contentment of what I'd found there festered within my mind. Above all I felt a lot of respect for this man and his chosen lifestyle. I saw a very compasionate man who genuinely enjoyed people mixed with a strong zest for living. Rudy was a strongly independent person having carved out a living in a very wild place that most of us would shun upon. Rudy has followed his own dreams and had a lot to show now as an aging man.
Despite the erosion constantly playing battle upon the island, I departed with a renewed sense of hope and encouragement toward the future. Now it's on to Dawson City!"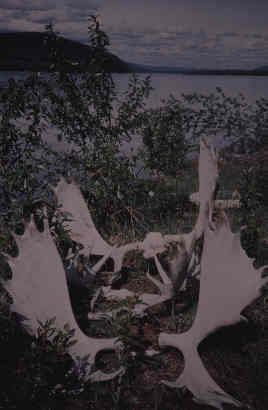 Some nice moose antlers overlooking the Yukon river from the edge of Stewart Island.

Dawson City, home of the Klondike!
Dawson City was the very only place that I layed over and actually didn't paddle for 3 full days, and for good reason. Dawson is bursting with history, mainly from the world's last great gold stampede of 1897 to 1899... the Klondike.
Although the population of Dawson is now only around 300, during these colorful years it fluctuated between 15,000 and 25,000 people! The discovery of gold by George Carmack on Bonanza Creek drew a lot of men and goods and a few lively women, most of whom planned to mine the miners! It was a goldrush like the world had never seen before and will probably never see again. I would have liked to have been there then but I wasn't so I wanted to learn as much about this amazing time in history that I could.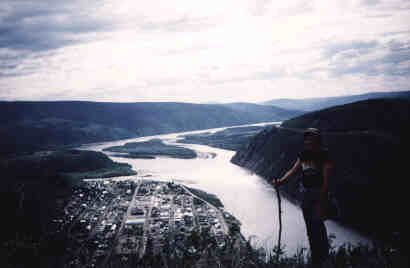 After paddling over 500 miles, here I am overlooking the mighty Yukon river and Dawson City just below after a dayhike up to Midnight Dome, which is a great slash of bare rock as seen from the river and a distinct visible landmark for Dawson City, as seen from far away.

From my journal (June 6th;Day-18)..."I cleared a major bend and first saw the Midnight Dome with Dawson nestled snugly below at the mouth of the Klondike river. I had to paddle continiously because of a prevailing headwind, but the strong lure of that last bend kept me going strong!
"I quickly set up my tent and secured my gear in a campground across the river from the town and was excited to be re-acquainted with David and Laurel, a couple from Dutch Harbor, Alaska. I had met them several days before in Lower Laberge as they were paddling a small white rowboat from Whitehorse to Dawson to mine for gold this summer. They invited me over for hamburgers then I crossed the river by ferry and enjoyed an evening in town talking to locals at the Sourdough Saloon in the Downtown Hotel.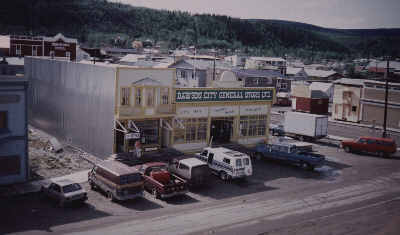 Heres a shot of Main street that I took from the captains quarters aboard the restored sternwheeler Keno.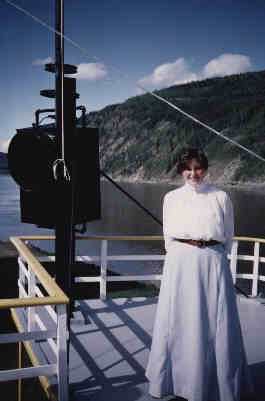 Our tourguide aboard the Keno was very informative about the role that the sternwheelers played during the goldrush and beyond. One of the most interesting facts that she revealed was that 60 tons of silt pass by every 60 seconds at this point on the river. That's a lot of never-ending erosion, I thought!
This was another original saloon building that the town is restoring. You can only imagine the "unrecorded" history that took place here!