DOWN THE YUKON-Page 5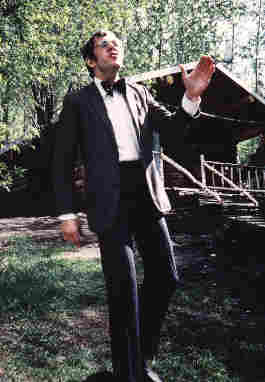 The most famous poet of the Far North during the Klondike goldrush was Robert Service and he lived in Dawson during this time. In a small cabin along the back edge of town he produced some of his most famous writings such as The Shooting of Dan McGrew, The Law of the Yukon, and The Ballad of Blasphemous Bill... all of which were recited each day at the authors cabin site. The photo shows a professor from an Edmonton University who dramatically brought to life the works of Robert Service.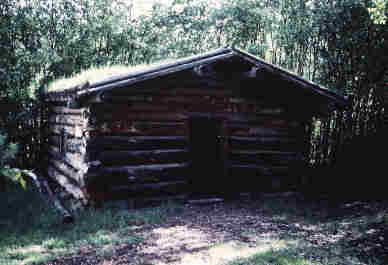 Also living in Dawson at the time of the goldrush was one of my favorite authors, Jack London who wrote such Far North classics as Call of the Wild and White Fang ,and my favorite short story, To Build a Fire. This is the cabin where Jack London lived in Dawson. I spent about an hour alone in the cabin and it was such an honor to have shared the space of such an insightful man!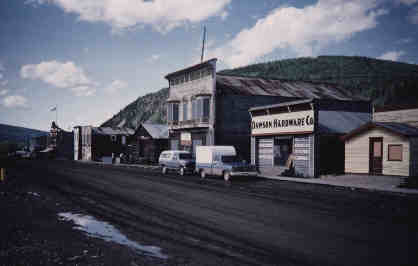 This is a view down a typical Dawson street, complete with dirt roads and board sidewalks. The people of Dawson are trying to restore the town as original as possible.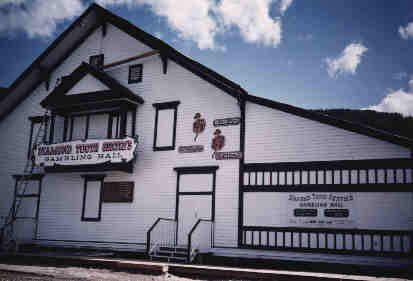 I just couldn't let Dawson go without throwing in a picture of Diamond Tooth Gerties Gambling Hall, which at the time of my trip was the only legalized gambling casino in all of Canada! It was open for only 4 hours each night with roulette tables, slot machines, and black jack tables, and oh yeah... can-can girl shows. The casino was highly regulated and operated by The Klondike Visitors Association and all profits went back into restoring the city. With this fine moral cause in mind I felt it my civic duty to spend an evening (or two) at the Hall.

Back on the river... and on to Alaska!
The history of the Klondike goldrush had been a driving force behind every stroke of my paddle on the trail to Dawson, but now I was leaving the City of Gold behind and I knew that I'd have to find other ways to capture my imagination. But in a wilderness as big as the state that I was about to enter, that shouldn't be much of a problem! Alaska was just ahead!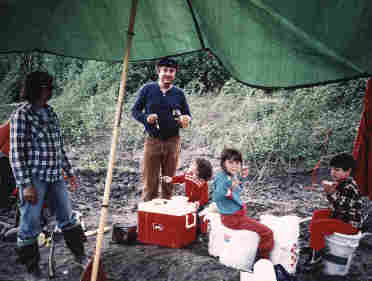 On the afternoon after leaving Dawson I met two families on a canoe trip from Dawson to Eagle. I paddled alongside them for several miles and got to know them quite well. They were Bob and Mary Bohn along with Gary and Melody Reese & family from Anchorage, Alaska. By mid afternoon they invited me to camp with them and they'd feed me well, so how could I resist that!? T-bone steak and fresh salad contrasted with good company made for a very content evening.
This was Bob and his wife.

From my journal (June 10th;Day-22)..."Last night I made camp on an island not far from the US/Canadian international border. This morning the wind and the water was so calm as the current latched on to my kayak and pulled it along quietly beside the island allowing me to bask in the silence.
"About 40 yards away and only 100 yards from my campsite I saw what I thought was a fox. From the light rusty color I then thought that it was a coyote. By this time I had the fur-ball in sight through my binocular and realized immediately that this was a lynx, the first one that I'd ever seen! It moved so gracefully, not making a sound stepping carefully along a log. Finally aware of my drifting presence, it didn't dash away but just redirected its route into the darkness of the island. I felt so lucky to have experienced this gift of a lynx and being so alone in the wild".

Alaska at last!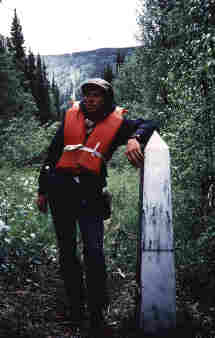 On the bank of the river I stopped briefly to observe the boundary marker between the USA and Canada. Note the long mowed line behind me which is part of the longest maintained swath in the world! Talk about wasting tax dollars!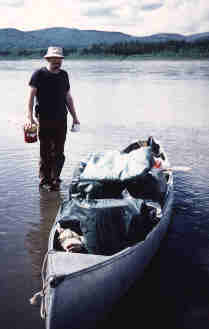 Somewhere beyond the small town of Eagle I ran into Harry. One morning across the vast expanse of water I spot an aluminum canoe make a sharp turn towards me through my binocular. As he comes into talking distance he invites me to shore for a cup of coffee and I accept.(Note the big can of coffee he's holding in the above photo)
As the coffee was boiling on the fire I learned that Harry was an electrician by trade, but currently unemployed living in Fairbanks. Evidently he had just gone through a messy divorce and was now making a fresh start by canoeing from Eagle to Tanana. At Tanana his plan was to attach the outboard motor that he was packing then motor his way up the Tanana river to Fairbanks. Wow, what a trip!

Into the desolate YUKON FLATS!
The Yukon Flats are a gigantic desolate basin 250 miles long and 10 to 40 miles wide and the river breaks up into a maze of what must be a million independent channels through the region. There are no mountains, no cliffs, no rocks and just as the name implies... absolutely FLAT.
It would take me a full week to get through this no-man's land and I soon found out that trying to keep track of progress on my topographic maps was a futile attempt at best. Channels change so quickly that no map could keep up, so I just let the current be my guide as it led me through.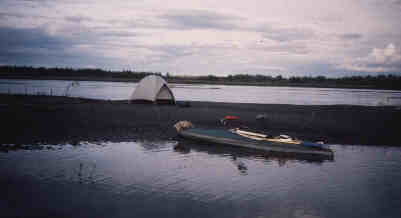 Here is one of my campsites in the Flats. There are so many channels that you just have to pick a dry strip of gravel somewhere to call home.

From my journal (June 14th;Day-26)..."So far I've been quite pleased with the current in the Flats, always guiding the Voyager in the right direction. Seldom must I struggle to maintain direction.
"The wide open area presents a desolate feeling with me and I'm amazed at how much better I feel when an opening allows me to see the far away Crazy Mountains to the east. They seem to offer some form of security and hope in this seemingly uncertain place. I don't travel in fear, especially with such a true current, but from such flatness it's certainly great to see a high point no matter how far away!"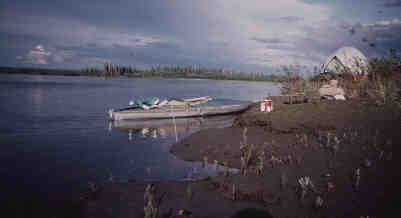 Here is another similar campsite in the Flats. Quite a change from the lush vegetation and snow-capped mountains that I left behind!