Pacific Crest Trail... photos and journal
Summer of 2001...Northern California...
(Page 2 of 4 pages)

From my journal (June 30, Day-66)..."You know that it's going to abe an extremely hot, scorching day when you are awaken by the heat at 5:00 am. I was therefore hiking by 5:30 am up on the Hat Creek Rim, but I was glad to have done this hot section during the cooler late evening and early morning. It was nice to reach a water stash left by a former hiker at highway 22 although I didn't take too much. The days past rain combined with my worn out hiking shoes was rubbing some of my toes raw which was very painful, but I just accepted it and continued to pump out the miles. The rim was hot but also so beautiful a view of the valley below- Mt. Lassen to the south and Mt. Shasta now glistening to the north. The rim was mostly barren and it was a treat walking along the crest so close to the ledge which steeply dropped off to the valley below.
I soon descended into that hot valley and finally found water near the Crystal Lake State Fish Hatchery where folks were enjoying a day of fishing... in their boats and from the bank. At the busy highway 299 I attempted to catch a ride into Burney with no such luck after an hour of trying in the very hot sun. By thi time I only had a half liter of water so I decided to hike the remaining 7 miles to the Burney Galls State Park. It was a long and hot walk and I ran out of water along the way but made it to the camp store alive! Jason and Mike were also there and very drained from the extreme heat. I immediately began drinking a lot of liquids and had a turkey sandwich with fries for a hefty $10.00. I then had a very refreshing shower at the campground then bought enough groceries to get me into Castella. After packing up and talking with the 3 Amigo's I was finally back on the trail making it just past the dam before stopping at the edge of a nice field where I had to compete with the deer for a place to set up my tarp. "

| | |
| --- | --- |
| | Finding my way through the heavy growth along Butcherknife Creek at mile 1,466.3. |

From my journal (July 1, Day-67)..."There was a lot of dew on my sleeping bag this morning from a poorly set up tarp which I had to assemble in the dark last night after hordes of pesky mosquittos came out. It was also a noisy night with the many sounds of nearby machinery. It was a great trail all the way to Peavine Creek where I caught up to Mike and Jason and where we tanked up on water for the big haul ahead. We were all on the "postal challenge", attempting to reach the Castella post office before it closed for the Fourth of July, so I needed a couple of 32-plus mile days. The trail soon became very overgrown and frustrating to hike with obviously no maintenance in many years, but somehow I found the way sometimes wading through brush and bushes over my head! This overgrowth was the worst yet and became the rule for the next couple of days. At Moosehead Springs I get enough water for the night then hike on toward Buck Rock where I made a half mile mistake but retraced myself back to the trail finally finding a nice camp spot at dark. "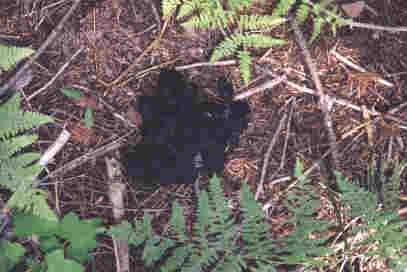 Just in case you didn't know what genuine bear poop looked like.

From my journal (July 2, Day-68)..."It was a neat experience to hike 34 miles today on my birthday through the north woods of northern California, knowing that I had to make some big miles. It was a very hot start while hiking in the early morning sun near Grizzly Peak along some very exposed ledges. Then it was almost like hiking into a refrigerator when I suddenly dropped over the saddle and descended toward Deer Creek. The remainder of the day was winding around many gulches and creeklet drainages in valley's with mostly completely shaded with so many trees. At the wooden bridge over the McCloud River I was in the scorching valley bottom and wanted to dip in the river but the trail led up high and very far from it, so I hiked on. Besides dealing with a very overgrown trail I also had to contend with a lot of poison oak which was also doing its best to overtake the trail. At the Squaw Valley Creek bridge I fill up with 2 liters of water then climbed out of the valley before dark camping on a lone flat spot. "

The trail at Castella and Dunsmuir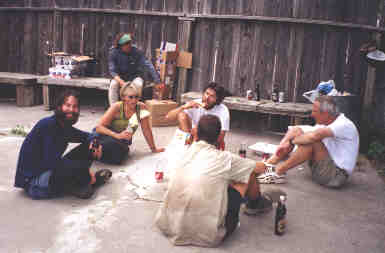 It was at Old Station that I finally caught up to the second set of the 3 Amigos after following them for so many months. Carl and Barbara (Kip's parents from Portland) had dropped in to visit and we all spend some time picnicing on the patio at Castella. Later Carl and Barbara most graciously made two trips giving everyone a ride to Dunsmuir for the Fourth of July.
| | |
| --- | --- |
| | My new NB 803 hiking shoes finally arrived in Castella. My old ones with 1,500 miles on them are a stark contrast to the new ones! Before leaving the store at Castella I made a hanging memorial for my old shoes begining with "May you rest in peace..." |
| | |
| --- | --- |
| Mike was happy to get his new trekking poles at Castella but he gave me a hard time when trying to catch him for a photo with that big ole piece of watermellon in his mouth! | |

From my journal (July 3, Day-69)..."I was up and moving early then quickly came to Girard Ridge Road where I met Ira and Elan who I'd been trailing since southern California. I then set off on a very long switchback down into the Sacramento River valley where it was excessively hot and humid. The side trail 2.2 miles into Castella was greatly confusing and it took me a while to get there. At the post office I finally received my new hiking shoes and made a memorial for my old shoes with 1,500 miles on them. The new shoes felt like walking on air and my feet immediately felt one hundred percent better!
After eating some food from the market I decided to walk over to the state park when Kips dad spotted me and drove up saying that he was waiting for the 3 Amigo's but that he would return and give me a ride into Dunsmuir. I then continued to hang out on the stores patio when Mike and Jason walked up. We all went into the bar for some lunch until Carl returned with the Amigo's and we had a nice picnic on the patio. In Dunsmuir we all checked into the Travelodge Motel then had pizza downtown. "

| | |
| --- | --- |
| | Here's Jason transferring his maildrop into his backpack which should get him to the Siead Valley. |

From my journal (July 4, Day-70)..."The Fourth of July was a nice time to take a zero day, taking in a full day of 100 percent pure rest.. something that I haven't done in a thousand miles since the Saufley's in Agua Dulce. All day was spent writing postcards, updating my journal, resting, and eating a lot of ultra fatty food! There's just nothing more to say about today than my body was sure grateful! "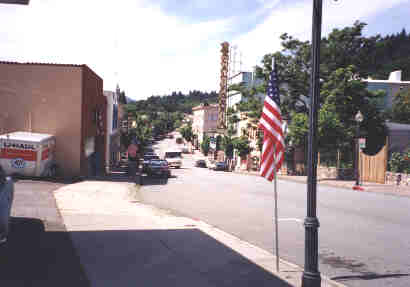 A shot of downtown Dunsmuir and where we spent the Fourth of July for a much needed rest.
| | |
| --- | --- |
| | Finally back to the trailhead near Castella and a fine photo of me with the 3 Amigo's. (L to R) Kip, Ryan, E.K., and me. |
| | |
| --- | --- |
| This is Hal and Terese from South Carolina. Hal is gradually section hiking the PCT and gave us a ride back to the trailhead. | |

From my journal (July 5, Day-71)..."I was up early at 6:00 am but I could somewhat relax since I'd packed my backpack last night. This zero day had don my body good and I was more than ready to get going north again with my brand new shoes! I had the curtain partly open and an hour later Hal was there and ready to get going too. Hal and his wife Terese, the 3 Amigo's, me, plus five bulging backpacks and other gear were literally stuffed into a small Ford Explorer. Thank goodness the trailhead was only 8 miles away and we were hiking at 7:35 am sharp.
I had at least six days of food to Siead Valley so my pack would be a bit heavy for a couple of days. The trail climbed up most of the morning just below the towering Castle Rock Mountain, first weaving in and out of lush summer growth and gullies running with crystal clear creeks and springs, until finally I was atop the exposed crest again. It was a long hot walk on the crest since I didn't pack quite enough water at lunch, but by early evening I caught up with Mike who was cooking a meal beside the trail. It's great to see him and we joke about how none of us can seem to slow down our hiking pace as we all talked about doing back in Dunsmuir. I thought that I could slow down to 25 miles per day, but I guess that the inner drive to move on and go is much too strong for me to overcome. Mike also hasn't seen Jason all day so I suppose that he is driven also.
I retrieve some water from the slow but sufficently running spring below the trail then rejoined Mike to cook my own meal. Just as we were finishing up a new hiker named Steffon walks up and introduces himself and we soon learn that he left Campo in mid-May and has been hiking 40 to 45 mile days. We have a great conversation and it was so great to hear updates from so many other hiker's behind me and that we hadn't heard from in quite a while. We then hike another couple of miles to Porcupine Lake where we set up camp just as the day had turned dark. "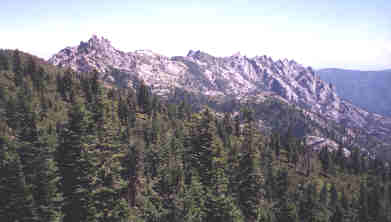 Looking back at Castle Crags out of Castella.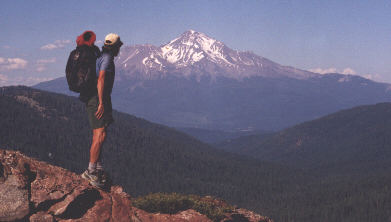 Mt. Shasta was a shaddow over our shoulders for several weeks and I continued to see it as far north as Crater Lake National Park in Oregon.

Join me on the next page as I cross Etna Pass then hike on to the Siead Valley, home of the famous PCT pancake challenge.