Pacific Crest Trail... photos and journal
Summer of 2001...Northern California...
(Page 1 of 4 pages)

From my journal (June 26, Day-62)..."It rained all during the night, not hard but just an annoying mess and constant flow from the sky that kept everything soaking wet. At Myrtle Flat Camp I realized that I must have missed Williams Cabin which must have burnt in the recent forest fire. I finally reached a huge washed out canyon where the trail dropped off a cliff into one of the biggest washed ot gullies I've ever seen. After a lot of evaluation and inspection both above and below the wash out I surely didn't want to retrace my tracks back to Belden and take the re-route like I should have in the first place, so I decided to climb down into the gully then up to the other side. I must admit now that I was very lucky to have made it without a bad fall where there would have been nobody to have helped me, but it sure did feel good to be on the other side of this mini Grand Canyon! On the other side of the wash-out the trail hadn't been used in quite a while so I had to stay alert and use a reasonable amount of common sense to stay found! By late in the day I had made it to the Carter Meadow Trail junction where I had to go about a half mile off trail to find water, then returned to camp near the junction as the steady rainfall continued. My hot meal under my snug tarp sure was good tonight! "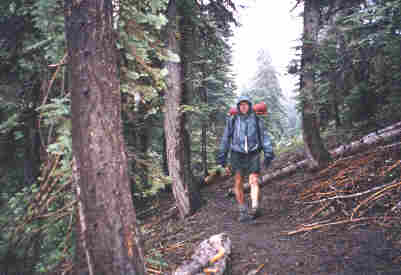 Coming out of Belden I hiked through almost 3 days of non-stop cold rain, certainly a rarity for this hike. I either had to keep moving or stop and snuggle up under my tarp... I chose to keep moving.

From my journal (June 27, Day-63)..."It's so hard to put on cold, wet socks and shoes first thing in the morning knowing that your feet will soon be "pruned" and sore, but there is no other choice when it is still raining and you must make at least 25 mile days... or soon run out of food. I was surprised to see Jason and Mikes tarps set up only 100 yards down trail from my campsite so I stopped to talk for a few minutes. I then went on to hike all day on a nice trail but in a constant irritating rain, finally stopping just inside Lassen Volcanic National Park near a small lake.
It was also today that somewhere along the way I passed the one half way mark to Canada. Someone had written a generic congratulations on a trail marker on a tree which did lift my spirits in the cold rain. "

From my journal (June 28, Day-64)..."Hiking through Lassen Volcanic Park was nice and especially viewing Boiling Lake with its gurgling and belching mud pots... but it was also nice to finally see the first rays of the sun in several days. I found a nice sunny spot for an early lunch to dry out all my gear and I mean I spread out everything! At Lower Twin Lake I stop briefly to retrieve some warm lake water to wash my hair which was so refreshing, then hiked on through a beautiful park. Eventually I begin descending down into the valley and end up beside Hat Creek where I replenish my water bag then find a nice campsite in the pine trees just before Old Station. "

Coming into Old Station near the Hat Creek Rim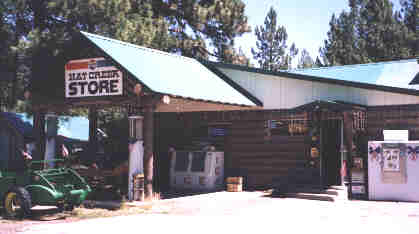 The Hat Creek Store at Old Station.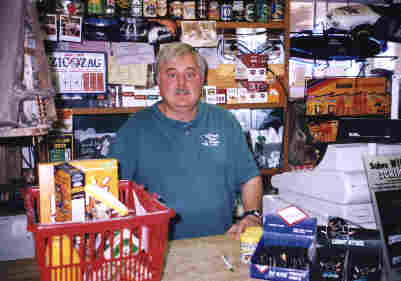 Owner of the Hat Creek Store was a super nice fellow named Doug who was one of the most hiker-friendly people along the trail. The moment that I entered the store Doug immediately stopped his conversation with a customer and offered me all the free coffee that I could drink, plus a 10 percent hiker discount on everything in the store. Before leaving he had given me a ton of free fresh fruit and a beer.
| | |
| --- | --- |
| | Mike making a call back home probably for some new trekking poles. |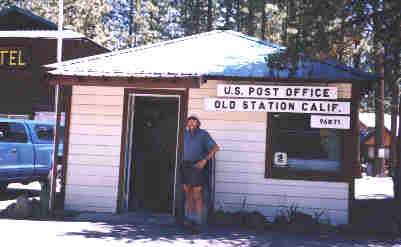 The post offfice at Old Station also with a very frindly postmaster.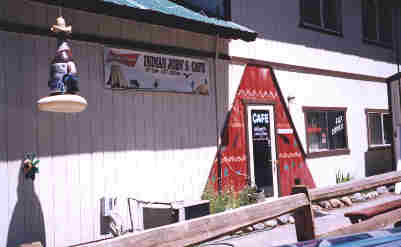 Indian John's Cafe served good food but they always wanted us to sit in the back of the cafe, which hiker's normally do anyhow without any strong hints.

From my journal (June 29, Day-65)..."I slept so good on the soft pine straw but it was very cold at wake-up... something that I could easily handle knowing that the sun would shine. It was a pleasant one hour walk into Old Station, which ended up being a much better place than anticipated. Within moments of walking into the Hat Creek Store I met Doug who interupted his conversation with another gentleman to introduce himself and led me to drink all the coffee that I cared for. I then met the 3 Amigo's (Kip, Ryan, and E.K., from Portland) which I'd been following their register entries for a thousand miles and it was great to finally meet them. We must have exchanged stories for an hour while drinking a gallon of coffee, then later it was nice to meet Kips dad "Carl" and mother "Barbara"who had driven down to surprise them. I then joined them for breakfast at Indian Joe's Cafe where Mike and Jason had just arrived so I sat down to eggs, bisquits and gravy.
Later I got my drift box from the post office then sent it ahead to Ashland. Before leaving at 2:00 pm I had resupplied from Dougs store and he gave me a lot of fresh fruit... apricots, tomatos, and corn before I could leave, a very nice and generous man to hiker's! It was a very hot afternoon and I filled up with water at the National Forest Campground just before ascending up onto the Hat Creek Rim and where I saw Mount Shasta for the first glimpse at a distance. I made camp near a big communications tower atop the rim to a glowing orange sunset ablaze in the sky. "

Onto the very dry Hat Creek Rim
Late evening on the Hat Creek Rim.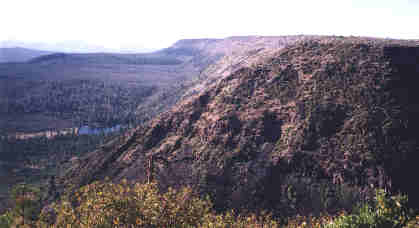 Here's a good picture of the Rim that the PCT follows for many miles.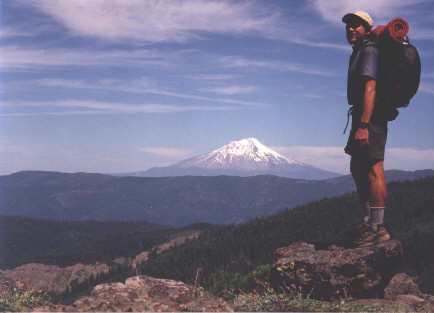 I got my first view of Mt. Shasta from atop the Rim.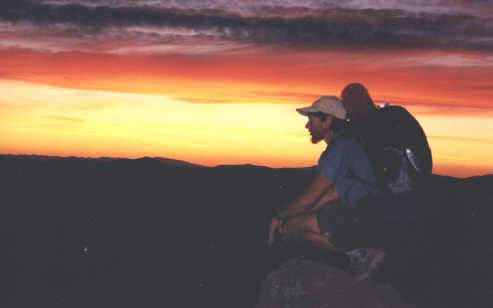 Me knelling directly on the edge of the Hat Creek Rim at twilight. This is one of my favorite photos of the entire hike! And can you believe the folks who still can't understand why I hike?
| | |
| --- | --- |
| Coming down off the Rim I enjoyed the humor of some unknown trail maintainer that painted tracks where the PCT crossed the road. | |

Join me on the next page as I spend the Fourth of July in Dunsmuir then hike on around the mystical Castle Crags.