Fall of 1989
(Page 3 of 4 pages)

My stay on the island was quite brief and I was soon at the Borden Ferry Terminal and on my way to New Brunswick, a province that is 35 percent French speaking. Today there is no more ferry service because a huge bridge now connects the island with the mainland.
NEW BRUNSWICK!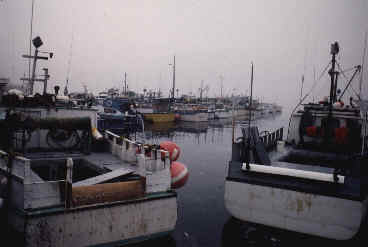 Just off the ferry the fishing boats stand ready giving a clue to what generates a lot of income around here.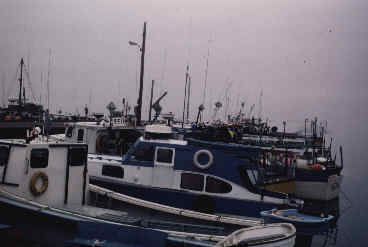 The fog layed low making the boats seem like they were in heaven!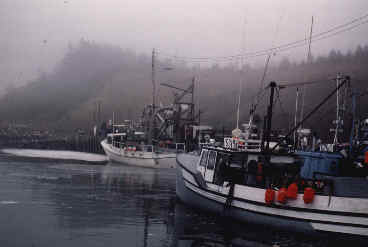 The fog is breaking so now I must get back on the bike and continue onward.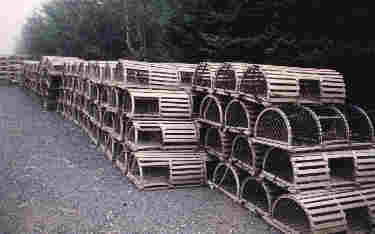 From my journal ..."Near the ferry terminal I had time to inspect a huge mountain of lobster traps. These were the beautiful wooden traps with rope webbing which are very interesting. For all the years that I spent as a fur trapper, I also imagined that I would also love to trap in the sea... same fascination... same anticipation."

From my journal (September 14th;Day-13)..."As I've come into the fertile St. John river valley there seems to be a feeling that everyone is a farmer here! There were some cows and several beautiful fields of cabbages. Independent farmers markets are also very popular where many fields are planted in a variety of plants like sweet corn, beets, potatos, cabbages, etc. Sort of a neat place to be!"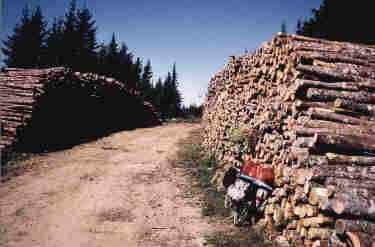 Without a doubt the timber harvest also provides a renewable income resource for a lot of the families here also.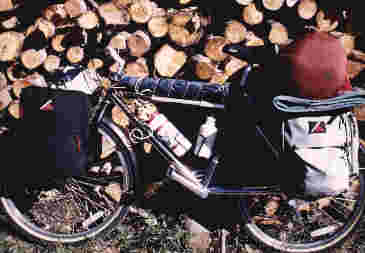 I kinda like this shot of my bike up next to those logs! Got her packed down pretty good wouldn't you say?!?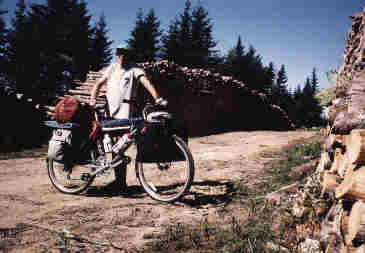 And just one more before all those logs come tumbling down!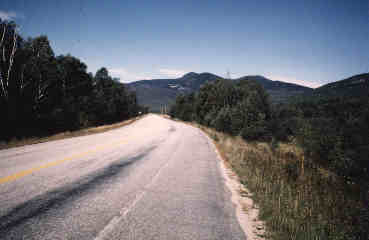 This road had a good wide shoulder where I could at least feel semi-safe as the traffic whizzed by at god only knows how fast.

INTO NORTHERN MAINE!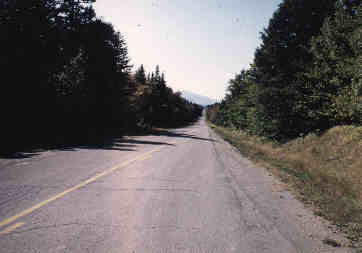 I decided to take the most northern route across Maine possible and that led me to Baxter State Park and the northern terminus for the 2,160 mile Appalachian Trail. By the way, that's Mt. Kathadin in the background and the Appalachian Trail ends directly on the peak!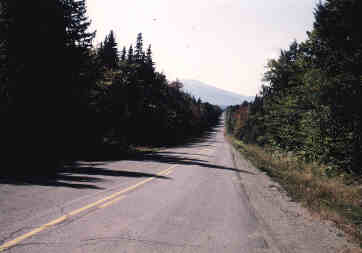 There's Mt. Kathadin through the zoom lenses and you can bet that I was now dreaming of another adventure sometime in the near future... to hike the AT from Georgia to Maine! My heart throbbed like I'd just won the lottery!

Join me on page 4 as I complete my five week trip into New Hampshire, Vermont, then back to the coast of Maine.