Fall of 1989
(Page 4 of 4 pages)

Baxter State Park and Mount Kathadin in Maine had been somewhat of a beacon in chase throughout my trip and now I was finally here! It was mainly because the northern terminus of the Appalachian Trail was here and nothing pressed on my mind now more than the dream of a thru-hike sometime in the future.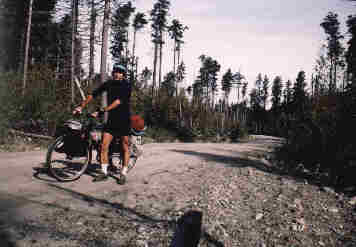 No paved roads inside the park which suited me fine since I had all-terrain tires and the gravel did tend to slow down the small amount of traffic.

From my journal (September 19th;Day-18)..."As I enter the park a young ranger at the gatehouse issues me a free pass for a bicycle (cars:$8.00) and I pedal on. My thoughts are heavy laden upon the quiet and beauty of the narrow dirt road although after 20 miles I was ready to rest. The last part of the ride was surely the best with more openings in the forest to observe the surrounding mountains."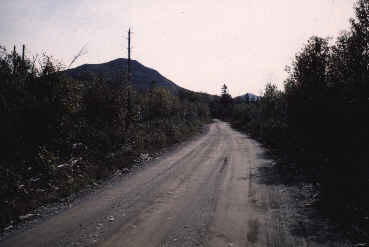 From my journal (September 19th;Day-18)..."The highlight of the day was coming to the intersection of the road and the Appalachian Trail. Here, I carried out a plan to bury a Canadian dollar coin at a place that I could find again one day and dig it up when I would hike the trail from Georgia to Maine. I buried it just off the trail and between two big outcroppings of granite, then drew a map and had lunch."
FOOTNOTE: I returned five years later in 1994 to thru-hike the AT and dug up my coin which had been a token of my commitment to hike the trail, and today I treasure that coin as a symbol of my accomplishment. Be sure to click the Appalachian Trail button back on the Homepage for a detailed account of my hike, and digging up the coin!

New Hampshire and Vermont!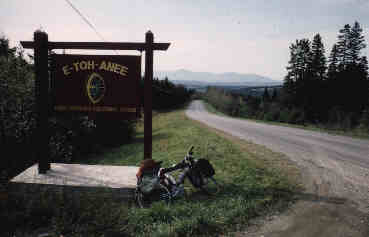 After leaving Baxter State Park I pedaled across Maine and into New Hampshire. I spent 3 layover days here at Camp E-TOH-ANEE, one of several Eckerd Wilderness Camps on the east coast. (I worked at one of the camps in North Carolina)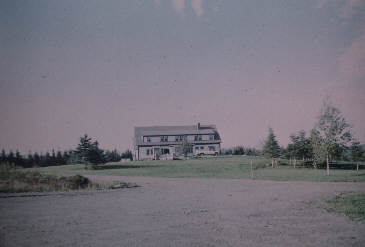 This is the administration building. I spent most of my time just relaxing in the counselor's time-off house, exploring the camp, and just enjoying the company of other people.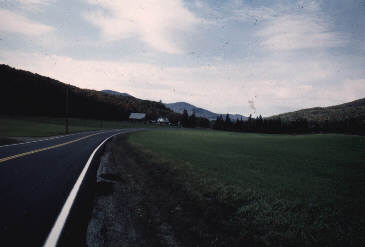 From the camp I travel west and follow the New York border south, then head back toward Maine.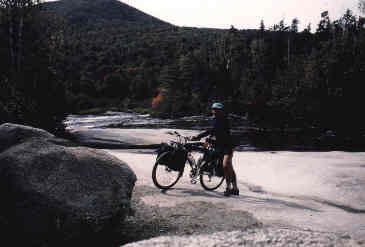 Just a cool creek stop along the way.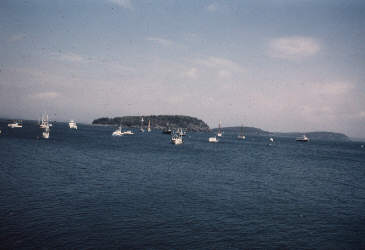 Finally back to the coast of Maine.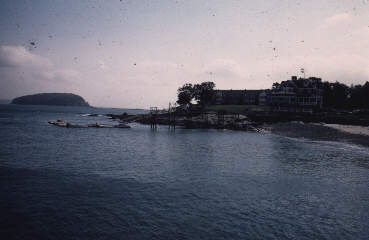 Another place on the Maine coast.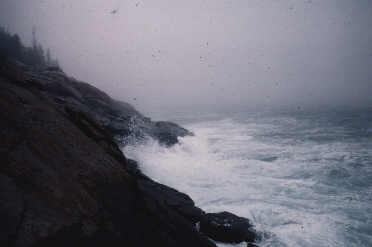 I had to layover for 3 days at Acadia National Park when the rangers warned me that Hurricane Hugo was coming. The waves in these pictures prove them right as I bunker down in the thick protective forest.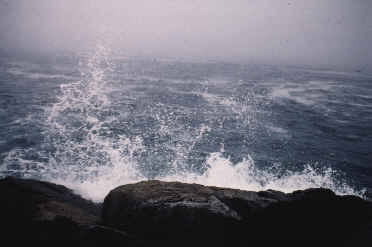 The wind and waves played havoc on the coast but I survived the fury of the hurricane just fine.

The End