Fall of 1989
(Page 2 of 4 pages)

I continued to hang close to the coast of Nova Scotia, following Highway 103 to Halifax, capital of the province.

CONTINUING UP THE NOVA SCOTIA COAST!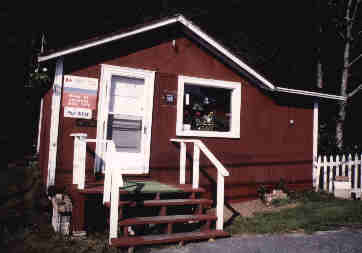 The post office in one of the coastal villages. General stores and post offices were a regular stop during my trip. At Mahone Bay I had a maintenance kit for my gas stove shipped before leaving North Carolina and I was sure glad that it had made it to that post office!

From my journal (September 5th;Day-4)..."I've never seen so many family operated general stores in my life as I've seen in Nova Scotia. Day after day it is refreshing to not see the familiar big chain stores that plague the landscape of the lower 48.
At Port Joli and Mill Village I stop briefly to refresh and look first for the general store of the villages. In Mill Village I met the father/son team owners where, like the others carried groceries, hardware, outdoor items, and a fresh meat cutting service. They let me fill my water bottles in a sink in the back room and I enjoyed a cola and chips before leaving the friendly, close knitted fabric of a true community."

From my journal (September 6th;Day-5)..."It finally had to happen and in the midst of nowhere. All day I had been hearing a "clicking" sound as I pedaled along. I had oiled the chain this morning so I dismissed the seriousness of the sound... until it became increasingly obvious that something BIG was wrong. Upon close inspection my heart thumps harder than normal when I see a break on a link of the chain.
I push it up a side road away from the traffic, then prepare to operate! The heavy little chain tool that I've drug around for thousands of miles is finally up to a real test and it proves exceedingly valuable. While packing for this trip I had debated leaving this tool behind and was now glad that I hadn't"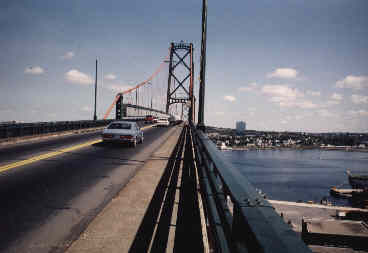 The city of Halifax was quite a shocker and cultural change after pedaling through all those small family oriented communities.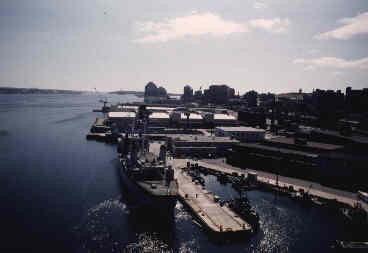 A very busy and noisy shiyard.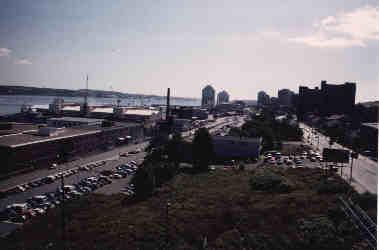 I got into and out of Halifax as quickly as my wheels could safely turn, although I did spend too much time eating in a Wendy's.

From my journal (September 8th;Day-7)..."It's amazing how plans can sometimes change. Better yet it is even more amazing what a cozy tent, a full belly, and sipping hot tea after a 57 mile pedaling can do to a person! But like all great things I now believe that a slight change in my itinerary is possible.
I've concluded that to go on to Newfoundland could be pushing my time beyond what I have left and I don't want to be rushed. Tomorrow I will head north from the eastern shore on route 7 and 348 which will take me to the ferry terminal at Caribou and on to Prince Edward Island."

| | |
| --- | --- |
| | The world's longest highway -- the Trans-Canada -- is the nation's "Main Street," and in many towns along the way, it is Main Street. More than 3,000 miles of road stretch between St. John's, Newfoundland and Victoria, British Columbia" |

ON TO PRINCE EDWARD ISLAND!
| | |
| --- | --- |
| When the highway ends, the adventure begins... on the ferry to Prince Edward Island, that is. Here we are leaving the port at Caribou for about a 75 minute relaxing cruise where I can just forget trying to pedal up the next hill and for a moment just enjoy the sweet sea breeze. | |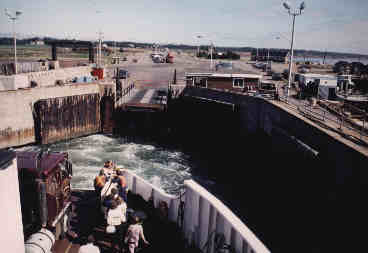 Same picture with a different angle.

| | |
| --- | --- |
| | Well on the way as the water churns a white suds path in the rear. |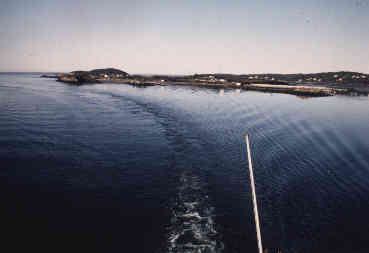 Time to think as the land slowly fades away into the distance.

From my journal (September 11th;Day-10)..."Prince Edward Island seems to be well known for it's potatos. At first I recalled seeing big piles of potato bags at the roadside markets in Nova Scotia with P.E.I. potatos stamped on them. Now I see huge potato harvesters digging them up out of the rich red soil and I figure that this island is to Canada what Idaho is to the USA by means of potatos!"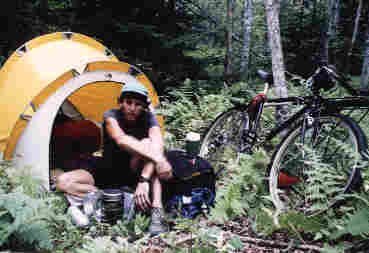 Just another fine campsite somewhere on the island.

Join me on page 3 as I continue on across New Brunswick and into northern Maine.