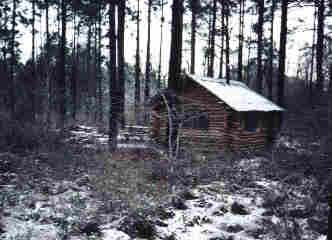 During December of 1981 I took a job with a wilderness camp for kids on the coast of North Carolina near Morehead City and in the Croatan National Forest. The camp director allowed me to build a log cabin on the property for a place to live while I wasn't working with a group. This worked out to be a great arrangement since by my own nature I preffered to live simply in the woods, plus after building my Alabama cabin just a few years before I certainly had the necessary building skills fresh on hand. Here's the story of my second log cabin experience...

One ax and a little sweat!
Fall of 1982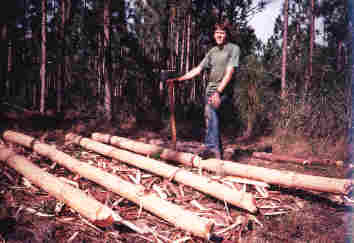 The Croatan National Forest is prime habitat for the longleaf pine tree, producing an arrow straight log in a short, fast growing season. Here they grow in abundance providing an excellent building material for my purpose!
I also cut the first half of the logs with nothing but an ax mainly because I just love the feeling that a razor sharp blade produces when slit into live wood. It's a WOOD-THING that you might not understand!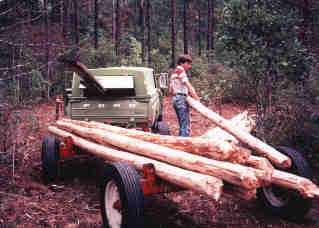 I used the camp trailer to transport my logs to the building site about a quarter mile away!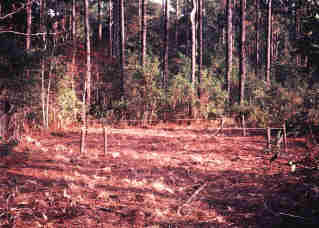 After cutting down enough logs to get started I cleared away the somewhat thick brush and squared off a small, yet sufficient 10' X 12' area for my one-room bungalow!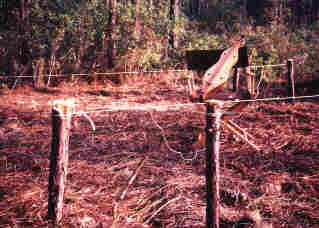 For what it's worth, here's a shot of the future cabin site where I often sat in my directors chair and practiced playing my dulcimer, an Appalachian mountain instrument that I made. However these moments were few and far between because I was much too anxious to stack logs most of the time!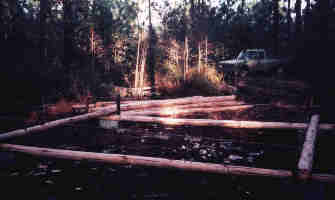 The construction of this cabin was quite simple with only a cinder block positioned firmly in each corner. Here I'm one log high all the way around.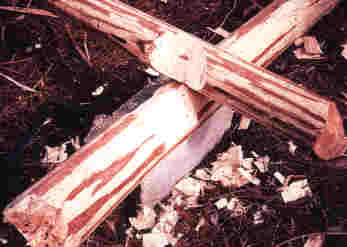 One of the most frequently asked questions about my log cabin building is, "What kind of notches did you use"? On these earliest cabins using round logs I used what I call the "A-V" notch (shown in the above photo) because it seemed to best lock the logs into place. And no, I didn't use any kind of spike or nails to connect the logs because the shear weight of the whole cabin was plenty of stability for the walls.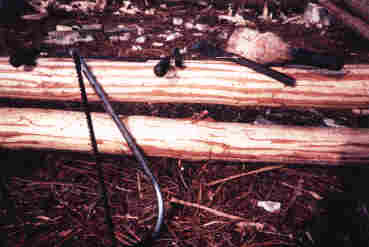 Besides an ax these were basically all the tools that I used... a small hand saw, draw blade, chisel, and wood maul.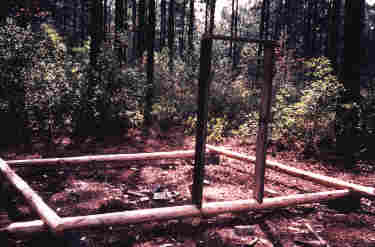 So that I could easily get inside and out while stacking logs, I decided to wedge in the door frame early on.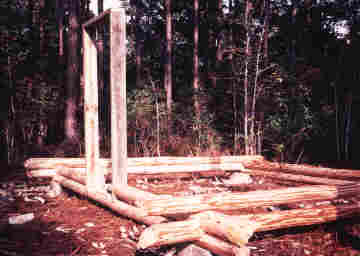 Two logs high and all's still well!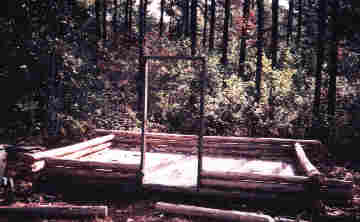 At three logs high I decided to add the floor which were used 2 X 12 pine planks which I salvaged from an unused outdoor scout arena.

See the logs continue to rise all the way to the rafters... by clicking on to page 2!