Fall of 1989
(Page 1 of 4 pages)

I include this trip mainly because it's part of my adventure history, but it is different from most others for one blaring reason: I was on a timeline. I took this trip on the spur of the moment when my supervisor suddenly allowed me to take a six week vacation from work.
For most folks this would be the norm but for me it was a killer because having a deadline to meet simply kills something essential from the freedom of the trail. Having a definite timeline destroys a certain part of the soul and spirit from being on the trail. It is the "freedom" to create each new day without any obstacles or obstructions that makes the quality of such an outdoor experience truely meaningful for me.
With that said (Whew! I feel better now!) we can begin to bicycle throughout New England.

INTO PORTLAND MAINE!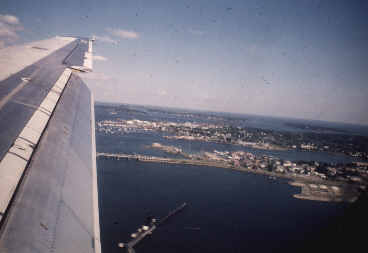 A wing shot over Portland, Maine just before landing, assembling my bicycle, and begining another grand adventure.

From my journal (September 2nd;Day-1)..."I leave my truck parked at a friends house in Newbern (North Carolina) then proceed to pedal my bike across town to the airport, zipping right through every red light lest being snatched up by a mugger in the early morning darkness. At 5:20 a.m. I'm inside the airport and packing my bike inside a special travel box that the airline provided under the curious eyes of many bystanders.
"While attempting to loosen a tight pedal I somehow cut my finger. God! Now everyone is looking at the terrorist dressed in green army pants packing a bicycle in a box... and now wrapping a bandana around his bloody finger! A fine gentleman then offers to hold the darn box open as I finally put the parts 'n pieces inside, then tape it shut."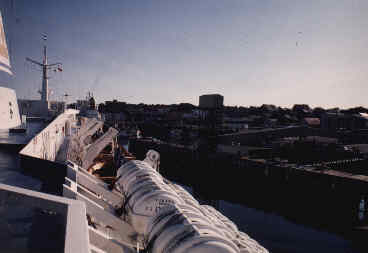 The Prince of Fundy ferry leaving the dock in Portland for an eleven hour cruise to Yarmouth, Nova Scotia.

From my journal (September 2nd;Day-1)..."After getting the bike unpacked and back together again, I can't begin to express the feeling of freedom that I experienced as I pedaled away from the airport. Somehow my headache and throbbing cut finger didn't seem to hurt anymore as I was finally here and on my way! It took less than 20 minutes to pedal to the Prince of Fundy ferry terminal on Commercial Street where I spent $75.00 for an eleven hour all night cruise to Yarmouth, Nova Scotia."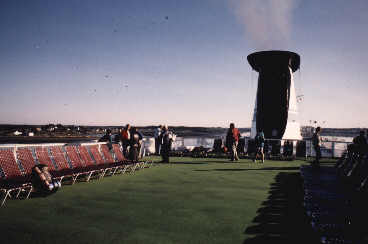 Here's the red lounge chairs on the top deck and where I made home for the night, stretching out and relaxing, thinking about the places along the coast of Nova Scotia that I would soon be visiting. I didn't rent a cabin and the casino below deck was going full blast all night long, so this was the quietest and most scenic spot to rest the night away!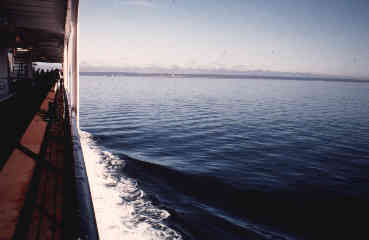 Early the next morning Canadian soil can be seen in the far distance across the calm water.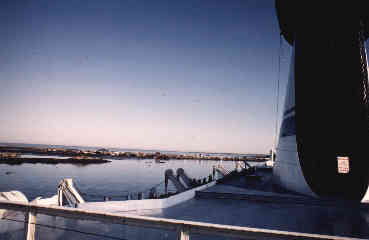 And almost there!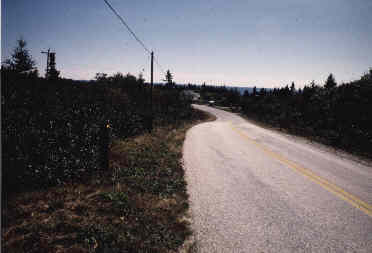 I follow Highway 3 out of Yarmouth, staying as close to the coast as possible.

From my journal (September 2nd;Day-1)..."After leaving the ferry I mainly skipped back and forth between Hwy. 3 which had no services and limited access but had wide shoulders and the Lighthouse route which passed through the small towns. At Tusket I found a small mom & pop's store open where I got a liter of white gas for my stove, cheese, an apple, and a can of kidney beans which I ate on the spot for the carbohydrates."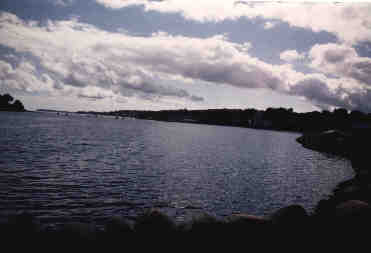 The coast of Nova Scotia is typical of Maine with it's rocky seaside and hilly fish town terrain.

Little snug coves and hideaway hills were everywhere and I wished that I could explore them all, but I pedaled on as my mind wandered off into a flow of thought.

| | |
| --- | --- |
| | Speed limit was 100 kilometers per hour but I didn't have much to worry about pedaling my heavy packed bicycle! |

| | |
| --- | --- |
| Of course, all the signs are in English and French in Canada. | |

Join me on page 2 as I continue pedaling up the coast of Nova Scotia, then to Prince Edward Island.