DOWN THE YUKON-Page 1
Although I spent the previous year planning my wilderness voyage and buying, then organizing food and gear... I took several weeks at my parents home in Alabama polishing the final touches of planning and preparation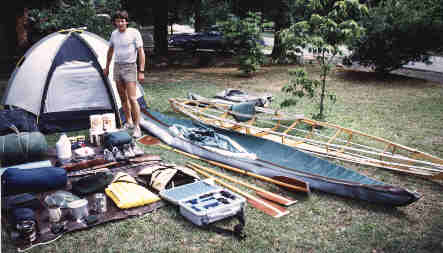 During these last few weeks of preparation I spread out all of my gear daily, studying it piece by piece, taking notes, and making adjustments as necessary. After all this was more than just "gear", it would soon become my only life-support system in a wilderness that would be unforgiving and easily fatal if I made a mistake. Getting to know and understand my gear was essential to a safe trip, so I spent a lot of time considering every single piece. (Although a high-powered rifle is in the photo, I later decided to leave it behind due to weight.)

.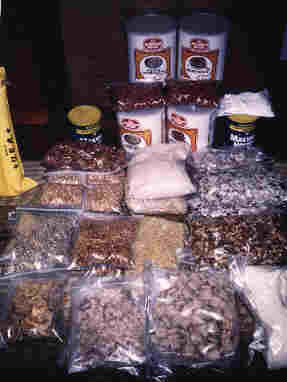 Here is some of the pre-packaged food that I prepared before leaving home such as dry rice, beans, noodles of every kind, nuts, granola, dried milk, cereals, etc. Not knowing for sure what I would be able to buy in the indian fishing villages along the Yukon, I also packed several #10 cans (1-gallon) of prepared freeze dried meals that I stuffed way up in the hull of my bow and stern. This would be my emergency food supply, I thought.

North to Alaska!
By this time driving to the Far North had become a regular part of my life and this was my fourth such journey up the Alaska Highway. My destination this time would be Whitehorse, the capital of the Yukon Territory which would take approximately 10 days from Birmingham, Alabama.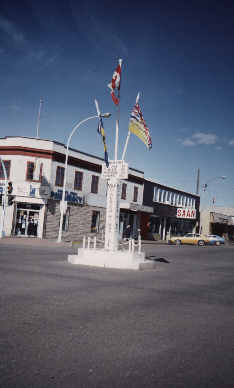 At Dawson Creek, British Columbia this flag marks Mile 0 of the famous Alaska Highway which goes on for 1,500 more miles to Fairbanks, Alaska. This overland route to Alaska was built during WWII so that cargo ships wouldn't have to dodge Japanese torpedos.

.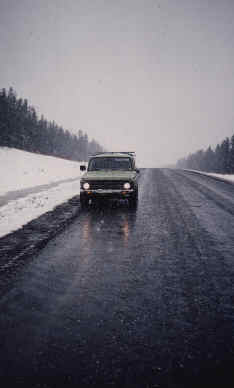 I know that it's already late May but snow can fall at anytime in the Far North high country.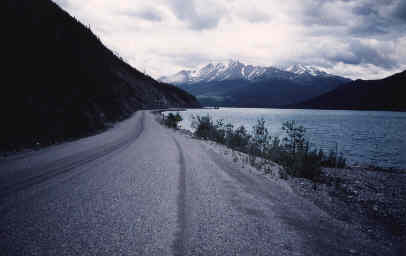 Even as late as the 1970's most of the Alaska highway still remained unpaved and a true challenge to traverse, but as this beautiful section along Kluane Lake in the Yukon shows it is now at least tar and gravel.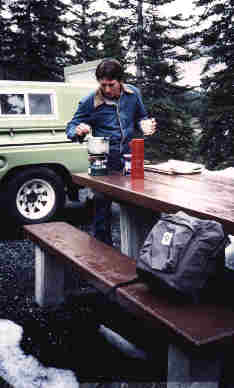 This was just a roadside campsite along the way somewhere in British Columbia. This ten day drive was something akin to a dream knowing that a five year goal was almost at the point of reality.

.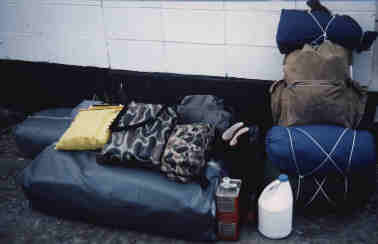 After 10 days on the road I finally arrive in Whitehorse, take a fine hot shower, then found someone who would store my truck for a couple of dollars a day. I then bought a bus ticket to Carcross, British Columbia about 75 miles south of Whitehorse and at the edge of the headwaters of the Yukon river. This photo shows all of my gear (including a folding kayak) packed neatly into two canvas bags and a backpack outside the Whitehorse bus terminal.

.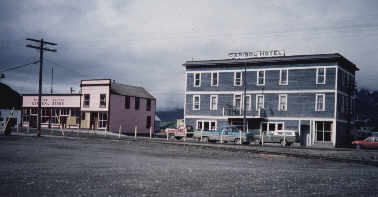 Besides the Yukon river there isn't much in Carcross except the Carcross Hotel and Mathew Watson's General Store. Yes, I visited both and even the locals thought that I was crazy for plunging into such a wilderness alone.

.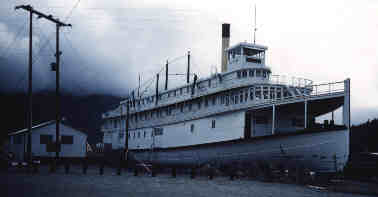 This is an old sternwheeler under restoration from the Klondike goldrush of the late 1800's which towered over me as I assembled my folding kayak. History has always captured my spirit and the Klondike goldrush era would be heavy upon my mind for the next 500 miles to Dawson City!

.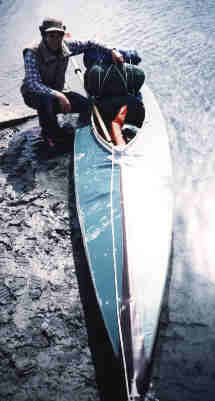 I was the only person on the government subsidized bus to Carcross so you can imagine the lively conversation that I had with the bus driver. He was quite amazed by my plans and hung around until I had my kayak assembled, then was kind enough to click this last photo for me before I headed off into the wild!

.