UP THE INSIDE PASSAGE-Page 6

Kelgaya Point continued...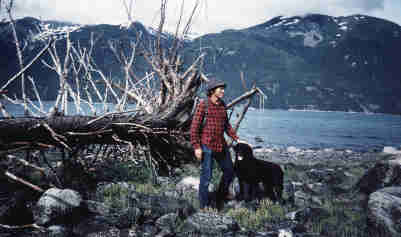 During one of our weekly re-supply walks into Haines this beautiful black lab followed us back to our little wilderness paradise. We talked to several local residents in town and they all assured us that he was just a stray, so we enjoyed the extra company which also gave us a reason to catch more fish!!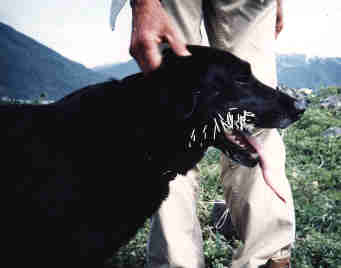 For obvious reasons we dicided to name our new acquaintance "Quill Face". This free spirit of a dog just couldn't resist pestering every porcupine that he encountered... and there were more than just one! We spent the better part of several afternoons removing quills from his face.
Ole Quill Face turned out to be a very loyal companion and trusty watch dog. Here he is plopped down outside my tent flap one afternoon waiting for me to finish reading and to go catch us some fish to eat!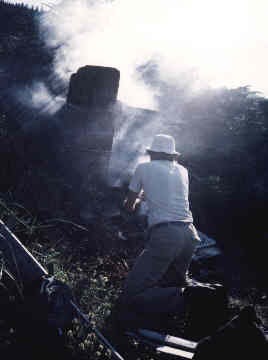 Here's Dick adjusting the flap on our homemade smokehouse. After several weeks we became quite creative in finding new ways to cook our abundance of fish. Although we never totally mastered the fine art of this technique, we did have some great fun and resulting talks from our ambitions!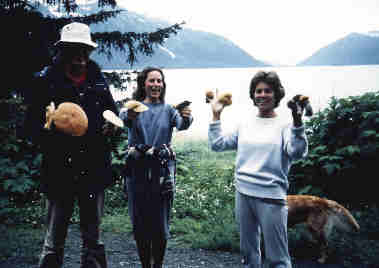 Here's a picture that I took of Dick with two local Haines ladies near their house in town. Just a week before they had wandered into our campsite while walking the beach, got to know us and allowed us to prepare them a big meal "off the land". Well, one thing led to another and before they left we had been invited to a meal at their house for the next weekend. We made a day of it and they even arranged for 4 kayaks and a great paddle to a deserted island!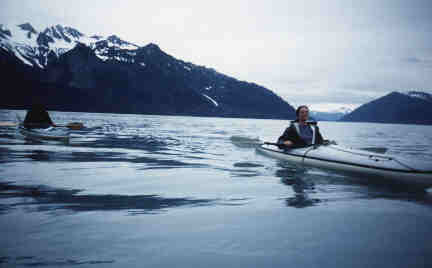 Here we are paddling to that island where they showed us an old settlement. We also picked a bunch of wild strawberries for our evening meal.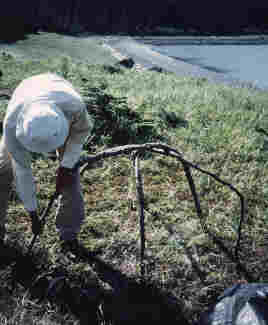 As I previously mentioned, time for creativity was not lacking. Here's Dick putting together the birch framing for a miniature indian saunna.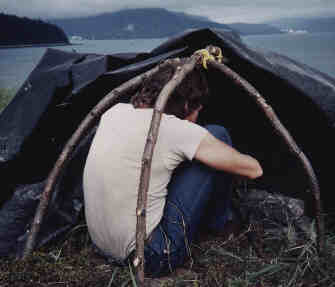 This is me trying it out for size, although I promise that I stripped off all my clothes before enjoying its cleansing power. We would first heat up a big rock in a huge bonfire down on the beach, then carry it with a twisted metal pipe that we found to the saunna. You would then crouch down inside the saunna as the other person covered you up with some black polyethelyne which we scavanged off the beach also. Once inside I would sprinkle water on the red-hot rock which produced enormous steam inside the little hut and this was the most cleansing bath of the summer for me!
After 5 great weeks of living the good life on the beach south of Haines the time had finally come for me to move on. Dick and I had one more ritual evening meal together and stayed up past midnight talking by our fire. After leaving Haines by ferry the next day I have never heard from Dick again for more than 13 years now. If anyone knows him and where he is today, I'd be grateful for your help. Now on to Skagway...