UP THE INSIDE PASSAGE-Page 5

Kelgaya Point continued...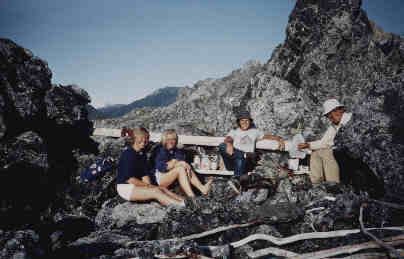 From the left, our two friends from Holland, me and Dick in our favorite evening meal spot where the rock formation provides good wind protection.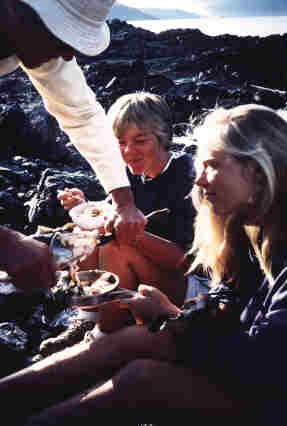 Dick serves our guests a serving of freshly caught salmon and they are quite amazed by our stories of living on the Point.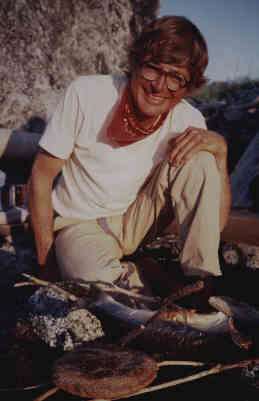 Here's a good shot of Dick in his evening cooking spot. Our dinner meal was a daily ritual and sort of like entering the palace and sitting on our thrones! We spent at least two hours every evening sharing our meal together, talking mostly about our ambitions and dreams. Dick was one of the most insightful and enlightened people I've ever met and I was regularly up past midnight in my tent writing down all that we had discussed.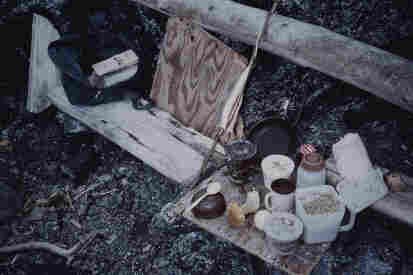 Here's a close-up of my evening throne comprised of a seat deluxe made from scrap wood found on the beach with a matching side table. I also found the small plastic container on the beach where I kept a fresh lentil sprouts garden growing. Also notice the fine wild mushrooms which we gathered daily and always sauteed with onions for some incredible royal-like meals! It just don't get any better than this my friend!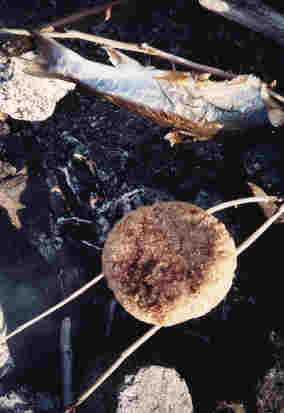 Baking salmon on a birch stick right over the coals until it would drop right off the bones and was akin to cotton candy... a pure pleasure to eat. The other is sourdough bread baking on the other stick. Dick had a great sourdough bread yeast starter which he shared with me and we would combine this with a local jam for the most perfect sweet desert! Man, living was never better!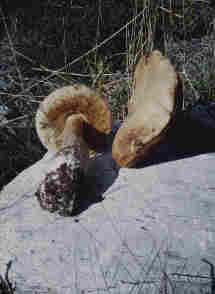 Dick was truely an expert identifying edible mushrooms and we must have eaten a ton of them with our fish meals.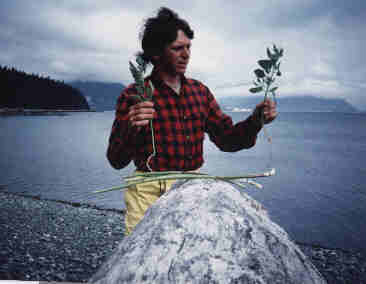 Here I am with a few fine stalks of wild celery. On one of our weekly re-supply trips into town I had bought a dollar book called "WILD EDIBLE PLANTS OF ALASKA" from the Haines Public Library and it proved very valuable in our full-hearted effort to living off the land.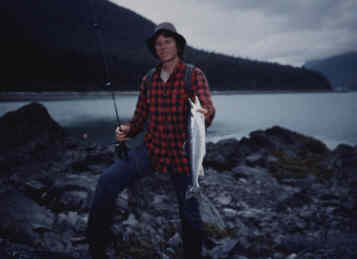 Thanks for letting me show you just one more fish picture and just one of many caught with only 8lb. test line on an ultra-light backpackers rod & reel! I still can't believe how easy that it was to literally live off the land here.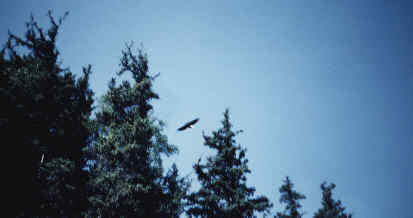 Bald eagles were as common here as crows were back home! I had a lot of fun collecting their feathers but gave them all back to nature when I left.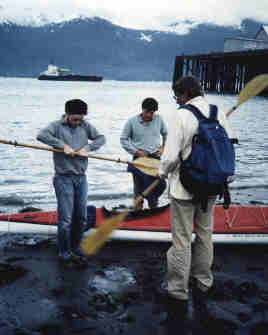 Here's Dick talking to a local on one of our weekly walks into town, 5 miles from our little paradise. This fellow was about to paddle up to Skagway about 10 miles away.