UP THE INSIDE PASSAGE-Page 4

Juneau continued...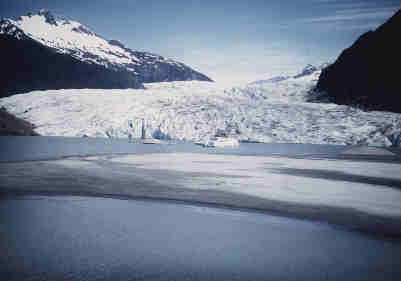 During my second week I moved out of the urban area to the Mendenhall glacier area. I spent several days exploring the glacier and hiking the trails there. If you'd like to learn more about the Mendenhall glacier then just visit this website describing it by clicking the following link which will open a new browser so that you don't lose my page! MENDENHALL GLACIER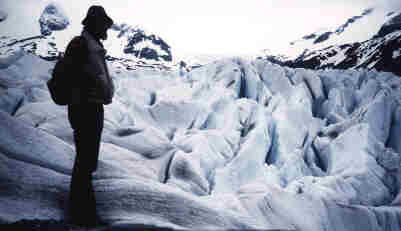 Here I am hiking on the glacier after a full days hike from the base.
Spending two weeks in the Juneau area I had climbed about every 4,000-plus foot mountains, hiked all the trails, seen all the attractions and I had stayed planted here longer than any other place so far... but that was about to change when I boarded the next ferry, the Malispina to Haines! Haines would become the highlight of my summer and a place that I had to force myself to finally leave after 5 weeks. Continue on and you'll see why...

Haines...home of the bald eagle!
July 1st; Day-35
Click here for the town of Haines website; HAINES!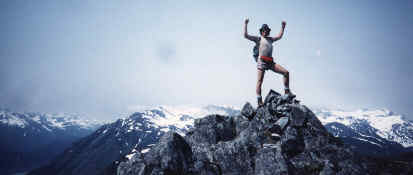 Here I am on the summit of Mount Rininski, just north of town. As had become my tradition I liked to climb all of the popular hiking trails in the area of a new town immediately if the weather permitted. Since I hadn't packed my running shoes this was a great way to stay in shape and to get a lot of heavenly views!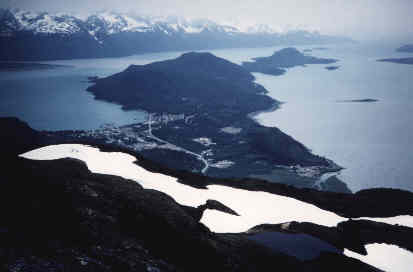 From Mount Rininski this is the view to the south of Haines and the Inside Passage. Most of the following pictures were taken from Kelgaya Point which is the tiny peninsula of land sticking out into the inside passage from the left, south of town.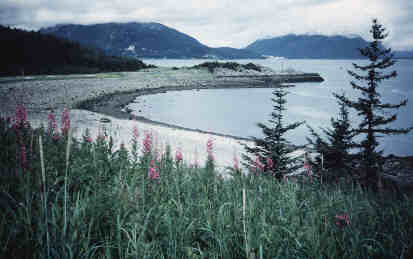 From a good distance the little strip of land sticking out into the water is Kelgaya Point with Mount Rininski in the background under cloud cover. I discovered this little paradise while hiking down the beach one day about 5 miles south of town and little did I know at this point that this spot would soon become my home for another 5 weeks!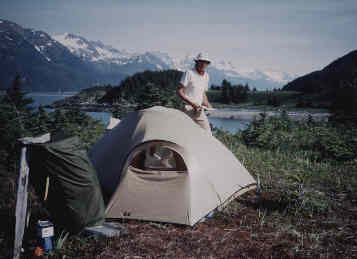 This is Dick Powell, a retired aerospace engineer from Boulder, Colorado whom I found camped on Kelgaya Point during that beach hike on my third day in the Haines area and he soon became one of the best friends I've ever had. (See journal entry below for more details).
From my journal (July 3rd;Day-37)..."Not far I came to an outcropping of jagged rock directly on the beach so I followed it around until I heard a welcoming voice shout,"Good morning"! "Hello", I replied, as I continued to walk his way. He was sitting on the rocks in a naturally sheltered wedge between two jagged boulders of granite cooking two freshly caught dolly-varden trout.
"He introduced himself as Dick Powell and quickly detected my southern accent. After an hour I had learned that Dick was 47 years old, an aero space engineer (until he recently quit) and had just been through a divorce. On top of that he had lost a previous wife to cancer, and evidently had decided that it was time to get out for a while so had sort of set out for Alaska like me, with just his backpack. Before leaving back to my campsite on the edge of town Dick invited me to share the Point with him so I had a lot to think about as I wandered back down the beach."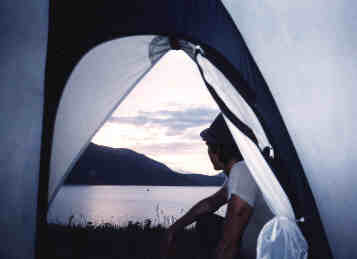 Just a typical sunset view from my tent! Ten days had now passed since coming to Haines and the last five days I'd been camped all to myself on Battery Point, just a few miles down the beach from Kelgaya Point. Dick had occasionally come by to visit with me and we gradually gained a lot of mutual respect for one another so finally I felt that it would be a nice change to camp closer to him for company, so I packed up everything and moved next door to Dick on Kelgaya Point.

Welcome to Kelgaya Point!
June 18th; Day-22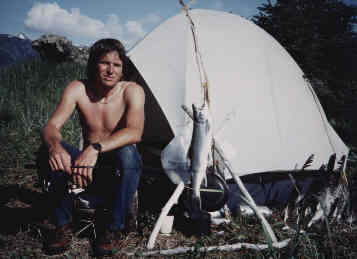 Here I am at my new campsite set up about 20 yards away from Dick so that it was easy to let out a "yelp" to see if both of us were ready to fish for our evening dinner each day.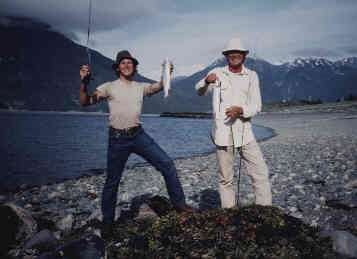 Here is Dick and me on the beach after catching one of our evening meals. Never in my life before or since have I found catching fish so easy. We literally fished each evening until we caught the exact size fish that we felt like eating.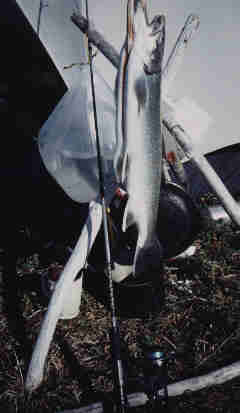 On this day I showed two lovely girls hiking down the beach and from Holland how we caught and cooked our own meals, so I hooked a big salmon for the occasion.