UP THE INSIDE PASSAGE-Page 3

Ketchikan continued...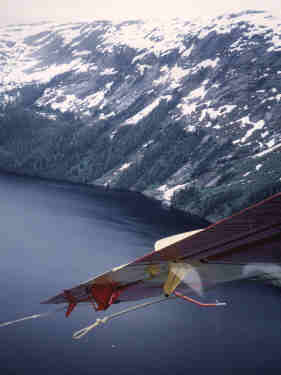 Back out of the mountains this was a good view of the inside passage at Ketchikan. Notice the white streak near the end of the wing... it's a motor boat.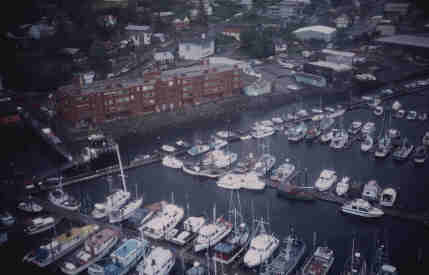 Here's a good shot of the harbor just before landing.
After a great first week in Ketchikan the time had come to get back on the ferry and continue my travels north. It had been great to visit with Dan again but the lure of what awaited me on the next ferry stop had become too strong and I had to move on to my next stop in Sitka.

A week in Sitka...Russian capitol of Alaska
June 11th; Day-15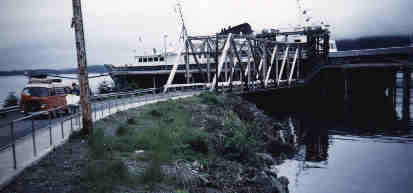 After a restless day on the ferry TAKU, I finally arrived at the terminal in mid-afternoon. If you'd like to learn more about Sitka then just visit their website by clicking the following link which will open a new browser so that you don't lose my page! SITKA WEBSITE

From my journal (June 11th;Day-15)..."At the ferry terminal I was surprised to see Yardoon again, from Israel who I had first met at the hostel in Ketchikan. He had just spent a week in Sitka and was now boarding the TAKU to Juneau and he relayed a lot of helpful information about Sitka.
"No sooner had I stepped off the ferry and started walking across the parking lot an old rusty orange pick-up truck pulled up to me and two ladies with their children asked if I needed a ride into town, about seven miles away. I anxiously threw my pack into the bed and climbed in. They dropped me off at the fire station where they let me park my backpack while I explored around town to get my bearings set."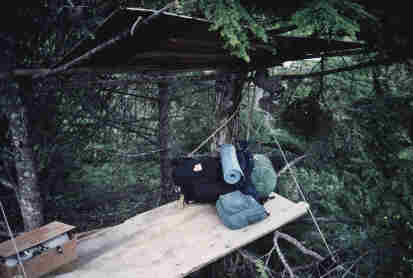 Home Sweet Home in the treehouse! After exploring the town for a few hours and eating a good meal I had to find a place for the night. After a people-intensive week in Ketchikan I was ready for some "alone" time where I could better reflect upon my travels. While scouting the wooded edge of town I ran into a rope hanging down from a very tall black spruce tree. Looking up about 20 feet I discovered a sheltered platform type treehouse. For my week in Sitka this turned out to be one of my most unique and memorable campsites of the summer. It's a good thing that I don't toss and tumble a lot while I sleep because a late night slip up here would invite a very scary awakening!

From my journal (June 12th;Day-16)..."My first night in the trees was very restful as soon as I got used to the light wind swaying the timber. Temperatures plunged down into the low 40's(F) and I had to throw my tent flap over my sleeping bag but it was a good night. As the sun rose I can't imagine a greater sense of contentment as I prepared breakfast in the trees and boiling coffee on my small gas stove!"
(NOTE: As it turned out I anxiously looked forward to returning to my tree top spot each afternoon to sip hot tea, read a good book, plan the next day, and observe the birds (with a birds-eye view) as the sun finally faded away each day... all in such a unique spot that apparently no one knew about but me and whoever had built and abandoned it. This was a neat place!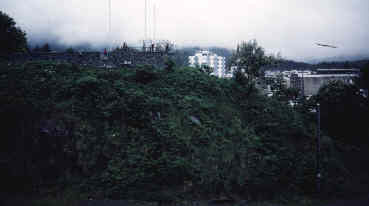 During one afternoon of my vist I went to a place in town called "Capitol Hill". This was the very spot where the Russians handed over Alaska to the USA for $720,000,000. during the last century. Wow, what a steal that I bet they must regret today!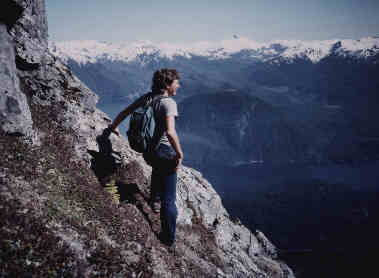 On another day I decided to hike up to Mount Verstovia overlooking Sitka which took me 3,350 feet above sea level to the summit. Here I am on a steep ledge overlooking the Inside Passage.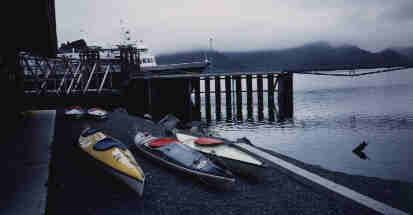 As all good things must come to a close it was now time to move on to Juneau. Here were some kayaks just unloaded at the ferry terminal which momentarily inspired me to return again some day... and I wouldn't be riding the ferry!

From my journal (June 18th;Day-22)..."Promptly at 3:30a.m. the ferry Le'Conte bumped dock at the Juneau terminal about 17 miles from the downtown. I rolled over in my sleeping bag atop the deck and set my watch alarm for another 40 minutes of sleep and I'd better hear it go off because the ferry would depart again at 4:45a.m.
"Finally off the ferry I walked into the largest terminal lobby yet where I spread out my sleeping bag and slept again for 2 hours. Upon waking I quickly got a ride into town with a fellow who worked for the ferry service."

Juneau... capitol of Alaska!
June 18; Day-22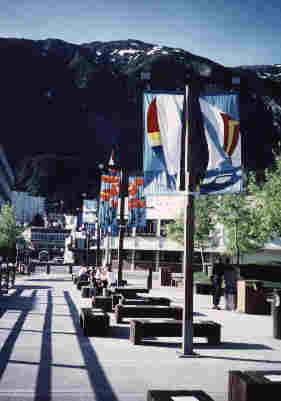 As seen from this downtown waterfront shot, all of Juneau is totally entrapped to the east by the coastal ice fields, making the capitol city accessable only by water or air. Now, how many other state capitols can claim this unique feature. If only they could find a way to keep the politicians out!!!(By the way, that is Mount Juneau in the background from which the next photo was taken.)!You can visit the city of Juneau's website by clicking here: JUNEAU!

Once in town I was tired and needed first to establish a comfortable campsite and the huge bridge over the inside passage to Douglass Island drew me like a magnet. Just across the bridge I found a secluded spot about a hundred feet up a hillside beside Kowee Creek. Just 10 to 12 feet from a sheer cliff overlooking a 40 to 50 foot waterfall, this would be my temporary home while I spent some time in Juneau! (As a note, campsites were always relatively easy to find around southeast Alaska because all the towns and cities were generally surrounded by complete wilderness at the town limits... just look at the photos!)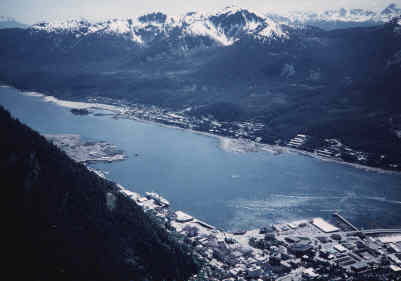 Here's a shot of Juneau looking south from atop Mount Juneau. That's Douglass island just across the water.
Just a downtown shot. The famous Red Dog Saloon is located in the black & red building.