UP THE INSIDE PASSAGE-Page 1

AN ADVENTURE BEGINS!
Spring of '86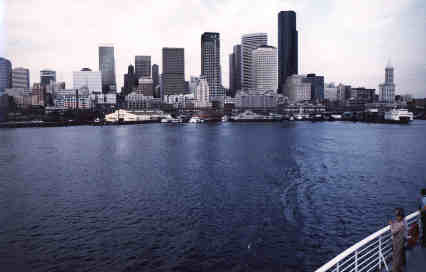 Day one began on May 28th as I boarded the "poor mans cruise ship", the Alaska Marine Ferry as it chugs northward toward Alaska and the Inside Passage leaving the early morning skyline of Seattle quickly behind.
My original plans for the summer of '86 had been to paddle the Inside Passage from Seattle northward towards Alaska. After spending a week in Seattle further researching those plans, going for a test-run in Puget Sound, and talking with local kayakers, I decided that my skills for navigating into wide ocean waters needed more training and practical experience before I should risk my life to the whales!
With this awakening I quickly changed gears which isn't hard to do in Seattle; gateway to a million different adventures in the Northwest! After putting my kayak into long-term storage and a few visits to the R.E.I. store I was totally outfitted for hopping onto the Alaska Marine Ferry and creating a new adventure, just letting it happen in a spontaneous way as I spent the summer hopping on the ferry from one town or village to the next, making it up as I went. This spontaneity combined with no time limit led me on one of the most memorable adventures of my life!

THE INSIDE PASSAGE AND THE ALASKA FERRY!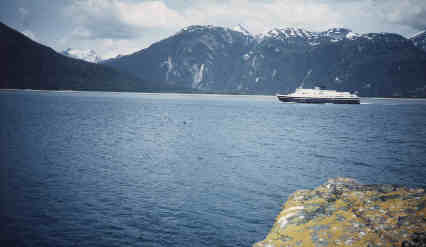 The Alaska Marine Ferry system simply put is a great way to travel, leaving Seattle several times each week following the Inside Passage all the way to Skagway. If you're traveling on foot, with a bicycle or kayak and don't rent a cabin then the passage fee is most reasonable. This appealed to me because I always have looked for ways to make dreams become reality, not reasons to delay adventure. If you'd like to learn more about the great Alaska Ferry System then you should click the following link which will open up a new browser so that you can easily re-join me in a few minutes! ALASKA FERRY
If you'd like more info on the Inside Passage region as a whole then just click this link for a quick look; WELCOME TO SOUTHEAST ALASKA!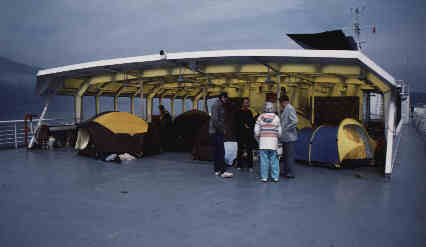 On the top deck of the ferry is a wonderful spot called the solarium where the captain actually allows onboard camping! It is a non-stop cruise for about 3 days through the Canadian waters from Seattle to the first stop in Ketchikan, so you really get to know the people that your "camping" next to much better than if you had rented a private cabin. I still can't think of a better way to travel!

.

From my journal (June 4th;Day-8)..."The weather has been magnificently great all the way up, although we occasionally made passage through some thick fog just like something out of the Hobbit. From Bella-Bella off the coast of British Columbia the countryside became amazingly beautiful scattered about with many islands which I could spend several lifetimes exploring! God, how I wanted to just stop the boat and retreat to their inviting offer to ramble!
"Leaning on the guardrail of the ferry I suddenly snapped back into the reality of the moment knowing that I would surely return again some day to claim one of these great islands as my own for a summer! I wondered about a lot of other things too as the small ship made a steady dent northward."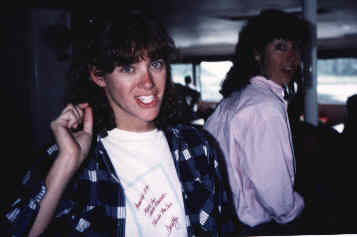 I met these two young ladys while on the ferry and they were also spending the summer traveling throughout Alaska. Like a lot of other folks on the ferry, I bumped into them again in the various towns of southeast Alaska... sort of like having a small family away from home!

The Tongass National Forest!
"17 million acres of an earthly paradise"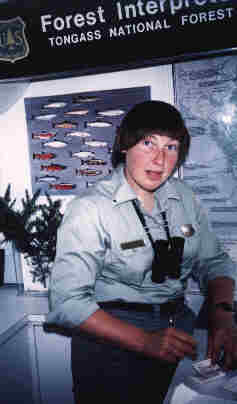 This is one of the National Forrest Interpreters aboard our ferry, the Matanuska. The Inside Passage which is a salt water inlet protected by coastal barrier islands is also home to the Tongass National Forest, the largest of all national forests.
The Tongass National Forest encompasses about 17 million acres and extends 500 miles northward from the Alaska-Canada border to just north of Skagway. The Alaska-Canada boundary on the east and the Pacific ocean on the west provide a 100 mile wide strip of coastal forest. These boundaries encompass the entire "inside passage" of Southeast Alaska and although the National Forest does not govern the waterways within this protected area, it does manage the greater percentage of the shoreward lands seen while sailing through or flying over Southeast Alaska.
The Tongass National Forest was created on September 10, 1907 by Theodore Roosevelt's presidential proclamation and is the largest National Forest in the National Forest System. The Forest received it's name from the "Tongass" clan of Tlingit Indians that lived on a small island near the southern edge of what is now the Tongass National Forest.
The interpreters are very helpful on whale watches and explaining the history, culture, wildlife, and the many uses of this great natural resource.If you'd like to learn more about the Tongass, then just click the following link which will open a new browser for you! TONGASS NATIONAL FOREST

Ketchikan...home of the totem poles!
June 5th; Day-9
If you'd like a closer look at the town of Ketchikan then take a moment to visit their website by clicking here: KETCHIKAN!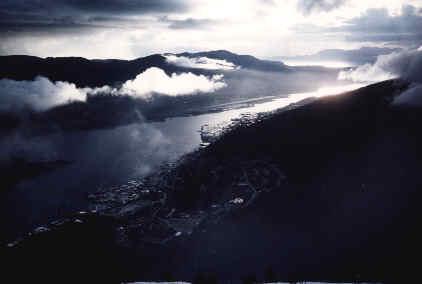 Here's a view of Ketchikan from Deer Mountain with the pristine Inside Passage under a canopy of scattered clouds. I would spend the next week in Ketchikan where I ran into my first adventure plus a very big surprise...

From my journal (June 5th;Day-9)..."I slept well with the secure vibration of the Matanuskas diesel engines massaging my body throughout the night. Gazing at the dense fog from the deck I spoke with a contented man for a half hour who informed me that he and a friend were on their way for a chartered salmon fishing trip.
"He said that he was quite adventuresome in his younger days, having worked all over Alaska through the years. As we approached Ketchikan he said that he had once worked for a bakery here, but hasn't been back for 53 years... until today. This man of many years was obviously nobodys fool and an independent thinker who had an unusual zest for living which is probably why I enjoyed him so much. Our conversation soon tapered off as the nearby town of Ketchikan set our thoughts racing in another direction."

During the first couple of days I stayed at the youth hostel in the Methodist church and Ketchikan was also the last time for the rest of the summer that I stayed under a roof! I just feel much more secure and content to be sleeping under the stars.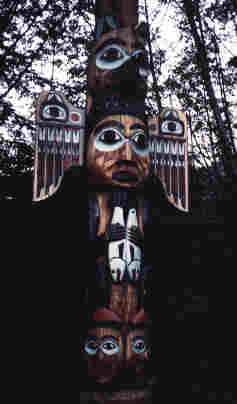 I've always been amazed with totem poles and Ketchikan was the totem pole capitol of the world so I was quite in heaven!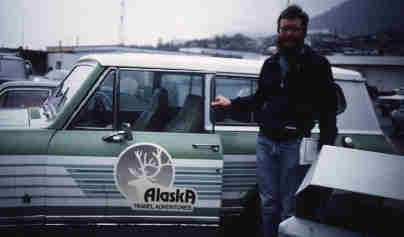 During my third day in town I was shopping for a new camera tripod and unexpectedly ran into Dan Nellis, a good friend whom I had met several years back while working for an outdoor camping program in North Carolina. Dan was now in charge of a recreational canoeing operation in Ketchikan for his second summer and invited me to work with him for the next week, so how could I pass up an opportunity to renew a friendship with some extra cash to boot! In a blink we had scooped up my backpack from the hostel and were headed out of town to Dan's place where he moved me in then introduced his crew.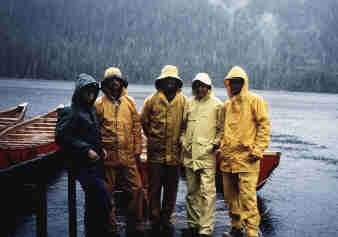 For about the next week I helped out with canoe trips on Connell Lake. Here's the crew for one such trip;(L-R) Richard, Bret, Dan, me, and Martin and what a great team we were! Notice the canoes in the background which were custom built in Ontario, Canada for $7,000./each and modeled after the traditional indian transport canoes. They were HUGE!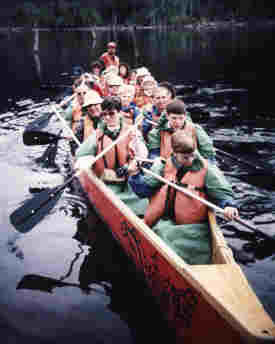 Here's one full canoe of tourists off the cruise ship. Have you ever before seen so many heads popping out of one canoe? Until today this photo still chokes me up but the canoe was 37 feet long and built to hold a load!