Frequently Asked Questions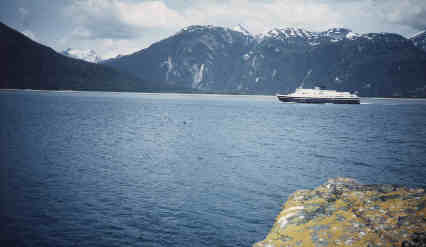 The answers to the following questions are based solely upon my own traveling experiences and express my own opinion to which there are many.

Why did you choose to spend the summer backpacking in southeast Alaska?
Actually I didn't. I had originally planned to paddle my sea kayak up the coast of British Columbia to Alaska, but after spending some time in Seattle I decided to travel via backpack and the Alaska Ferry System. I've always been a spontaneous person and refuse to let myself be locked into only one closet, simply because I planned it that way. Seattle is truely a "gateway" city for any northwest adventure so my plans quickly changed.

How did you get to Seattle?
For this trip I flew into town. For the first week I rented a car and got a room in a cheap motel. I've also stayed at the youth hostel at the downtown YMCA which is a safe and inexpensive alternative for a busy city.

Why did you travel between towns by ferry and how can I get information on the Alaska Marine Highway System?
Because of the coastal ice fields surrounding southeast Alaska the only way to get there is by plane or boat. Cruise ships just didn't fit the bill for the kind of experience that I was looking for and the state ferry system provided the exact service that I needed... a highway link without all the tourist frills. You can go to their website and even buy your tickets online by clicking here; ALASKA FERRY SYSTEM!

What is the best way to travel in se Alaska?
If I ever did it again I would take my touring bicycle with me aboard the ferry. That way you'd have instant independent transportation upon arriving in a new town.

How was the weather?
That's a good question to consider because the southeast is part of the pacific coastal rain forest. Southeast Alaska gets more rain than any other region of the huge state but in my opinion it's not as bad as it sounds. Most of the time when it's raining it's more like a constant misting so life goes on as normal. Also prepare in the right way by having a good water proof tent and you'll be okay. I adapted well to the moisture and hardly ever noticed it, but the sunny days sure were special!

If you have any other questions, then I'll make every effort to answer them if you send them to me via my e-mail address or by signing the guestbook on the HOMEPAGE.