Pacific Crest Trail... photos and journal
Summer of 2001...Washington...
(Page 5 of 6 pages)

Descending Fire Creek Pass and a great way to start a morning!
| | |
| --- | --- |
| Continuing to descend Fire Creek Pass and as close as you can get to heaven on earth! | |
| | |
| --- | --- |
| | One of the most beautiful places on the PCT near Dolly Vista Ridge and ablaze with purple flowers. |

From my journal (August 8, Day-105)..."These last two days have most certainly been one great last challenge thrown my way. The approximately last 60 miles have been just like the guidebook said... "second in difficulty only to the High Sierra's". Up and down switchbacks have been the rule from one glorious scenic pass to the next... fabulous scenic country around Glacier Peak and well worth the effort! I was climbing up to Glacier Creek at 6:30 am from my campsite near Kennedy Creek and my closest camp to Glacier Peak. It was first up to Fire Creek Pass with fantastic panoramic views all around, then some dramatic views of Glacier Peak on the descent to Mica Lake, a lake with dye-like turquoise color. It was then down to the Milk Creek valley, then up to nice alpine crossing to Vista Ridge, then down 57 switchbacks to the Suiattle River and up the Miner Creek valley to Suiattle Pass, a very long and hard days walk it was, but this wild country made it more than worthwhile. I camped right atop Suiattle Pass with a view to kill for! "

| | |
| --- | --- |
| Just some nice and colorful fungus on a log beside the trail. Who says that flower's have a copyright on color!?! | |
| | |
| --- | --- |
| | As seen from the PCT northbound this is High Bridge on the gravel road where I caught a shuttle bus 9 miles into Stehekin for my last food drop box. |

From my journal (August 9, Day-106)..."I was hiking by 6:20 am with the expected excitement of reaching Stehekin, my last trail town before reaching the border and Canada! I was glad to have made it all the way up to Suiattle Pass yesterday which meant that today's hike would be all downhill which is quite a contrast with the previous two days of strenous up and down through the North Cascade's. From 5,990 feet at the pass down to just 1,600 feet at Stehekin, it is quite warm here beside Lake Chelan. At the High Bridge Ranger Station I had to wait about two hours for the shuttle bus which charged $6.00 for a gravel road ride into town about ten miles distant. Elan and Ira also made it down and in time for the bus. Our first stop was at the bakery where everyone got so many fresh goodies, then it was on to the post office for food boxes, signing the register and then a hot shower offered free to hiker's by the town! Tomorrow morning I will catch the 7:00 am bus shuttle back to the trailhead for this final leg of my trip. "

Stehekin... my last trail town
| | |
| --- | --- |
| The shuttle bus driver hands down our backpacks to Ethan and Ira at the dock in Stehekin. | |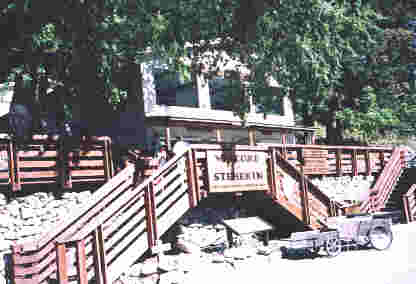 The store in Stehekin.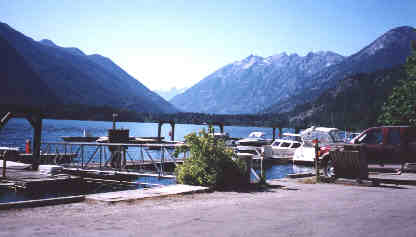 Looking out across the lake from the dock at Stehekin.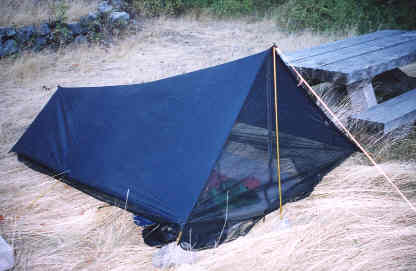 This is my 18 oz. tarp/tent that I used on my thru-hike set up at Stehekin and designed by Henry Shires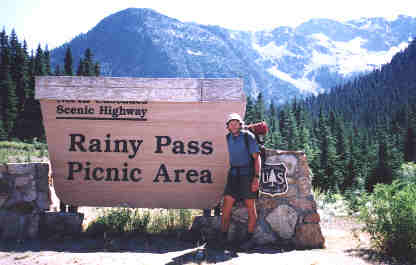 Rainy Pass.

Join me on the next page as I complete my thru-hike by a glorious arrival at Monument 78 and the northern terminus of the PCT.