Pacific Crest Trail... photos and journal
Summer of 2001...Washington...
(Page 4 of 6 pages)

From my journal (August 5, Day-102)..."Tonight I'm camped directly atop Trap Pass where there is a cold breeze blowing, but it was almost dark upon arriving so I didn't drop down into the valley. Just before and at daylight this morning I could hear the deer sneaking up a slightly hidden drainage gully behind my tarp and toward the small lake here. The two deer that I saw here last night had a nice set of antlers. During my first hour on the trail my sore foot was a pain, but it finally became bearable as the day wore on.Once again I spent all day going up and down long sets of switchbacks, grom one pass to the valley then up to the next pass. The blueberries are now ripe and it was nice munching on them as I passed through the valleys! "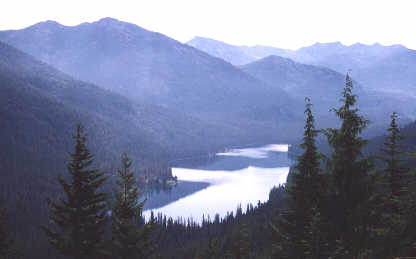 Approaching Waptus Lake

Town of Skykomish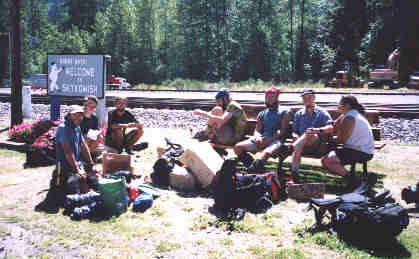 Here we are resupplying at town square in Skykomish...(left to right) Me, Ira, Ethan, Hirsh, Nobo, Saskia and Jan.

From my journal (August 6, Day-103)..."The night was very windy on the narrow pass but all my gear and tarp was bone dry at sunrise. All the way to highway 2 at Steven's Pass was a nice walk and I passed by several small lakes and a youth corp's group was doing some trail maintenance around Lake SusanJane. I later learned that this is where Hirsh and Nobo had camped. On the way to Steven's Pass I began to hear the increasing sound of traffic which caused me to realize that Skykomish was my next to last food drop town and that I'd actually made it this far... to towns that were just distant names on my hiking itinerary only a few short months ago and now I was here! I quickly crossed the wide highway and within five minutes I'd caught a ride fourteen miles down into the valley.
I picked up my food box and drift box first at the post office then headed across the street where I saw Nobo, Hirsh, Ira, Ethan, and Jan & Saskia...a couple from Holland. It wasw great to see everyone again as I put new food in my pack and exchanged many stories. Later I walked over to the Deli/Liquor store where a kind lady sold me a turkey sandwich and a bunch of goodies for the trail. I was then standing out on the highway trying to catch a ride when a small pick-up truck pulled over with all of the hiker's mentioned above inside. Bob Norlan, a trail friendly local resident was driving and insisted that I squeeze me and my pack into the truck, so off we all went back to Steven's Pass with full packs once again! I hiked with Hirsh and Nobo all the way to Wenatchee Pass where we set up a late campsite and enjoyed sharing stories around a campfire as we cooked our meals in the darkness. Certainly a great day! "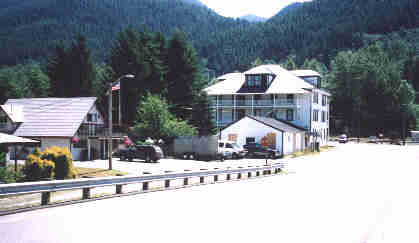 The small but exceedingly friendly post office at Skykomish.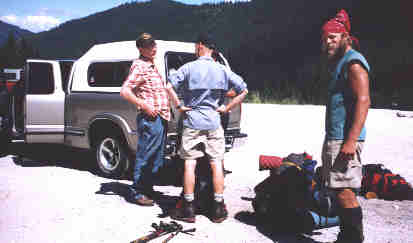 On the left it's the PCT famous trail angel Bob Norton, who gave us a ride back to the trailhead out of Skykomish.
| | |
| --- | --- |
| Bob Norton relaying some trail information. | |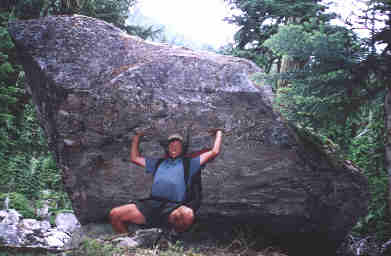 Can I move the mountain?!?
| | |
| --- | --- |
| | More gorgeous color on the trail! |

From my journal (August 7, Day-104)..."Surely this has been one of the most difficult hiking days (terrain speaking) in a very long time and I most definitely had to earn my 30 mile days! I was on the trail just after 6:00 am after saying my last farewell to Hirsh and Nobo still in their tents. I probably wouldn't see them again, not because I was so fast but because they'd intentionally slowed down at this point in their hike since friends of Hirsh would meet them at the border on the 15th and they didn't want to arrive early. I really felt fortunate to have met them and to have shared a campsite before my summer had ended! From the begining the trail was a never ending stream of steep ups and downs which took me through some of the most beautiful country ever, including White Pass, Red Pass, and the Glacier Peak Wilderness Area. At days end I had a very treacherous crossing of Kennedy Creek where I managed to balance myself across a small fallen tree. It's so nice to be in my sleeping bag tonight! "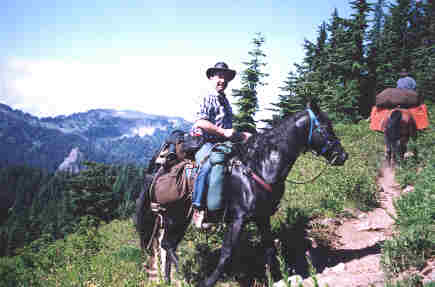 A small train of pack horses that passed me on the way toward Glacier Peak.
| | |
| --- | --- |
| That's Glacier Peak in the heart of the North Cascade's! | |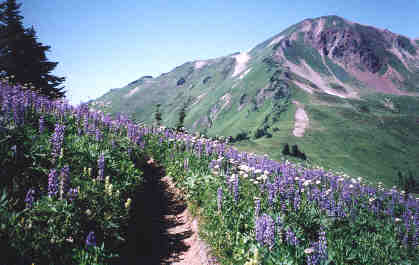 Beautiful purple flower's ablaze the trail at White Pass.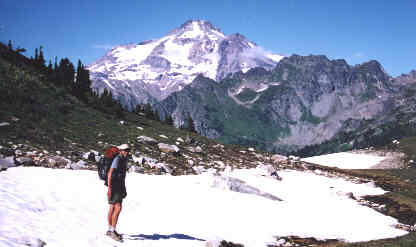 The PCT crosses over some lingering snow with Glacier Peak up high in the background.

Join me on the next page as I make it over Fire Creek Pass then go on to resupply at the isolated lakeside town of Stehekin.