Pacific Crest Trail... photos and journal
Summer of 2001...Washington...
(Page 3 of 6 pages)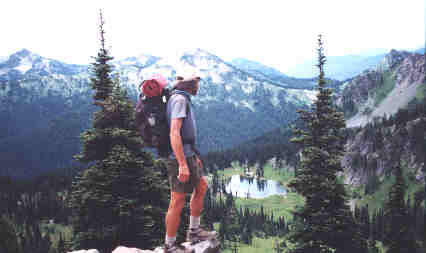 High atop Sourdough Gap, appropriately named for the old gold prospector's of years past.
| | |
| --- | --- |
| Elk had become commonplace in the Washington high country and I most often spyed them grazing in the meadow's during the late evening hours. | |

From my journal (August 2, Day-99)..."Fortunately the only rain that fell was just the few drops while cooking my meal last night. At wake up the sky quickly cleared to full sun and this was the warmest day in Washington so far. At the first spring I stopped and had a nice talk with a couple of southbound thru-hiker's then all day the trail led in and out of clear-cut areas then through lush green forests. There were more ups and downs than usual which made it tough and the sun was hot. "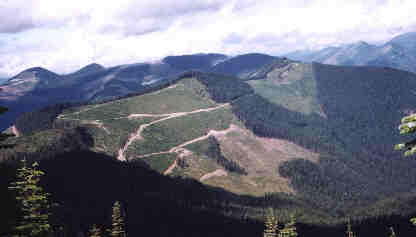 In a few areas before Snoqualamie Pass the PCT passes through some clear-cuts, as well as some clear-cuts of past years which were now young and beautiful forests.

Snoqualamie Pass
| | |
| --- | --- |
| | That's a very busy Interstate 90 as seen from the PCT on the way down to the Snoqualamie Pass valley. |

From my journal (August 3, Day-100)..."Last night I'd set my tarp up on a clear outcropping of rock since the forest undergrowth was so thick, which was a great spot eventhough there was a vicious onslaught of mosquitto's. This morning I spilled some of my grapenut cereal at the tarps edge and while I sat there six or seven Canadian Jay's fearlessly cleaned them up. The morning was very overcast and even more so as I lost elevation and dropped down into the valley near Snoqualmie Pass. My right foot had developed a nasty blister on the bottom side and had become quite painful, but as usual I just hiked on anyhow!
Down in the valley about 10:00am I walk up to the Timewise Store/post office and immediately see two obvious thru-hiker's and I recognized Nobo after seeing his photo back in Seiad Valley having been the only hiker this year to win the famous pancake challenge. The other hiker was Hirsh and after 2,300 miles I'd finally caught up to them! Luckily, they had gone into Seattle for some new gear which had delayed their hike, but I was just happy to have met them after following their register entries for so long. We enjoyed a great conversation out front of the store, then they headed out and north again, hoping to reach the border on the 15th. I then retrieved my food drop at the post office then decided to give my sore foot a days rest so I checked in at the Best Western Motel next door. "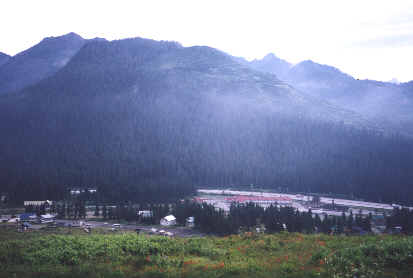 Snoqualamie Pass and where I spent a 24 hour layover to rest a very blistered foot!
| | |
| --- | --- |
| Here they are, "the Great One's"... Hirsh (left) and Nobo (right)out front of the store and post office at Snoqualamie Pass. After following them for thousand's of miles it was great to finally catch up to them and spend some quality time exchanging tales of the trail! Hirsh is from Tennessee and Nobo was from Minnesota. | |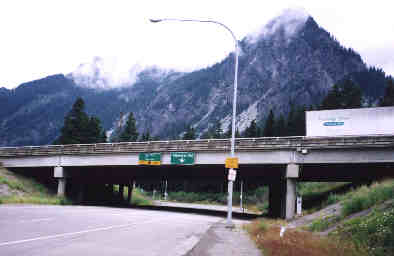 Leaving Snoqualamie Pass the PCT goes directly under I-90.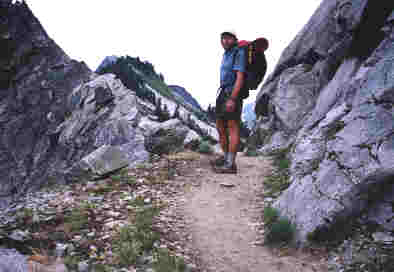 After leaving Snoqualamie Pass I'm back up high on the crest in about an hour on a very rocky trail that led me along some steep and beautiful ledges.
| | |
| --- | --- |
| | I was quick at the draw to get this silouette photo of some kind of bird alongside the trail. |
| | |
| --- | --- |
| This is Alaska Lake and a very popular destination for hiker's. | |

From my journal (August 4, Day-101)..."I took my time this morning lounging in my room, drinking a lot of coffee and had breakfast at the restaurant. I check out and am walking down the road toward the trailhead at 10:15 am. The 24 hour rest did me good and the blister on my foot is somewhat better. I climb up switchbacks for quite a while up into some steep and sharp cathedral-like mountains with many turquoise lakes far below. I realized that these were the mountains that had stuck out in th distance for the last few days and now I was here. I kept up a steady pace and made good time over the rocky trail which later led down a ton of switchbacks into the Leanah Creek valley, then in a few more miles I had to climb back out of the valley via another maze of switchbacks to a nice little mountain top lake where I saw two full antlered deer then made camp. "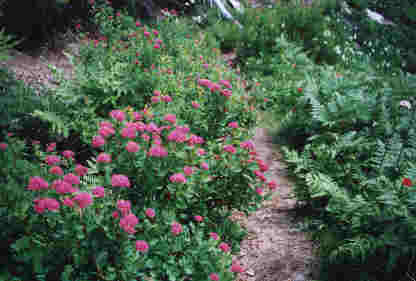 More beautiful color on the trail.

Join me on the next page as I leave Skykomish and head into the Glacier Peak area of the North Cascades and the most rugged trail since the high Sierra.