Town Reviews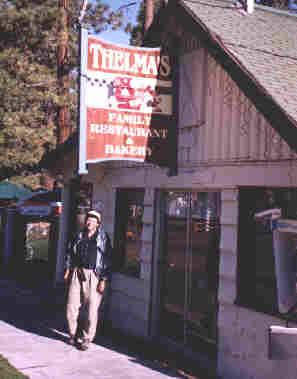 Thelma's in Big Bear City

Campo
Since I caught a ride with a trail angel to the trailhead I didn't spend much time checking out the small town, but I did notice one store near the intersection. There is also a border patrol station here where it is recommended that hiker's check-in and where one of the officers helped me find my way back on the trail after making a bad wrong turn within a half hour of begining my hike! There is also a small bus service here from San Diego, but it supposedly gets to Campo each afternoon about 5:00 p.m. thus making a late start the rule and camping close to the border your most likely option. I was fortunate to get a first light start and was able to hike the 20 miles to Lake Morena on my first day out, getting me far away from the most active areas of illegal immigrant movements.
Lake Morena
The PCT comes out directly in Lake Morena State Park which has a very large and spacious campground on the shore of the lake and the park can get quite crowded on weekends, like when I arrived but there was still plenty of "roaming" space. Most important there was plenty of fresh water and I also grabbed a hot shower in the campground facility and if you like hot water then I'd suggest a very early morning visit. There is not a store in the campground but I was pleasantly surprised to find a small but well stocked grocery store/grill about a three block walk out of the park on the main road. I didn't see this store listed in the townguide or the guidebook so I wouldn't depend on it being open every year, but it would have been easy to resupply from here for the walk to Warner Springs. If you do want to use this store then perhaps you could call the ranger at the state park for an update on nearby stores first.
Mt. Laguna
About a half mile off the trail the store and post office are located in the same building however I didn't send a maildrop here and completely resupplied to Warner Springs from here and it's a good thing because I got there on a Sunday. The store does not accept major credit cards of any kind so you're gonna need some cash here. I found the store more than adequate for all of my food needs although like most rural area stores, don't expect any big city bargains. Apparently one hiker lost their backpack on the front sidewalk to theft this year so I placed mine just inside the door as I shoped and like always I kept a sharp eye on it.
Warner Springs
From the PCT there is a very convenient and well marked side trail into town about a mile. I would rank "the" store in Warner Springs as one the worst for resupply on the entire trail which is conveniently located next door to the post office. You should most definitely send a food drop here because if you are lucky they might have soft drinks, a few containers of ice cream, and a few candy bars & chips... and that is it, period. You can fill up your water bottles behind the store but I had the friendly waitress at the Golf Grill next door fill mine with ice cold water, then was sure to leave a nice tip! I had a very nice burger 'n fries lunch at the Golf Grill for a fair price complete with iced tea (I'm from the south, thank you) but you'd better guard your meal closely from the thieving crows which will quickly steal your meal out on the patio. The restaurant will allow hiker's inside to eat, but they ask that you leave your backpack outside. I just ate on the patio where I could breathe and watch the golfers tee-off. Several hiker's were lodging over at the hot spring resort for a hiker special of just $25.00 in an effort to be a more hiker friendly town, I heard. The rooms were reportedly very nice with access to the spring but I moved on wanting to be on the trail.
Idyllwild
This was a cozy little mountain town that strongly caters to the tourist industry and I found that it was a very hiker friendly place to visit. Although there was word of camping in the city park for just $1.00 (w/free shower) I decided to get a room at the Talaquitz Motel since I'd heard so many positive comments coming into town. That ended up being a good decision because there were a lot of other hiker's staying there, they had a fantastic hiker's box, and the manager was extremely hiker-friendly driving me all around town to pick up groceries and gear, then gave free rides back to the trailhead about two miles away.
Although quite congested, most everything is close together including the post office, a large grocery store suitable for long term resupply, and a small yet thoroughly stocked outdoor gear shop. There is also a good choice of restaurant's and some with nice patio dining. If you've been hiking full steam from Campo then I'd reccomend Idyllwild as a neat little layover town with everything you could need including a one-hour photo service too.
Big Bear City
Although it's hard getting a ride for the three miles into town off the small gravel road, once you manage to get there you'll discover that you have close access to absolutely any service imaginable. Most hiker's go straight to the Fire Station where they generously allow hiker's to camp on the small lawn with free access to the bathroom and shower's. Remember that the lawn is directly next to where the firemen live so please conduct yourself accordingly and be sure that someone regularly mops and cleans the bathroom facilities.
Within about two blocks of the fire station there is the post office, a small grocery store with a good selection, a barber shop, an ice cream joint, and one of my favorite restaurant's visited on my entire hike- "Thelma's" which were VERY hiker-friendly. Thelma's always served free freshly squeezed orange juice with every meal and they know how to identify hiker's and big hiker portions which never left me hungry. Don't miss Thelma's!!!
In additon, there is a regular bus service that stops beside the fire station and for $1.00 each way, they will take you several miles down the road to several nice shopping centers with monster grocery stores, a K-Mart, Radio Shack, fast food restaurant's, a Motel 6, drugstore chains, etc., etc. Big Bear City was a very good stopover where I found everything that I needed, but it is a fast paced place with a busy and dangerous highway, and the camping was loud so I was glad to move on the following day.
Wrightwood
Although some hiker's were hiking into town via a side trail near Guffy Campground, we opted to hike on to the highway which was about 15 miles from town and a route that was still closed as a thru-route for the winter. After thumbing for about 45 minutes, the third car picked us up and delivered us to a fine little restaurant in town center. I also found Wrightwood a very hiker-friendly place to be with a nice big grocery store suitable for long term resupply. You can also find a hiker box at the hardware store and get fuel by the ounce. The post office is close by along with several motels and restaurants. Until I grasped my bearings I spent some time in the little city park beside the elementary school playground, eating, packing, and socializing.
Soon after entering town a friendly gentleman drove up and offered all hiker's to stay at his ski lodge for free including full kitchen facilities, showers, dormitories, etc. and that he would pick up those interested at 6:00 pm in front of the grocery store. I decided to get back on the trail and easily got a ride by another friendly local who graciously made two trips to transport six of us. Yeah, this was another nice town.
Agua Dulce
Agua Dulce is a true desert town... low, flat, and hot! The PCT crosses directly under the interstate highway just before entering town which is a close and quick route into nearby full access shopping center's and Los Angeles. The PCT follows the main street directly through the heart of town which has a few nice restaurants and a small quick-mart type store. Just as I had come out of the store a car quickly swooped in, scooped me up and then drove me to the Saufley's, definitely some of the finest trail angel's on the PCT! Jeff and Donna live about a mile off the PCT route in town, but like me, if you visit town during the peak of the thru-hiker season then they'll probably find you! They graciously allow hiker's to use their mailing address for maildrops and help you get the things needed to continue your hike. If you're in a big hurry thru town (big mistake) then another alternative maildrop location is the Century 21 office on Main Street. Unfortunately the town's only grocery store had closed down for the 2001 hiker season but the Saufley's helped us get what we needed so future hiker's please don't abuse their hospitality and know ahead exactly what you might need. There is also no post office but Donna will help you get things in the mail through internet accessed postage. This postage service cost the Saufley's money so please throw a few dollar's in the kettle. I ended up sending three maildrops ahead from here to Kennedy Meadow's, Vermillion Valley Resort, and Tuolumne Meadow's.
Tehachapi
This was a very welcomed town to reach after crossing the Mojave desert. At the time I reached the crossroads most hiker's were going into Tehachapi instead of Mojave. I had originally planned to go into Mojave but since I was resupplying as I went, I was free to change my mind and so I did. I easily picked up a 12 mile ride into town where I found full services including numerous restaurants, big grocery stores, motels, drug stores, a K-Mart, Buger King, drug stores, shopping center's and just about anything you could possibly need. Unfortunately most of these places are somewhat spread out, but after hiking hundreds of miles to get here I only felt that to be just a minor inconvenience. The huge modern post office is also located about a miles walk on the outskirts of town, but like I said I kinda like walking, ya know? This is certainly a full service town and I'd reccomend sending your maildrops ahead from here if you didn't do so in Agua Dulce because unless you get WAY off the trail you won't find a town like this until Ashland, with perhaps the exception of South Lake Tahoe. There was only one 1-Hour Photo lab in town but they did a great job developing all of my film taken from Big Bear City to here.
Kennedy Meadow's
From my prior research and my actual thru-hike it appears that Kennedy Meadow's is probably the most anticipated destination on the entire PCT other than the north and south terminals. Once reaching the tiny country road it's about a .7 mile walk to the store. I arrived just after the Memorial Day weekend when the store was pretty well wiped out of food and chose to stick around until the next day when a resupply truck arrived. I believe that they charged me a very fair price of $2.00 per package for my maildrop box and I would highly reccomend sending yourself some food here. It's one of those places where I could have found enough food without a lot of choice to get me to Vermillion, but I wouldn't want to chance it here. I found the manager and owner most hiker friendly with some thought put into hiker needs, such as a huge outside porch for lounging and packing, a hot outside shower for $2.00 including a towel, and several hiker items in the store. Although the selection of food is not great I found it relatively easy to supplement my maildrop
About a mile down the road we walked for a nice breakfast at a homey style restaurant, and although service was slow we did manage to get some fresh hot food. There is also a pay phone outside the store that noone could get their phone cards to work, but some had luck with their major credit cards, and I just ended up calling collect.
Vermillion Valley Resort
I heard some comments about the high cost of staying here but considering the resort location on the lake and things like having to generate their own diesel electricity I've decided that the owner's were entitled to a fair profit. I rode on the ferry for $16.00 (I think?) round-trip to the resort and was treated like royalty by the staff for my entire overnight stay. Getting off the ferry I was personally walked up to the store and introduced to other staff, then offered one free beverage of my choice and the first night's stay in one of the canvas cabins for free. I enjoyed one $5.00 hot shower w/towel and shared a $5.00 per load laundry service with another hiker. We then proceeded to eat all of our meals in the store's restaurant where the best deals could be found at breakfast although the halibut sure was good for dinner as we watched the movie "Gladiator".
They also led me to the best hiker box along the whole PCT which was a nearly full sealed 55 gallon drum. It would have been easy to have resupplyed almost completely out of it for a week on the trail, but I guess that it wasn't always that full. The store is quite small but I found it quite sufficent to supplement my own food with things like bagels and cheese. Yeah, this was a great stop after crossing the High Sierra!
Tuolumne Meadow's
This was one of the better surprises of the hike because I didn't expect such a well stocked grocery store. I had sent a maildrop here but it would have been easy to have just gotten all of my food here. There were plenty of staples like lipton dinner's, trail mixes, bagels, cheese, nuts, etc. and they also had a fair selection of camping gear. It was also fun to just hang out all day at the picnic table's outside the store and watch the people. The small post office was located in the store and the postmaster kept closing and opening throughout the day so you might have to be patient. There was also a fast food vendor in the same building with somewhat plain but hot take-out food. A couple of good telephones were located outside.
Echo Lake Resort
I happened to drop in on this gorgeous resort on a very busy Sunday morning with people buzzing around everywhere. I had originally planned to hitch into South Lake Tahoe and that would have been easy on a very busy highway, but I just decided to keep moving. I had no maildrop waiting on me here at the tiny in-store post office but I did find plenty enough in the very small grocery store to make it to Sierra City. They had a small selection of fresh fruit and vegetables, cheese, bread, raisin bran cereal, mac & cheese, power bars, etc. Most hiker's probably couldn't get by on what the store has to offer, but I thought that the selection was more than adequate to get me to Sierra City.
Although the location of the resort is very nice on the crystal clear Echo Lake, I'd say that the owner and staff lacked greatly in the department of understanding the hiker community. They were courteous and helpful with my shopping needs but don't expect any favors from this place and if I had it to do over again I would most definitely hitch into South Lake Tahoe without a second thought. The highway just a couple of miles before the resort is a major artery and can't imagine having any trouble hitching a ride... or if you're there on a busy weekend I'd say that catching a ride in the Echo Lake Resort parking lot would be a simple thing if you don't mind striking up a conversation with people as they are leaving. There is also a ferry taxi service that will take you a couple of miles up the lake and drop you off on the northbound PCT for a few dollars but I walked, thank you.
Sierra City
I really liked this place and especially how the small town sits deep on the valley floor... just how I'd imagine an oldtime outlaw town to be! Due to feet problems I got to know this town quite well as I recovered for about a 36 hour stay. Most all of the services are located along the Main Street within a couple of blocks from each other in the heart of town. Although I had sent my float box here I almost completely resupplied at the General Store which had a MUCH better selection than Echo Lake. They had all the staples like breakfast cereals, bagels, cheese, bread, ramens, mac & cheese, and also a good selection of fresh fruit and veggies. They also make a nice ice cream cone for about $1.25 which I had several! The store owners are cordial if you go out of your way to be friendly and do not leave your pack or dogs on their front porch. I witnessed the owner interrupt one hikers long distance phone call demanding that he remove his pack from the porch and his dog from the steps.
The post office is next door to the store and there are a few nice eateries in town, but we found only one restaurant open about a half mile's walk out of town after 6:00pm but it was well worth the walk when they actually caught my fresh dinner trout from the pond out front! There were two or three evening saloon's open if you wanted to strike up a conversation with the locals, some of which liked and didn't like hikers. The manager of the RV park directly across the street from the store and post office was super hiker friendly and allowed us to camp for free down by the river and let us use his shower too.
Belden
This little town represented the best of a love/hate relationship because I absolutely love how it sits way down low in the valley bottom beside the river, but I didn't really see the signs of a strong hiker-friendly place. I had an absolutely fantastic stay while there but it was due to excellent hiker company and nothing more. The trail comes off the mountain then you follow the side paved road directly into town where the store and a restaurant are located in the same building. It had just begun to rain as I came into town so I sat on the front porch sorting through my pack to see what I'd need to get me to Old Station because I didn't send myself a food drop here... big mistake. I then tried to open the front door which was lock, so you can imagine my panic! I then tried the restaurant door which let me into a dark lobby where I pleaded and convinced the lady to open the store for me. Supposedly they just open and close at will throughout the day. She didn't even turn the lights on so it was hard to see what I needed to buy off the very skimpy shelves. I was lucky to get the last 4 ramen noodle packages along with a mac & cheese, then she gave me several pop-tarts since she thought they were "very old". There was also this big sign outside advertising ice cream of which there was none inside the store... a very sad moment! Anyhow, with some VERY creative selection I found enough food to get me to Old Station provided I didn't spend more than 2 days getting there.
As for maildrops DO NOT send your UPS package to the Belden store because they weren't accepting them as of the 2001 season... you'd better call first or your package will be sitting in a UPS warehouse 100 miles away when you arrive. This happened to Mike but fortunately for his hiking partner he managed to get by, plus a couple of cans of Campbell's soup that the postmaster gave him. Speaking of the post office, it is located about a half mile down the main highway. Later in the evening four of us had a decent meal inside the restaurant where it was raining cats 'n dog's outside. We had been sitting out in the cold on the front porch waiting until it opened at 6:00 pm but Mike managed to sweet talk the lady into letting us in a few minutes early very reluctantly. By the way there were no laundry or shower facilities available this year but you could rent some very expensive basic cabins for the night. We chose to move on.
Old Station
This was another one of those absolutely wonderful surprises found along the way, or at least the service provided at the Hat Creek store and the post office was beyond expectations. I arrived at the store very early and the store owner "Doug" immediately interupted his conversation with a customer to make me feel welcomed... by giving me a place to rest my pack, offering me all the free coffee that I cared for, and he also gave me a ton of fresh fruit and vegetables while there then sliped me a can of beer as I left. Doug is most definitely a hiker friendly person who really admires our strange outdoor ambitions. I had sent my drift box here but I bought all my food from Doug who gives all hiker's a 10 percent discount and Power Bars were under a dollar each! Although there could be a better hiker food selection it was obvious that he has attempted to put some of the things we like on the shelves so this is an excellent place to supplement a basic maildrop.
There's a couple of phone booths outside and the post office is located next door with one of the friendliest postmaster's I'd met to this point. There is a pizza joint beside the store and despite all the money that we spent there I left feeling like they'd rather not have to deal with us. There is also a motel for those who'd prefer that before tackling the Hat Creek Rim up ahead. Doug at the store definitely made this a wonderful stop.
Burney Falls State Park
The PCT passes within just a couple of hundred yards of this very popular state park. Although I found enough food to get me to Castella, I wouldn't reccomend doing it that way. Either send them a maildrop or go into the town of Burney. The store and quick food vendor is private without competition so expect some VERY inflated prices... I got a burger, fries, and a coke for $10.00! The store is very small with food items geared to car camper's and not hiker's so don't rely on them for what you might need. The campground shower was the highlight of this brief stopover where you can pump in a few quarters for some wonderful healing hot water.
Castella/Dunsmuir
When the PCT comes down off the mountain and hits the small paved River Road, then I'd suggest walking this road the couple of miles to Castella which is located just off the Interstate highway exit. I actually attempted to follow a very confusing guidebook description for an alternate trail into town with miserable results. Most hiker's just stay on the road and that's what I should have done. The store and post office are located side by side and the store here is well stocked for long term resupply. Also attached to the store is a bar/grill which served us a killer plate of fries with a burger, but unfortunately it was only open on Monday's and Tuesday's at the time. The owner's were very kind and allow's hiker's to use the private patio to the side of the building to hang out and do your packing under shade trees and picnic tables.
As for Dunsmuir which is about six or seven miles away, you can probably find a ride at the store in Castella. Six of us decided to layover here for the Fourth of July and stayed at the TravelLodge which is conveniently located to the big grocery store about a block away. Another couple of blocks into downtown you can find plenty of restaurant's and a nice pizza place, a movie theatre, and you name it.
Seiad Valley
Coming into the Seiad Valley we decided to ford across the Klamath river which was running low at the time so that saved us quite a few miles of hot scorching pavement! The store, post office, and restaurant are located in the same building, however another fine restaurant is located about a half mile up the highway. This place is very hiker friendly and although I found enough food to get me to Ashland, I'd suggest sending a maildrop here if you're the least bit picky. For $5.00 we stayed at the RV park next door but a hot shower is gonna cost you about six quarters... however the owner's provide a big box of free soap and shampoo. The restaurant was especially fun for breakfast with Rick's famous pancake challenge. You have two hours to finish eating five of Rick's humongous pancakes and they're free!
Ashland
If you're into very liberal hippie-like towns then you'll love this place, but I personally like those little Alabama back towns myself :-) I stayed at the Columbia Hotel downtown for the first night since it was so conveniently located to the post office... just a block away, and the Safeway supermarket... just a few blocks away. I bought and packed all of my Oregon maildrops here and had to send one UPS to Shelter Cove Resort, but there is a good weekday bus service which quickly got me to their office about a mile away. If you're new to town I'd suggest getting on the metro bus first for a good "loop" visit of the town, then you can get down to business. There is also a nice healthfood grocery store in town that most hiker's seem to find. I also found two good outfitter's but the one located in the heart of downtown is most pricy. There is also a nice movie theatre downtown where it was nice to take in a movie. After all my maildrops were taken care of I then moved to the Ashland Hostel for a better lodging price on my last night.
Crater Lake
You have a couple of options at this phenomenal National Park: If you sent a maildrop to the park post office (like I did) then your quickest route is to leave the trail where it hits the highway and walk (like I did) the couple of miles to the post office, or you can continue on the PCT to the Rim Village. There is also a visitors center next to the post office where you can view some good movies on the area and the park headquarters office is located in the same parking lot. If there is rain (fat chance!) then there is a covered sidewalk attached to the post office. From the post office I used my map to do some dramatic shortcut creative hiking so that I wouldn't have to walk the highway any more to the beautiful lakeside lodge and restaurant which serves some very good food. I then hiked the quarter mile to Rim Village where I reconnected to the PCT.
At the Rim Village is located a very small store with very limited food items... mainly candy bars and ice cream. Next door is a very large cafeteria with an AYCE food bar and generally just a good place to hang out with your friends for a while. I would highly reccomend sending yourself a food drop to Crater Lake. The PCT continues across the road for perhaps the most scenic part of the trail as it follows the rim of the lake.
Shelter Cove Resort
This is another one of those expensive backwoods resort-type places where you can expect to pay $1.00 for a package of ramen, but the owner's and staff were friendly and let me resupply my pack on their front porch/patio. They will hold your UPS maildrop package for free and they have a hiker's box but you'll need to ask for it. I wouldn't suggest making this a full ressuply location but it's a very good place to supplement your maildrop. They also have one of those quarter-operated hot shower's (ahhhh!) and laundry facilities.
Cascade Locks
This is a nice layover town and the last decent grocery store located on the trail and so this is where I did all of my maildrops for Washington. The grocery store is well stocked and located just across the street from the post office. I stayed at one of the motels for about $40.00 also conveniently located to everything. Some hiker's said there was free camping down by the marina but I never checked it out. There are several good restaurants in town.
White Pass
There's not much here but the Kracker Barrel store and a motel so I had a maildrop waiting on me. The attendant was very friendly and helpful, leading me to the hiker box and register which is alaway appreciated. I found the store adequate for supplementing my maildrop with things like power bars, cheese, and candy bars. They ask that you leave your backpack outside so I was constantly checking up on it.
Snoqualimie Pass
This small collection of stores, restaurants, and motels are your typical cluster of services found at any interstate highway exit, plus a ski lift if you're there for the winter. They are all conveniently located very close to the trail and the Time-Wise store/post office is the first stop for most hiker's. I would reccomend sending a maildrop here however the store is very well stocked for supplementing it and if you can't find what you need then catch the Greyhound bus into Seattle that make's a stopover at the motel next door each day at about 10:00am.
Skykomish
Luckily, I found the 12 mile hitch into Skykomish and back to the trailhead quite easy and all done in under 3 hours. Town is small but more than hiker-friendly with the post office, a small store/deli, and restaurant very close together. I can't imagine not having a maildrop here, however I found that the small liquor/deli store to be most helpful in supplementing it and they make a pretty nice turkey sandwich too! I didn't visit the restaurant out on the main highway but one couple told me that the service was very poor while another couple said that they had a good visit, so you're own your own there.
Stehekin
Stehekin was one of the neatest little places that I visited while on the PCT and probably because the only way to get there is by ferry or walking in on the PCT. Where the PCT crosses the small gravel road you can walk across the bridge about 200-300 yards to the ranger station and catch a shuttle bus into Stehekin for about $6.00 one-way and they will make a stop at the bakery (highly recommended) by request. The town is small and a popular tourist destination nestled snug along the lake where the mountain tops are like cathedrals reaching for the heaven's and the deep blue lake seems bottomless. The shuttle bus will let you off directly in front of the store which has very limited supplies but I supplemented my maildrop just fine there with things like cheese and bread. There is also a restaurant which sometimes has an AYCE breakfast bar but I chose to take the 7:00 early bird shuttle back to the trailhead and missed it... but the bus driver stopped at the bakery where we stocked up on freshly made cinnamon rolls, banana nut bread, etc. and some hot coffee!
The town has a few high priced inns and the post office is conveniently located to everything with a nice courtyard for digging through your maildrop. The campground was full so the rangers directed us to an overflow camping area and I swear that I believe it was for free. The town offers free showers to hikers in a conveniently located public laundry/shower facility, so be sure to mop the floor for them when done. I found this to be a nice hiker-friendly place.
Manning Park
This was the end of the trail for me and where I found a nice lodge, store, and restaurant. I treated myself to a nice room at the Manning Park Lodge for about $60.00 (U.S. dollars) and where it was convenient to catch a Greyhound bus the next morning about 11:00 am. Such a tourist location is always expensive but the store was more adequately supplied than expected.