Pacific Crest Trail... photos and journal
Summer of 2001... The Desert section...

(Page 9 of 10 pages)

From my journal (May 20, Day-25)..."Early this morning Mike Pook, Larry, and I drove to a nearby restaurant for a breakfast of bisquits & gravy, with eggs, toast, and waffles, then one last stop at a grocery store. For the remainder of the day we continued to rest and to lounge listening to good music and eating plenty of food. About mid afternoon we began to drink massive amounts of water then Jeff and Donna drove us back to the trailhead where it was hard to say good bye to two such wonderful human beings! It was hard trying to get our bodies back into gear but we just forced our legs to begin walking.
Just after passing the Bouquet Canyon Road the sun was gone but I hiked on in the dark until after 9:00 pm where occasionally I had to shine my photon light to make sure that some coiled up shape was not a rattlesnake! Making it back up onto the ridge I find a snug spot in the bushes to lay out my bed roll and soon fall asleep under those wonderful stars. "

| | |
| --- | --- |
| This is Mike Pook at the trailhead near Agua Dulce. Mike made almost all of his own gear including a strong and well made backpack. I especially liked this unique reflective hat that he made for the crossing of the Mojave. | |

From my journal (May 21, Day-26)..."Due to the heat of day I decided to get up early at 5:00 am to take advantage of the cool morning air. As I'm packing I hear Larry and Mike pass by on the trail not too far away. I soon catch up to them and learned that they had slept directly on the trail just before where I'd stayed. I ate several slices of raisin bread so that I can get right to hiking in a race to beat the sun. At the ranger station I fill up on water then take off for the Elizabeth Canyon Road where fortunately there is a water cache.
It is now midday and so hot! An hour later Larry and Mike arrive also beat down by the suns horrendous heat. After a long rest under a few trees they decide to skip the next section and take the alternative road walk. After the heat begins to drop I cross the highway then climb back up onto the ridge where I pass by a couple of men on horses marking the trail for an upcoming horse race. Finally I make camp on a hillside snug up to a pine tree which had created a flat spot over its years of growing. "

Jack Fair and the Mojave Desert
| | |
| --- | --- |
| | Here is the one and only Jack Fair of PCT hiker fame over the years. For years he has graciously opened the doors of his home to hiker's which is situated just before the hot Mojave desert. The guidebook describes Jack as a "concerned citizen" who just wants to be sure that everyone has enough water for the desert crossing. He can sometimes have quite a colorful and shocking vocabulary, but under the crust of that tough 78 year old skin I found a genuine kind and tender man.Note: Upon returning home after my hike I received an email sadly informing me that Jack Fair had taken his own life. I'm very grateful to have met him and his memory will live with me forever and his presence on the PCT will be greatly missed. Jack was a uniquely beautiful person. |
| | |
| --- | --- |
| This is Bishop, a fine 8 year old boy who Jack keeps at his home each afternoon after school until his dad can pick him up. Although Bishop had a hard time understanding that I was walking over 2,700 miles, he did tell me all about the ferocious desert rattlesnakes that he actually knew quite a bit about. | |

From my journal (May 22, Day-27)..."Once again I'm up very early in another attempt to beat the sun. Not far down the trail I run into "Bohdie" and he is limping with a very swollen foot. I deliver an ace bandage to him sent from "Billygoat" that I'd been carrying for more than a day after passing Billygoat yesterday. He is very happy about the bandage and wraps it around his ankle right away. Not far ahead I pass "Copper Top" and "Kermit" in a race to beat the heat and get to highway 138 where I can rest.
I've hiked much too long in the heat and finally drag myself into Jack Fair's yard at the intersection of the highway where I see a small sign posted on the corner of his fence simply saying, "WATER". Jack has become somewhat of a legend to PCT hiker's over the years by so generously offering anyone on the trail water and shelter from the sun. I arrived parched and very tired with only half a liter of water so I was elated to have made it here. His house is yellow with what seems like thousands of handmade signs covering the outside walls, all with philosophical words all written by Jack Fair. At 78 years old his mission now is to assist hiker's, but from 1980's newspaper articles he was once a cross country motorcycle rider
Jack answered the door after I rang the bell and I said, "So you're the famous Jack Fair?" He answers, "Yes, this is the one and only ugly me." He directs me to his garage to sign the register and I'm hiker #162 for the 2000- 01 season. He then comes back outside and asks me if I can help him figure out how to put a paper tape roll on his electric calculator. I follow him into the house and after a short while I get it working as he serves me a cold drink.We then have a seat in the living room where I mostly listen to his interesting stories about life, philosophy and the PCT for two hours as his dog "Missey" walks about. Later on Copper Top and Kermit join me in Jack's living room until mid afternoon.
Jack has a very colorful vocabulary that could shock a sailor and he let me know that he was an athiest, however I find it hard to believe that he could ever go to a hell after opening his doors to so many people. It is my belief that it is just his nature to shock people in a good natured way as a test to see what you're made of. Apparently I passed the test because he soon accepted me as a friend I think when I refused to do anything less than respect him for who he was and actively engaged in a conversation.
I then spent a couple of more hours in the shade of the garage until about 5:00 pm then I walked back to tell Jack how much that I appreciated his hospitality for allowing me to share an afternoon with him and that I'd remember him forever. With Jack, what you see is what you get and he doesn't pretend to be anything less than who he is. I will always remember my visit and know that I'm a better person for allowing myself to know him without conditions or judgement. I then fill my stomach with water and pack out two and a half liters of hot water from the fauct, then turn down the long hot trail toward the Mojave desert crossing. I begin following the trail as it follows the LA Aquaduct east until I find a good campsite on the sand just at dark. As I lie on my back and look up at the bright desert stars my mind continues to flow with thought as I process my day and thank God for letting me be here. "

| | |
| --- | --- |
| | Copper Top really takes his ice cream seriously as he digs in with full force! |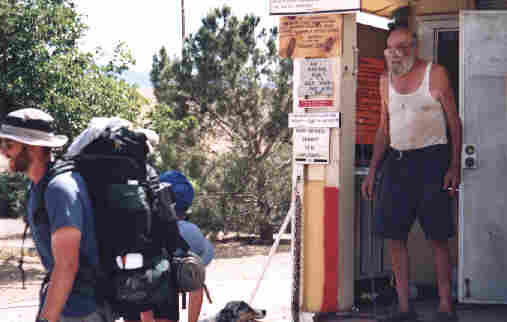 Jack welcomes another hiker ("Gilligan") to his home.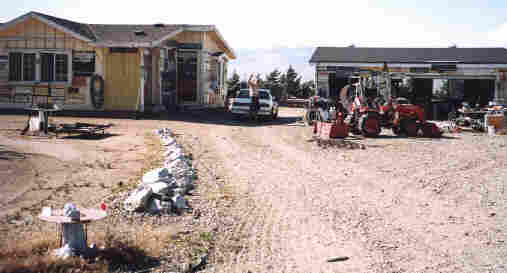 After a restful four hour vist Jack waves as I walk down his driveway headed back to the trail for a late night hike into the great Mojave desert.
The PCT follows directly along the L.A. aquaduct for many miles across the Mojave desert. Under that concrete top you can hear the clear, pristine Sierra mountain water flowing toward Los Angeles and San Diego and there isn't a thing you can do to get at it!

From my journal (May 23, Day-28)..."I was hiking an hour before the desert sun rose above the horizon on the long dirt road which follows the LA Aquaduct for mile after mile. The heat was already cooking up from the desert floor like a living, pulsating monster. It was a very long and flat walk through a great distance and progress felt so slow. At the dry Cottonwood creek there was a small pipe bleeding a tiny precious flow of water from the Aquaduct and there must have been thousands of bees competing for the same water. I moved in slowly and filled up with two and a half liters then moved on with my heavy load toward the Tehachapi mountains far in the distance. It was a steady climb but I got to Tyler Horse Canyon about 10:00 am where I slept, cooked two meals, sewed my shoes and wrote in my journal until 4:00 pm to beat the heat of the day under the protective shade of a bushy tree in the canyon. In late afternoon I packed up and ran into Galen and Anna who were also laying over in the canyon. It was nice to see them again and they were planning to leave in another hour. I hiked up into the 6,000 foot Tehachapi mountains feeling good and well rested after a six hour rest then hike until about an hour past dark. "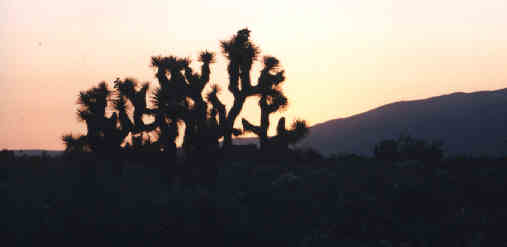 A nice clump of Joshua trees at sunset which was a common scene and typical for the Mojave desert.

Join me on the next page as I reach Tehachapi, then enter the official begining of the Sierra mountains, and finally come to Kennedy Meadows.