Pacific Crest Trail... photos and journal
Summer of 2001...the desert continued...
(Page 10 of 10 pages)

Tehachapi, Walker Pass, and on to Kennedy Meadows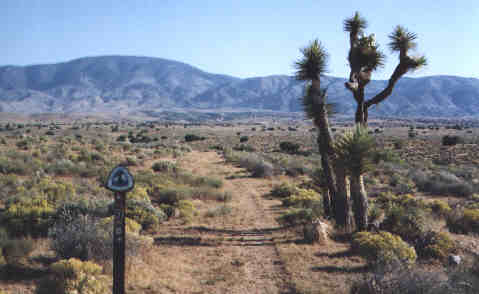 After a long dry crossing of the Mojave it was nice to see the Tehachapi mountains up ahead.

From my journal (May 24, Day-29)..."Up a little later this morning for a pleasant hike to the Willow Springs Road. Just as I got to the road there was Galen and Anna on the highway and they had just gotten a jeep to stop. I walked on down the road with the idea of waving to let them know that I would see them soon in town, but then that jeep pulled over to my side of the road to pick me up for a ride into Tehachapi also. I sort of felt like the Marines in that they will leave no soldier behind... and in this case no hiker would be left behind when there was the least bit of a way to get him in! Somehow we managed to tightly squeeze us and our backpacks into the small confined space then the nice fellow drove us 12 miles into town dropping us off at a restaurant. We went straight in for a great breakfast of eggs, hash browns, with bisquits & gravy while laughing and enjoying our brief entry into civilization with a lot of laughter.
After an hour we leave then immediately got a room next door at the Santa-Fe Motel sharing the cost between the three of us. The remainder of the day was spent buying food and eating a lot of fresh juicy fruit. Although I'd originally planned to take a 9 mile detour into the town of Independence after Kennedy Meadows, I had now decided to go ahead and send some food to Kennedy Meadows and just make it in one long haul to VVR. From Tehachapi to Kennedy Meadows is 142 miles so if I can do it now then I will be able to do it then. I was on the phone at the library when Kermit and Gilligan told me they were at the Best Western and invited us over tonight for movies so all of us had a great evening watching The Godfather. "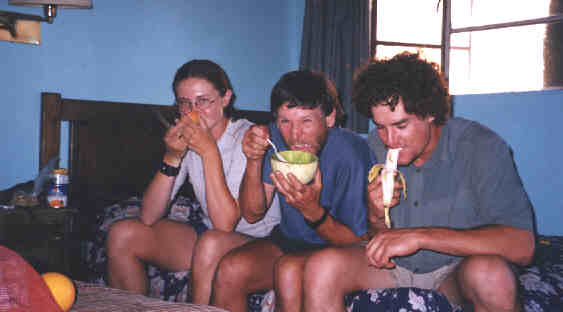 In Tehachapi Galen, Anna, and I shared a motel room where we munched viciously on some fruit just before hitching back to the trailhead. In the desert section we would normally eat fresh juicy fruit non stop until we left a town.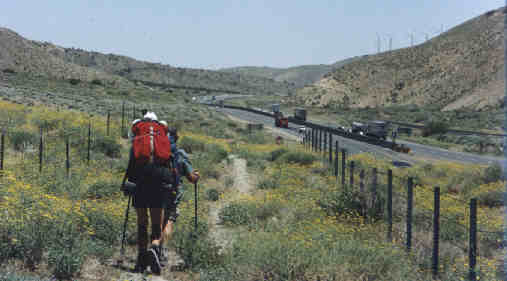 This is Tehachapi Pass and the official begining of the Sierra Nevada mountains, however it better reflects the environment of a transitional zone on to Kennedy Meadows with some pretty dry hiking along the way.

From my journal (May 25, Day-30)..."The loud sound of trains in the night interupted our sleep but we were finally up and packing gear at 5:45 pm. Somehow I'd misplaced a page from my data book so Galen let me copy his. We ate a ton of fresh fruit then went to the restaurant next door for a hearty omelet. Back on the trail amid the fields of wind turbines we are now carrying the heaviest loads yet with 6 days of food and there is a 25 mile water alert right off so I'm also carrying a heavy five and a half liters of water... ouch!!!
The first seven miles we hike through a huge wind turbine farm that seemed to go on forever, owned by a private company that allowed the trail to pass through its boundaries. The wind must always be strong here near Tehachapi Pass. At the Pass we stop to eat some food then moved on ahead into the offical begining of the Sierra Nevada, but it still seemed more like desert to me. Anna and Galen moved on ahead while I stop for a few hours in the solid shade of a big joshua tree high up on the mountainside overlooking highway 58 far below at Tehachapi Pass. During the cooler evening hours I hike on up the mountain through the windiest area of the trail thus far. Strong gusts of wind almost knocked me over out in the fully exposed areas, but I just kept pushing and allowing my mind to wander off in thought. I finally gind a nice flat spot to camp only about 3 yards from the trail and virtually under the shaddow of the swishing wind turbines that put me right to sleep. "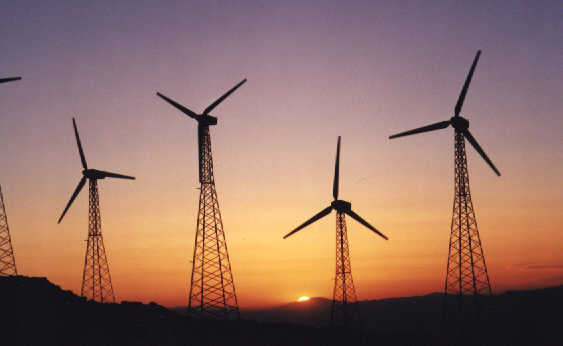 Beyond Tehachapi Pass I got this beautiful shot of some wind turbines near my campsite just at sunset. The powerful swishing sound of these huge turbines cutting through the wind was like sleeping on the beach.

From my journal (May 26, Day-31)..."Although mostly shaded this ended up being a long hard walk mainly due to so many ups and downs. The generally shaded trail seemed to have the characteristics of a transitional zone between desert and high mountains... quite a few trees but still a very dry area. My feet developed 3 new blisters, one of which festered up under an old dried blister and my feet were so sore. It was nice to catch up to Anna and Galen at Robin Bird Spring and who were dealing with similar foot problems. I've learned that if you want to be a thru-hiker then you just have to learn to live with a certain amount of pain and that's a universal rule despite those who just don't want to admit it. As Galen and I splashed in the water we agreed that nothing was more refreshing on the trail than washing your feet although Anna insisted it was washing her face that most pleased her.
Later down the trail near Landers Creek I come upon a note from them addressed to "Lightningbolt". Back at the spring they had told me that they planned to camp near the next road at a campground, but now they had decided to camp on the ridge here then fill up on water in the morning from the creek for the upcoming 35 mile dry stretch. I also decided to fill up here with seven liters of water and the most that I have carried so far, but this was also the longest water alert area thus far. At Piute Mountain Road I see where Larry (G.T.), the 3 Amigo's, and Bhodi have all recently signed the register and I was suddenly fired up to hike so I took off down the trail with my heavy water load and a spark of joy as I made a steady pace into the late evening hours. With a quarter moon I kept moving until past dark to a nice clear knoll, slightly hidden by the bushes from the trail and with a clear view of the twinkling stars overhead. I knew that I'd want to relive this day over and over again for the rest of my life, but since that wasn't possible I made a strong conscious effort to soak the day into my soul until the stars overhead were soon overcome by sleep. "

From my journal (May 27, Day-32)..."I decide to get a very early start through this long dry stretch of desert and you know that it's going to be a hot day when you have your sunglasses on at 7:00 am! It was a good mornings hike and I sought the shade of a lone scrubby looking pine tree just before noon having come 18 miles. At the end of my long break I see Anna and Galen pass by but the wind is blowing super hard so they'd never have heard me even if I had yelled full blast. I pulled out about 20 minutes later but never caught them since later I learned that it had been a 36 mile day for them all the way across the dry stretch to McIver's Spring. The remainder of the day was tough with heat in a very exposed section but I finally stop about a half mile past the trailhead to Yellow Jacket Spring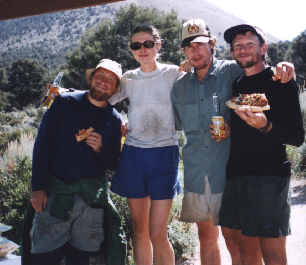 That's Bohdie, Anna, Galen, and me at Walker Pass enjoying pizza, watermellon and you name it. Galen's sister met us here one morning with this great treat which sure lifted our spirits!

| | |
| --- | --- |
| | Galen cuts the watermellon and you know that it didn't last for long! |

From my journal (May 28, Day-33)..."Happy Memorial Day! The night was very windy which sort of kept me walking up with the swooshing pine tree tops but sleep was still well. Making the transition out of the desert has been swell and especially mornings like this when it's 47 (F) degrees at wake up! Since I hauled 7 liters of water I totally bypassed McIver Spring which was the first water in 35 miles because I knew that my remaining liter would make it to Walker Pass. Coming down the mountain ridge into the Walker Pass area it was great to see the first glimpse of the snowbound Whitney Group mountains far ahead, but getting closer. This only motivated me more in my downward trot where Galen and Anna caught up to me and invited me for pizza at the Walker Pass campground having used his cell phone to contact his sister. What a treat this was as his sister drove up with several large pizzas, soda, beer, fresh fruit and brownies.
In a couple of hours I'm back on the trail climbing during the heat up toward Jenkins Mountain. My right foot has been very sore and swollen lately so I stop for an hour to rest, then limp onward again. Finally at Joshua Tree Spring a note says that it is dry so I must push on another 4.5 miles to Spanish Needle Creek which fortunately was flowing. I arrived just at dark and set up my bed roll on an open spot where I could gaze at the stars during the night.

| | |
| --- | --- |
| The trail as it comes into the spacious and beautiful Kennedy Meadows. | |

From my journal (May 29, Day-34)..."Not only was it a straight uphill first thing this morning I also had to stop and pull a tick off of my inner arm which left quite a scab. It was such a tiny thing that I had to partially mutilate myself to get it completely out. After about 10 miles we stop at a good creek at Canebreak Road where a couple of hours under the solid shade of a nice tree was so nice. I cooked a good meal then rinsed out some laundry and doctored some blisters then hiked over a burnt-over area to camp beside the first creek in Rockhouse Basin. Galen and Anna joined me here for the night and we had a relazing days end as we all sat on the grassy bank of the cool mountain stream soaking our feet.

| | |
| --- | --- |
| | Galen and Anna just before we arrived at the long anticipated Kennedy Meadows Store. |
Join me on the next page as I leave the desert and begin my hike into the high Sierra mountains of central California at Kennedy Meadows.