Pacific Crest Trail... photos and journal
Summer of 2001...Central California...
(Page 6 of 7 pages)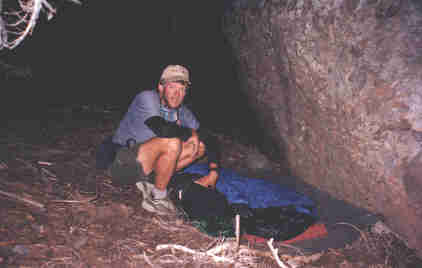 Another good campsite shielded from the wind by a huge overhanging boulder on a hillside.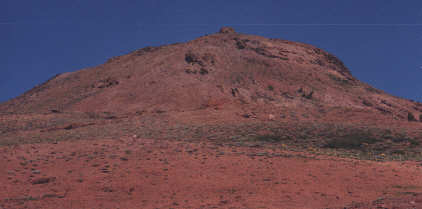 This small mountain located on the trail at milepost 1064.9 is called the "Nipple". I'll let you use your own imagination here!

From my journal (June 16,Day-52)..."This has been one long hard day. For once I was camped in the right place, on the eastern facing hillside and was pleasantly awaken at 5:30 am by the warm early morning glow of sunshine in the tall tree tops above me. It was so nice lying there in my cozy little spot partly under a huge lava rock. Thank goodness I didn't die during the night because nobody would have ever found my body! Anyhow, I was up and hiking in the full sun which was nice and at first I thought that my foot was better but I was quickly in a limp that lasted all day. It originated in the area of my leg just above the foot, the lower shin I think. It was also now swollen but not excessively. If that area had ever hit a root or something I'm sur that I'd immediately gone into spasms of relentless pain. Anyhow I managed to descend into a low area infested by menacing hordes of mosquittos and after several miles was glad to be climbing up high again toward "The Nipple" which was a mountain shaped just like well, I'll leave that to your own imagination! Darndest thing I ever saw! Looking back down on all the lakes and country I'd just traversed was a treat and so beautiful.
Where the trail crossed a dir road I walked by the rear side of a pick up truck and camper when I heard a resounding "Hey there", coming from the camper. Turning around I saw a well seasoned gentleman coming out to greet me. His name was Chris Stratton and he was camping by himself here in the mountains where he enjoyed painting landscapes as he showed me one of his finished pieces in a frame then pointed to his easel all set up about 20 yards away. He gave me a banana, an apple, and a can of potato chips. We enjoyed talking and exchanging stories for about 45 minutes and he took a lot of notes so that he could share with his wife. It was surely nice talking with Chris and he followed me for a short way down the trail as I left. It was great to meet such a fine man who was a painter when so many others in his situation just settle in as couch potatoes. But not Chris!
Soon I was crossing a high trail below a mountain known as Elephant's Back with several snow banks to cross. On the other side I run into a well used trail and follow it down to the very popular Carson Pass area along the highway. Just before I'd stopped at a creek to soak my foot and lower leg in the icy cold water which seemed to help the sharp pain. Crossing the highway I walk down the most luscious Truckee River valley, then climbed the ridge and made camp a few miles past a nice lake. "

| | |
| --- | --- |
| | While hiking one day near Blue Lake I was fortunate enough to meet artist Chris Stratton who was busy at the time with a beautiful landscape painting. We both enjoyed a good conversation entertaining each others adventures for more than an hour before I took back to the trail. |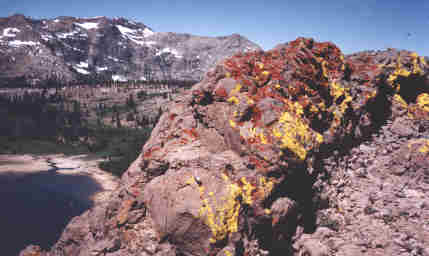 Look at the beautiful red and yellow colors of fungus on the rocks above Blue Lake.

Echo Lake Resort...

From my journal (June 17,Day-53)..."After 150 miles since Tuolomne Meadows and a resupply so I was hiking with anticipation of reaching Echo Lake Resort. Coming down off the mountain I had to negotiate a steep canyon, then some ski slopes and my lower left leg felt every step with such a pain that could end my hike. It was my plan to go into South Lake Tahoe to resupply and send out a few maildrops, enough to get me to Ashland, Oregon. Highway 50 was very busy this morning as I crossed the pavement then walked the final couple of miles to the resort, which was also bustling with people for a Sunday outing on the lake. As the townguide suggestede I inquired inside about any motel shuttles to town and the fellow said that hitching a ride was the only way. Being morning, people were still coming into the resort and I had no intention of hiking back to the highway, so after eating a can of kidney beans and pears topped off with a chocolate milk, I decided to buy enough groceries here to get me to Sierra City and get back on the trail. I had a lot of concern about my injured swollen leg but still decided to continue north so I was packed and hiking across the dam on lower Echo Lake in just an hours time! It was nice seeing all the people and families out enjoying the day.
The trail now entered the Desolation Wilderness Area characterized by the remnants of mostly exposed rock with the glaciers of 16,000 years ago taking away the precious top soil. It was still so beautiful with all the lakes left behind and all the small patches of trees clinging onto the bare rocks. After cooking a meal near Susie Lake I left a pair of socks which I'd set out to dry.
At the Gilmore Lake Junction I take the wrong trail and after a couple miles end up at a dead end on Half Moon Lake. Greatly frustrated and battling the mosquittos I see on my map that the trail crossed the ridge several hundred feet above so instead of returning to the junction I began climbing the side of a very steep grade mountainside until I finally found, then bent over to kiss the trail! Somehow my leg injury held up throughout this somewhat risky climb and I was acutely aware that it wouldn't take much to blow out an ankle... or worse on such rugged terrain. However, it sure was great being back on the official PCT although the short adventure of a cross country bush whacking was also in its own way satisfying. Finally over Dick's Pass I made it down into the trees and set up my sleeping roll down on such a soft carpet of some kind of tough weedy plants just as the darkness set in upon me. "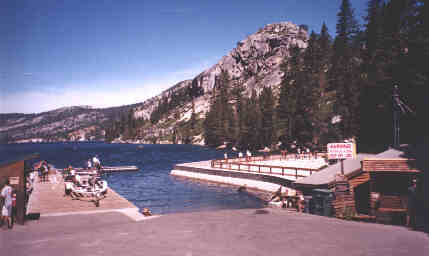 The waterfront and boat dock at Echo Lake Resort.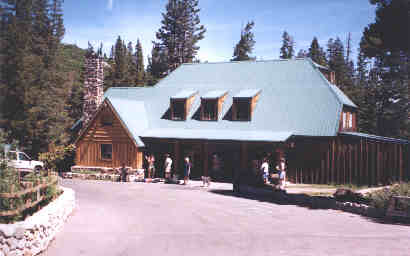 Echo Lake Resort and post offfice.
Note Lake Tahoe to the right and the smoke from one of the huge forest fires on the CA/NV border.

From my journal (June 18,Day-54)..."From Dick's Lake it's all downhill to a junction with one last lake for the day where the gradient of the trail makes a dramatic change... all the way to Barker Pass the trail becomes mostly a long flat and easy to hike passage, which is nice on the legs and for great mileage. On the other hand there is no scenic views of the landscape since it is mostly all in the shade of trees. Since the days are now warming up greatly as summer approaches, I broke up the monotney of the flat trail while alleviating the disapointment of missing South Tahoe Lake, by stopping for a half hour at a nice flowing creek to completely bathe and shampoo my hair. I also rinsed my pants and shirt as the grand finalee which felt so good next to my scorching hot body! Back on the trail I felt so refreshed with a spirit of hiking to match it!
About mid afternoon this long flat trail finally ended when I reached Barker Pass and about where the huge Lake Tahoe first came into view shortly past the pass. The wide expanse of sky blue water as seen through the distant rolling mountains was truely refreshing to the soul after hiking most of the day with no distant views. All afternoon I followed the crest while also viewing a huge forest fire just north of Lake Tahoe which had already consumed over 17,000 acres. Fortunately for me it was burning to the east toward Reno. Nonetheless I remained concerned since it was so close. I hiked onward atop the ridge thru Granite Chief Wilderness and wanted to stop for the day, but there was no water to be found so I had to hike until near dark dropping back deep down into the valley bottom where there was a nice stream. "

| | |
| --- | --- |
| I experienced a severe shin problem for a couple of weeks and was trying to reduce the swelling with some snow. | |

From my journal (June 19,Day-55)..."This morning was a series of ups and downs, but mainly ups! I was carrying more water than normally since the data book warned of a possible dry sectrion, but there ended up being plenty of creeklets still running along the way. Up on Tinker Knob I met a very jovial fellow and his girlfriend which were nice to talk with. All the way down to Donner Pass was really painful on my swollen leg which I had packed with snow at lunch. Across old Highway 40 then another 4 miles to cross Interstate 80 under two small tunnels. I then came to a junction leading to the interstate rest stop which I visited in hopes of a cola and snacks, but there were only newspapers and a restroom. Back on the trail I was so exhausted that I found a spot to nap for half an hour. Over Castle Pass I come to Peter Grubb Hut which was the first shelter I've seen on the PCT, but it was full with noisy people so I passed on by and camped about a half mile further. I was so tired that I once twisted my right ankle hearing a "pop" but I was lucky there wasn't any swelling as I kept a close eye on it until I fell asleep. "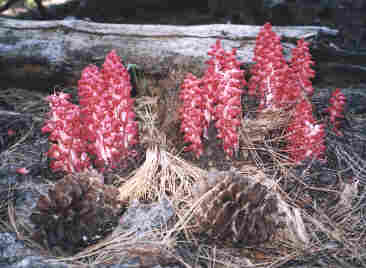 This natural arrangement of pine cones and brillant red plants speaks for itself.

Join me on the next page as I spend 30 hours resting in Sierra City then cross the Buttes to Belden.