Page Four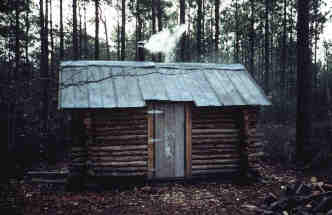 After about 5 weeks, from the first cut tree to the front (and only) door, the cabin is finished and ready to move into. This was my home for about four years and it served it's purpose well. I figured that in the end I'd spent well less than $50.00 on the entire project and that was very important because I was not heavy on cash back in 1982. To be honest I don't believe that I'd have changed a thing even if there had been a million dollars to blow.

| | |
| --- | --- |
| | Playing the dulcimer in front of the kerosene heater which the camp let me borrow until I got my wood heater operational. |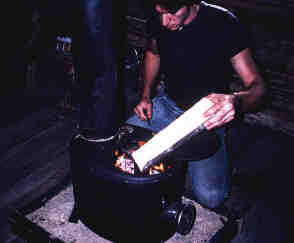 A tiny sheet metal wood heater was all I needed to keep warm.

| | |
| --- | --- |
| My desk. I did a lot of dreaming here. The Aladdin kerosene lamp was my main source of light since there was no electricity. | |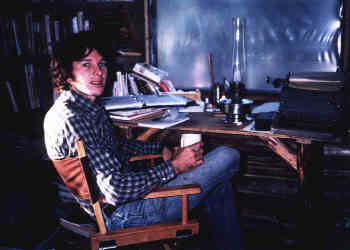 Another desk shot.

| | |
| --- | --- |
| | Behind the stove pipe notice a ladder which led up to the small loft above where I slept. This opened up a lot of my limited floor space for other things. |

| | |
| --- | --- |
| In this corner I built a kindling bin for starting fires in the wood heater. | |

The first bin held "lighter-pine", the second held kindling, and the third starter wood.

| | |
| --- | --- |
| | I built a small open cabinet in the kitchen corner for storing some food items. |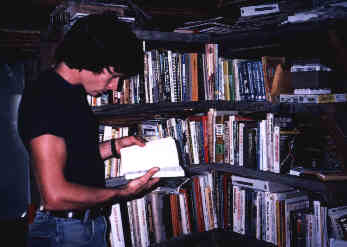 Just dreaming about my next adventure!

The End
Thanks for letting me share my coastal log cabin with you. Now you may click back to the Homepage and choose another adventure!