Summer of 2000
(Page 8 of 8 pages)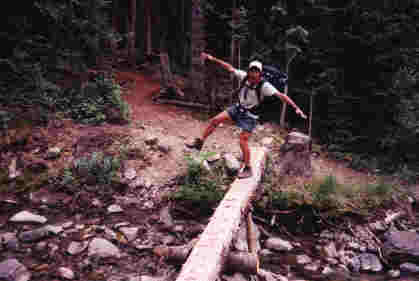 Way down into the Elk Creek valley where the trees provided protection and the air was much warmer!

Into the town of Silverton
July 25, 2000 (Hiked 8.5 miles)
Day 27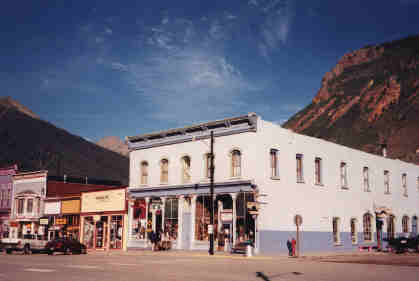 I caught a ride into the historic mining town of Silverton where I spent the day re-supplying and relaxing. Coming down from Molas Pass the town stuck out loud and clear in the wide open valley. Silverton is also the northern terminus of the small gauge steam powered train which goes to Durango daily.

From my journal (June 25th;Day-27)..."Slept well during the night and completed my hike out of the beautiful Elk Creek canyon within an hour to Elk Park, then crossed the small gauge railroad tracks, then climbed 1,300 feet up to Molas Pass where I got a ride into Silverton. Most of the day I thought that I'd stay here for two days but after a good afternoon's rest I knew that I'd be back on the trail tomorrow."

Molas Pass to Bolam Pass area
July 26, 2000 (Hiked 17 miles)
Day 28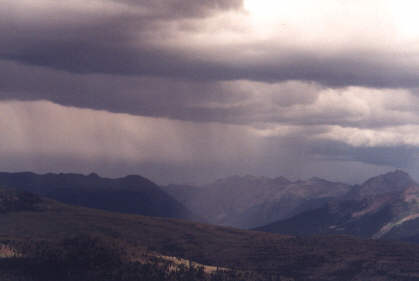 A couple of hours after I had begun hiking again from Molas Pass, this vicious thunderstorm did it's best to catch me but did I let that happen... well sort of!

From my journal (July 26th;Day-28)..."This morning I took one last shower in my room at the Prospector Motel, then walked to the post office to mail some film home. I then bought some more groceries and was thumbing on the highway by 9:30 a.m. A lady in a big GMC Yukon picked me up and let me off at the Molas Pass trailhead. It's sort of interesting how fresh everything is after a town visit... fresh food, fresh pack, fresh body, fresh clothing, and most of all a fresh spirit to be back on the trail! And besides, this is the very last leg of my hike with the next stop in Durango, so I'm pumped with a little more of that spirit to hike than usual!
"While hiking this morning a thunderstorm developed over Molas Pass that somehow I managed to stay just ahead, then finally over the Pass into a safe valley and back under the protection of the trees. When I stopped to cook a hot meal about 3:45 p.m. it blew into my valley. As my meal was cooking I decided to set up my tent and that is where I am now sipping very hot coffee after my meal and eating peanut butter cookies waiting to see what the storm is going to do.
"Made several more miles this evening traversing the mountains side to a spot just off the trail inside the trees. A vicious thunderstorm passed overhead just as I was setting up my tent. About 15 to 20 minutes of a very scary storm came and went and it was such a secure feeling to be so dry and warm as the rain pounded the tarp. A most beautiful rainbow has appeared just outside the trees."

Bolam Pass to Cape of Good Hope
July 27, 2000 (Hiked 25 miles)
Day 29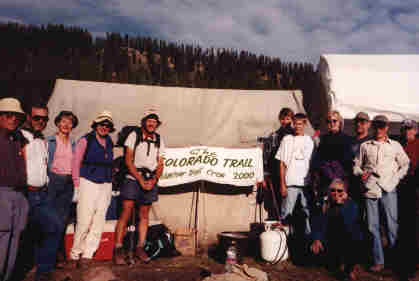 Early this morning at Celebration Lake I was fortunate enough to meet this volunteer trail crew of the Colorado Trail Foundation. We enjoyed a lot of good conversation and I sure enjoyed the fresh lemonade!

From my journal (July 27th;Day-29)..."When I passed Celebration Lake this morning I met a big volunteer Colorado Trail crew. They gave me some lemonade and I filled out a survey for them. It was so nice talking with them and someone snapped a picture of us all before departing. After coming over Black Hawk Pass I stopped at the first spring and cooked a good meal, then drank a half liter of water. Straight Creek shortly later was the last reliable water source for 20 miles so I drank up and took a cup of water with me. I also still had a fresh orange which I ate about mid afternoon which helped a lot and boy did I get thirsty.
"It's early evening and I'm presently taking a break and deciding if I'll hike more today. I'm in the middle of one of the dryest sections of the trail and thought that I'd have to go a total of 32 miles to Taylor Lake. According to the guidebook there might be a spring on the west side of "Orphan Butte" so I left the trail and walked around this mini mole hill of a mountain, jumping six buck deers and managing to skin my legs up good. Fortunately I found this small spring and filled up my big water bag. It is so nice to have water again and enough to get me through the night and morning.
"I hiked on for some late evening walking which I love and am camped on a small knoll over the trail and just at the base of the Cape of Good Hope. Good night!"

Over Kennebec Pass and on to Junction Creek
July 28, 2000 (Hiked about 30 miles)
Day 30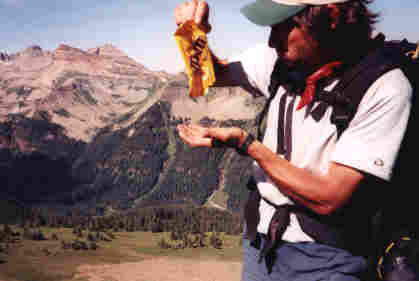 It was always an emergency when I began to run out of chocolate! If you have trouble hiking long mileage days then I'd suggest packing less chocolate!

From my journal (July 28th;Day-30)..."I'm presently perched on a cliff a few miles from Big Gulch taking a late afternoon break. It was all too obvious and especially after descending form Kennebec Pass that this was my last full day on the trail. Not much more has been on my mind. From the Pass Durango could be seen about 20 miles away in the distance, decievingly close, but still so far... yet now within reach.
"From the Pass I dropped back down into the trees for my final descent- no more tundra zones or high ridge running... I'm now back into the warm, lush valley. More so I'm traversing the mountainside of the valley going around from one side drainage to another and another and another... At Big Gulch I drank a half liter of water then packed one liter in my pack because the guide warned about the next 12 miles being dry. While I did pass a few wet side drainages during the first couuple of miles, that was it. On and on I hiked until I had a tired limp to my gait, but I kept on going because I really needed water and because I was on a roll and because I knew that my body could deal with the stress at this point in the game, unlike it could have done so 3 to 4 weeks ago.
"Finally I come down the 8 long switchbacks just at dark near Gudy's Rest and into the Junction Creek canyon. It was mostly dark as I filled up my water bottle and drank a half liter. Just over the bridge I follow a worn path to the left off the main trail and quickly find a bare spot where I set up my tent like clock work in the dark feeling so much pride, joy, and relief. In my bag I rested with so much satisfaction that I had made it to my goal and the Colorado Trail would now not only be on my list of accomplished hikes, but forever engraved in my mind as another real life experience which will certainly affect the rest of my life in some way. I drifted off to sleep as the water in Junction Creek splashed and pounded it's way down the canyon... and tomorrow morning I will follow it to Durango!"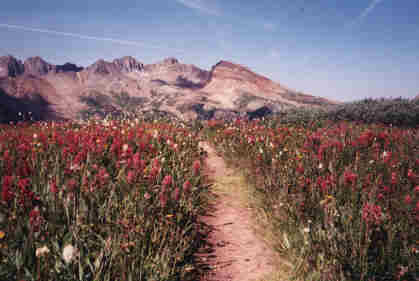 Getting close to Kennebec Pass, the wild flowers were bursting with amazing color across the landscape!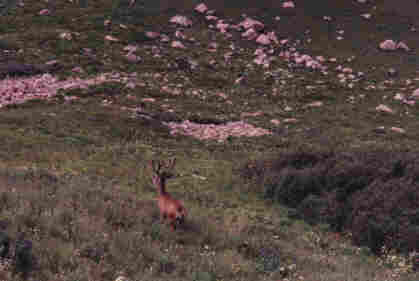 A friendly deer near the trail.

| | |
| --- | --- |
| | I'm gonna miss these trail marker signs. |

To the southern terminal then on to Durango!
July 29, 2000 (Hiked 25 miles)
Day 31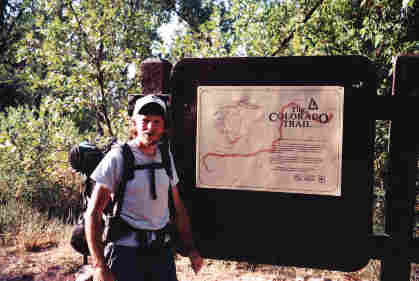 After 28 (hiking) days, I have finally made it to my goal... the southern terminus of the Colorado Trail marked by this sign near the road.

From my journal (July 29th;Day-31)..."At wake-up the sun was very slow moving into a steep Junction Creek canyon. I packed up one last time knowing that it would be the last, then began walking. The trail followed the creek for about two more miles to the end at the paved road. A young couple was at the terminus and shared my celebration then took a picture of me at the sign. It was another 3 miles into Durango so I just started walking. Within minutes the first van picked me up."

Thanks for letting me share my Colorado Trail experience with you.
The End