Summer of 2000
(Page 6 of 8 pages)

Day Twenty Four (Hiked 12.5 miles)
July 22, 2000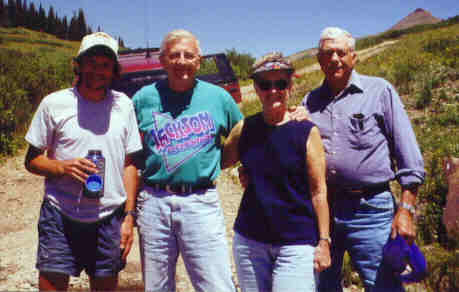 From left to right this is me, Carl Carson, and friends. Mary Carson made the picture so unfortunately she is behind the camera. Mary and Carl stopped and gave me a ride all the way back up to San Luis Pass from Creede. Not only can great folks be found hiking on the trail, but the Carson's were some of the fine people that I met off the trail when they stopped for my flying thumb. Not only did they offer me a ride, they gave me "real" ice water, some homemade peanut butter cookies, and some quality socialization. We ended up having a great conversation and my spirits were so high upon departing that I don't believe that I stopped until I had reached the Snow Mesa just at sunset!

From my journal(July 22nd;Day-24)..."This was simply an amazing day! This morning I woke up to a setting moon as the sun slowly made its way into 'Windy Gulch'. It was a really neat place to camp, so close to town and probably the only place to camp nearby. I was breaking camp when two deer passed by only feet away as they grazed the steep hillside. By 8:00 a.m. I'm in town but it's just not yet alive. The grocery store didn't open until nine and the post office opened at ten, so there I sat on some park bleachers writing in my journal to pass the time.
"By 10:30 a.m. I've bought my groceries and picked up my maildrop package at the post office and I begin thumbing the very few passing motorists on the gravel road out of town. I was so exhausted last night that I had then decided that I would just skip section 21 of the trail because there was such little traffic here and just hitch on ahead to Spring Creek Pass, but this morning I'd woken up rested and with a renewed sense of spirit, so strong that I was determined to walk the 8 miles back up to San Luis Pass if necessary. After an hour of thumbing I became impatient and just began walking.
"Within half an hour a SUV with two couples stopped and offered me a ride. One of the ladies, Mary Carson said, "That we saw the muscles in your legs working so hard,we just had to stop and help." Well, they somehow managed to squeeze me tightly into the back seat then offered me a tall bottle of ice water (ahhhhhhhhh!!!!) and off we went. We had a great time talking along the way and stopped to take some photos. Finally at the Pass Carl and Mary gave me some homemade cookies and plenty of ice water and I hiked off in such high spirits.
Tonight I'm camped in the magnificent open expanse of the Snow Mesa with such a soothing and smooth landform which is pleasing to the eyes. Not a good place to be during a thunderstorm but such a fine place to be right now! I drifted off to sleep thankful that I didn't skip this section of trail because the Snow Mesa has quickly become my favorite part of the trail.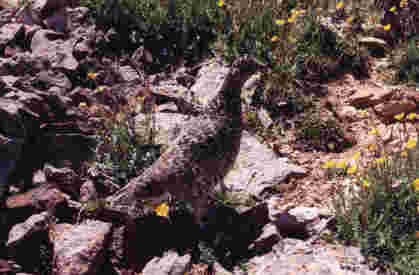 Some kind of pheasant that I passed somewhere along the way. It sure did blend in well with its surroundings.

| | |
| --- | --- |
| | My compass came in very handy through the San Juan mountains. I especially enjoyed the compass in the open terrain of the tundra where I could get bearings and pinpoint the distant direction of the trail. |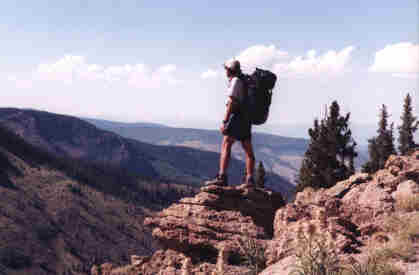 A very scenic overlook that caught my attention for a few minutes.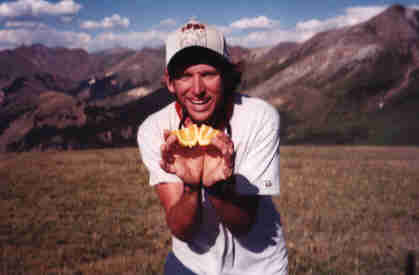 It was always a luxury to have some fresh fruit during that first day or two out of a trail town. I can't even begin to describe how wonderful a sweet, juicy orange is on a hot, sweaty day out on the trail in the middle of nowhere! After such an experience you will never look at an orange in quite the same way again!

Into the Snow Mesa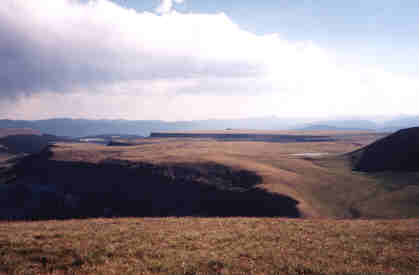 At 12,360 feet the Snow Mesa, seen here from an approaching distance can not be mistaken because its long, flat and treeless plateau sticks out like the unique place that it is. The next photo below was taken an hour of hiking later of the lake that can just barely be seen in the middle, right of the picture.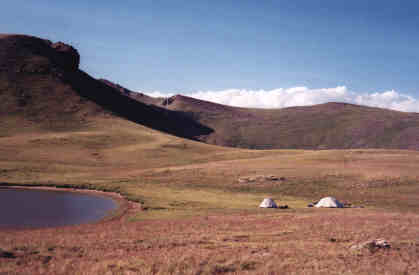 This was the only lake on the Mesa and there were some folks camped there, so I moved on my way.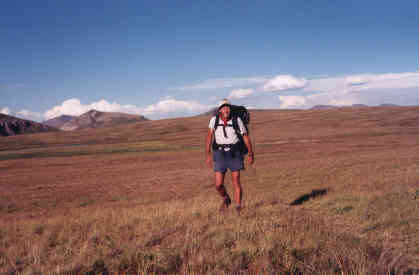 Beautiful and open terrain where a fellow knew what was going on for quite a ways around him!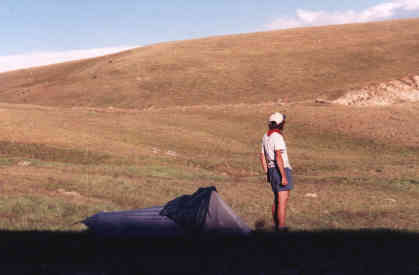 I made camp just as the quickly falling shaddow of the sun was racing to cover my tent.

Spring Creek Pass to Lost Trail Creek
Day Twenty Five (Hiked 21.3 miles)
July 23, 2000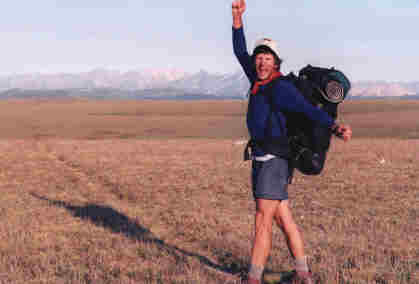 An early morning cheer as I get up and going on the Snow Mesa.

From my journal(July 23rd;Day-25)..."Just before going to sleep at about dark last night, I heard something that sounded like thunder. I sat up quickly poking my head out of the vestibule looking for a flash of lightning when all of a sudden a man leading two pack horses galloped over the horizon just like the Marlboro man! He says, "Hey there" and I reply with a hefty "Howdy". I'll never forget the late dusk sight of those horses fading away into the darkness.
"During the early morning hours the moon comes out over the mesa and I'm once again awaken, this time with the ground vibrating the thundering sound through my body! About 150 yards away I can see several elk on the ridge lit up by the bright moon light. So amazing to see and then they move on their way out of sight again. I think briefly about being trampled to death then drift back to sleep.
"At wake-up I'm once again moving across the Snow Mesa at a brisk pace when I see a herd of perhaps 100 elk ahead of me. For half an hour we play chase until they finally head away from the trail. They made sounds that sounded like sea gulls to me as the biggest bull elk would stand away from the herd constantly peeping at my progress, then he'd direct the herd in a new direction. The thundering sound of their hoolves on the Mesa was powerful and majestic!
I later cross Spring Creek Pass and head out across Jarosa Mesa. The guidebook was correct this time in warning that this section was quite dry! Once I had to melt snow for some drinking water and once I had to slowly get water from the down side of a melting snow pack... but it sure beat hauling the heavy stuff!"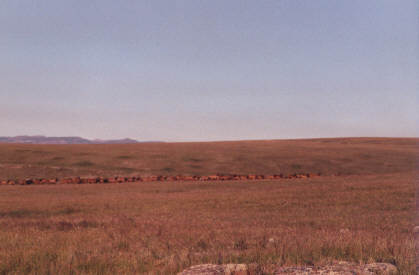 A herd of perhaps 100 elk play chase with me in the early morning on the Snow Mesa! An amazing sight!

| | |
| --- | --- |
| A close up of the beautiful flowers along the trail in Jarosa Mesa. | |

On the next page I ford the Rio Grande river then make my last ascent of the continental divide!