My brother Mike took this photo of me with all my gear in our mothers backyard in Alabama. Before flying to Denver I spent about a week here tying up loose ends, buying and testing some equipment, and finished packing my maildrops. I had seven maildrops which my mother mailed to me along the way.
This is the "Hostel of the Rocky Mountains" in downtown Denver and where I spent my first night for a whooping $14.00. Youth hostels provide a safe and inexpensive alternative to motels and can easily be found worldwide. If you'd like more information then just click on this link for the Denver Hostel
From DIA (Denver International Airport) it is easy to catch the city bus (RTD) for the 23 miles into Denver. You can purchase a ticket at the RTD counter on the upper level or just pay the bus driver $6.00 in exact change. There was only one transfer and they dropped me off right on the door steps of the hostel. That evening I also made a phone call to RTD and they gave me the exact route that I would need for Waterton Canyon and the Colorado Trail. If you'd like more information then just click on this link for the RTD Bus Website then click on the "skyRide" for updated information.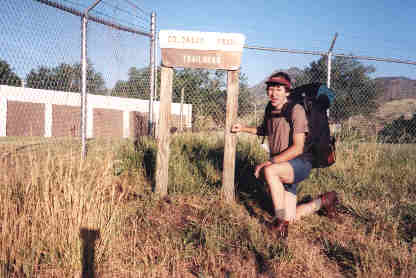 The sign says "Colorado Trail Trailhead" and wasn't a very dramatic starting point being situated just a few feet off the highway. But this was the entrance to Waterton Canyon marking mile 0 of a very long hike so I got a picture.
That morning I had caught the 5:00a.m. bus to the trailhead which only makes one trip each day to this location so I'd better not miss it and didn't.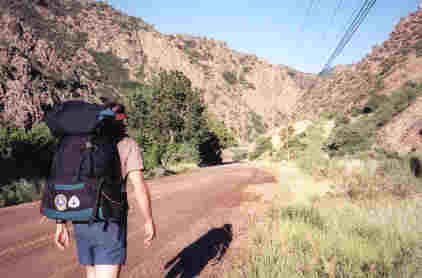 Here I am on the first day at the begining of Waterton canyon. These first 6.2 miles of the trail are shared with a wide gravel service road leading to the Strontia Springs Dam but is closed to traffic, however it is heavily utilized by Denver residents for bicycling. There wasn't much shade on this part of the walk so I was glad that I'd gotten an early morning start before the blaring heat of the day.

Here I stumbled upon a couple of deer also enjoying the early morning cool near the river and amid the tall lush cottonwood trees.

| | |
| --- | --- |
| | The guidebook mentioned a lot of complaints for this section of the trail through Waterton canyon but I found it most delightful. No, it didn't yet have the aesthetic claim to a hiking trail but there was beauty everywhere I turned. The Platte river is a magnet for wildlife and you don't have to worry about drinking water because this river is also the water source for Denver. No camping or dogs are allowed on this section but I certainly enjoyed my walk there! Notice how the gravel road hugs the earth between the tall canyon wall and the river. |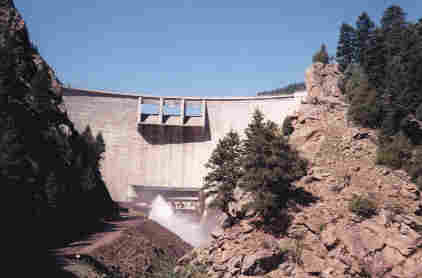 This is the Stroontia Springs Dam at the far end of Waterton canyon which was built during the early 1980's. Just beyond the dam the actual Colorado Trail finally assumes the look and feel of a normal hiking trail.

From my journal (June 29th;Day-1)..."Throughout the day I never crossed any other hikers which was certainly in stark contrast to my Appalachian Trail thru-hike in '94 where people flooded the trail. Bicycles are allowed on the C.T. and I did cross several of them, but none with panniers. Perhaps some sections of the trail are more popular but for now I have all of this beautiful rocky mountain wilderness to myself!
At about 11:30 a.m. I stoppedon a nice knoll with a fantastic view about a mile past the west Bear Creek fork. I had filled my two and a half liter bottle with water since the guidebook warned of no more reliable sources for 8 miles. My planned campsite was Bear Creek but I decided to push on to pick up my first maildrop at the small town of Buffalo Creek since the weekend was getting close.
I pulled out all my gear and rested for over two hours, including a power nap and cooking a hot meal. I then pushed on for another hour and found a perfect stealth campsite where I could see the distant snow pack on the mountains and it wouldn't be long before I'd be there!"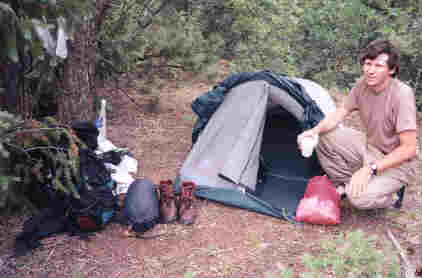 Here's my first campsite a few miles past Bear creek. For the first four or five days I had to deal with a constant headache as my body was not only adjusting to the walk, but also had to adjust to the high altitude. Approximately 90 percent of the Colorado Trail is above 10,000 feet so ibuprofen tablets became my friend during this time!

Down into the South Platte valley
Day Two
June 30, 2000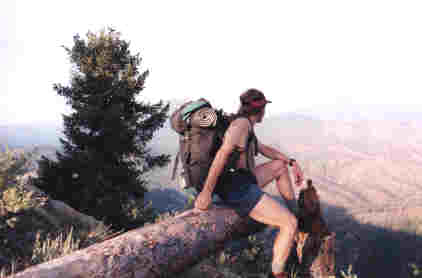 Not far from my first campsite this was the point just before the trail dropped far down to the South Platte River. I took a moment to contemplate the distant scene before entereing the cover of trees as I made my descent to the river bottom.

| | |
| --- | --- |
| Nearing the river I crossed a section of open trail where some neat cactus' made their home. | |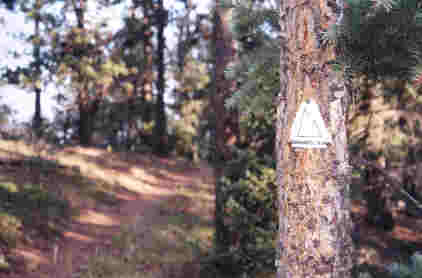 These little triangular trail marker's became quite a familiar sight as my hike progressed. The Colorado Trail is a very well maintained trail but it was always comforting to see one of these signs every once in a while.

Join me as I hike into the historic Lost Creek Wilderness, the first wilderness area on the Trail.