BICYCLING ALASKA-Page 6
(of 6 pages)

COLUMBIA GLACIER CONTINUED!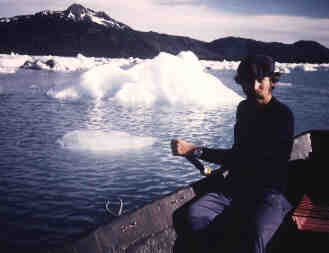 A good shot of Kurt amid the backdrop of thousands of icebergs which calfed (broke) off the glacier. At the time of this trip Columbia glacier was receding and Roy was sent here by the U.S. Geological Survey to determine just how fast that this was occuring. As a result there were a lot of icebergs now floating around in Prince William Sound clogging up the shipping lanes out of Valdez, southern terminal of the Alaska oil pipeline.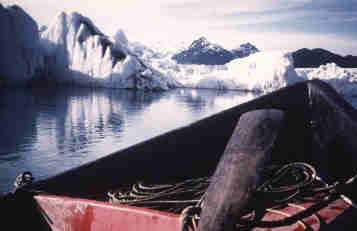 We liked to explore close to the base of the glacier yet being careful to stay clear of breaking ice which could easily swamp our tiny boat into the freezing water! Columbia glacier is the second largest salt water glacier in the world, so we had a lot of exploring to do!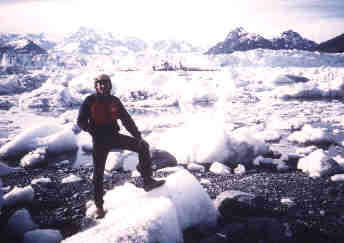 Me standing on some "glacier ice" on a small gravel island. The tremendous ice wall of the glacier can be seen just below the base of the mountains in the photo.

OUT OF VALDEZ AND BACK TO ANCHORAGE!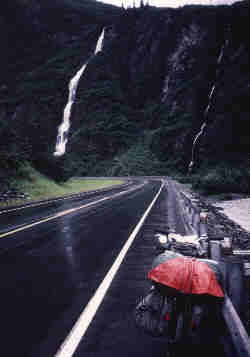 This is a magnificent waterfall just north of Valdez. After a week at Columbia glacier it was now time to get back on the road. Because Roy had a unique schedule of working for a week, then taking 10 days off they joined me for 3 days on their bicycles out of Valdez until we departed our separate ways at Glennallen.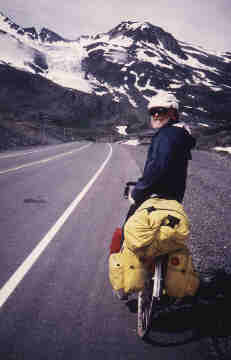 Here's Roy on his bike coming out of Valdez, a section of highway loaded with glaciers bleeding over the top of the coastal ice fields... truely a great place for a pose.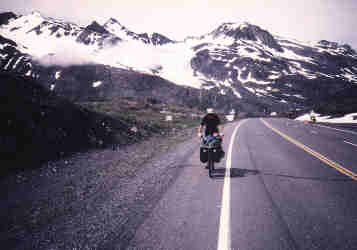 That's me at the same spot as the photo above except I'm coming back the other way!

I just had to leave the pavement on a few occasions to explore the glaciers close up. You just don't see things like this everyday back home in North Carolina!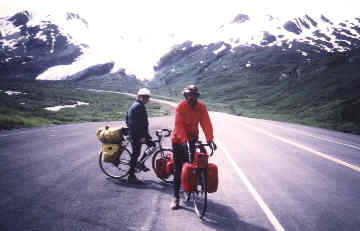 Roy and Kurt taking a break.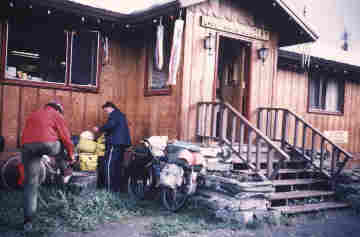 We stopped for lunch at this fine roadside restaurant and store.

Outside the store was this fine piece of an Alaskan mosquitto backbone!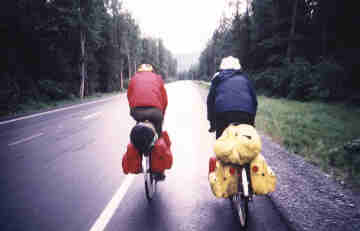 This is the last photo that I have of Roy and Kurt as they are finally pedaling on level ground! Soon afterwards I headed south on the Glenn Highway towards Anchorage and they headed off into another direction. It had been a great ten days or so that I will always remember.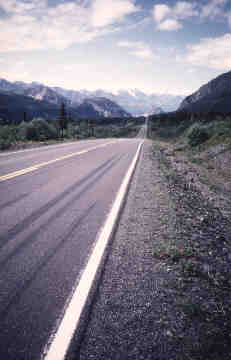 Headed south back down into the Matanuska valley...Chugach mountains on the left, Talkeetna mountains on the right, I pedal my last few days back to Anchorage where I catch a plane back to my truck in Prince Rupert. Wow, what another great summer! I said that I'd be back and I meant it.

From my journal... (July 24th;Day-41)..."The week with Roy and Kurt has been a godsend, a perfect break from the normal pedaling routine and the opportunity to be with other people... but upon departing I still couldn't help to feel a wind of freedom again. No more compromising and I could travel and stop exactly as I felt. I made camp near the road on the Glenn Highway just west of Glennallen."

HOPE THAT YOU ENJOYED THE TRIP!