BICYCLING ALASKA-Page 2

INTO INTERIOR ALASKA!
After six days and about 400 miles out of Haines I finally roll up to the Canadian/Alaskan international boundary which was cause for celebration.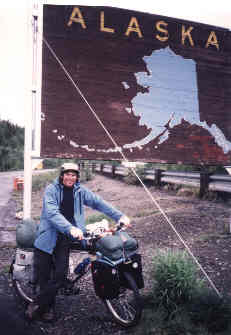 At the border I met a fine couple traveling the summer from Oregon who sent me this photo the following Christmas. A true tourist spot, but what the heck!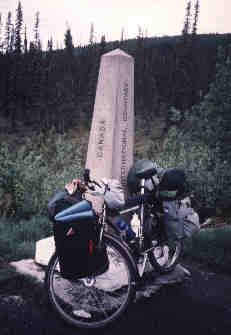 Here's my bike on the actual boundary which is about all that is here except a customs office building, so most folks just rush on through making their way to the big city, either Anchorage or Fairbanks hundreds of miles away still.

The scene as I approached the U.S. Customs inspection.The officer randomly searched through several pouches in my paniers, ran a drivers license check, asked me a bunch of questions, then let me back into my own country.

From my journal...(June 19th;Day-7)..."As I woke up this morning my body was feeling the full thrust of six previous days spent in the saddle, pedaling, pedaling, and pedaling. I'm cold and my body is pine-pitch sticky and to top it off I'm out of clean clothes...all two sets! I think that it's about time to slow down some, take a break and enjoy the country more instead of bursting out 100-mile days
"My butt is so sore and stressed out from all the continious hours in the saddle. I tried a million or so positions, none of which eased the pain, but somehow I kept on pushing until I reached the small town of Tok."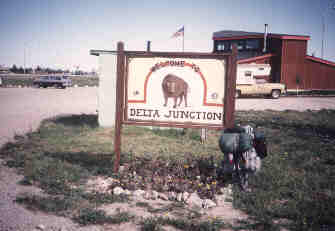 Although Fairbanks is still about a hundred miles away, Delta Junction marks the official end (or begining) of the Alaska Highway.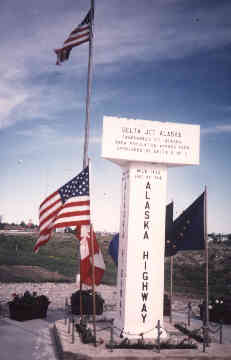 And the official Alaska Highway marker at Delta Junction. It's about 1,422 miles to the other end in Dawson Creek, British Columbia.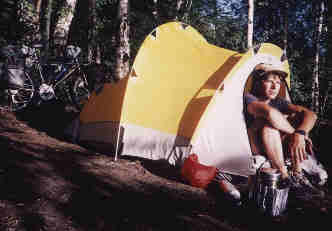 Just me sitting in the flap way of my tent brewing up some late evening tea. At this point I knew that my body needed a good rest but I just kept pushing hard thinking about a nice layover in Fairbanks, only a few more days away!

WELCOME TO THE REAL NORTH POLE, ALASKA!

I wasn't a true believer until I came to North Pole, just south of Fairbanks. The log cabin Chamber of Commerce was staffed with elf-dressed people who befriended me with cookies and warm drinks. I've been a believer ever since!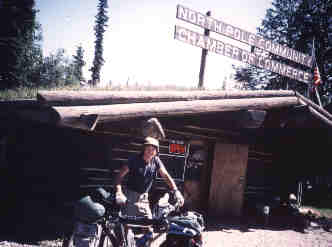 Outside THE North Pole Chamber of Commerce. I was told that they recieve thousands of Santa letters each year by the US Postal Service, so those letters really do end up at the North Pole after all!

FOUR PAINFUL DAYS IN FAIRBANKS!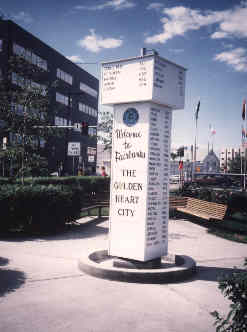 This is about the only picture that I have from my four day layover there. Most of my time was spent inside my tent at a campground in town, because I'd come down with a terrible sickness akin to the flu. Although it was probably food poisoning, it forced me to stop although rest was hard to come by with so much aching.!

From my journal...(June 29th;Day-17)..."All night the wind blew extremely hard and sleep was very shallow due mainly to an upset stomach lingering from Fairbanks and wondering about my present situation. Once up at 2:00 a.m. I almost packed and made a run for Denali, just a few more miles up the highway, but finally decided to ride it out. If the wind storm hadn't past by morning then I would have to move on as my water supply would be gone. These things raced through my mind all night as the thin aluminum tent poles flexed violently.
"By 8:00 a.m. nothing had changed so I had to make a run for it... or even get a ride. My first attempt to pedal failed. The gusts came in so strongly that I found it impossible even to walk my bike! At a leaning shove I couldn't even push the damn thing! Frustration ran deep!
"So now I turned the bike around back towards Fairbanks thinking that I could return to a small lake near Healy that I had passed yesterday and wait out the storm madness there. After a few miles up the road a ferocious knot ties up my chest telling me to, "By gosh, go for it...Don't stop anywhere less than Denali"! So my bike turns around again to make up lost miles. As the wind battle continued there comes a twist in the devilish canyon down to the Nenena river bridge... all downhill and I can actually ride my bike pedaling the lowest granny gear going downhill!!!
"At a wayside near the bridge I see a bike laid down on its side and Marty, a biker that I'd met in Fairbanks sitting in the grass. I couldn't believe that it was Marty who had biked here from Wisconsin as we laughed and told tales for 40 minutes mostly relating our battles with the wind. We provided one another with the necessary boost in spirits and finally make it to Denali where I knew that I was due for a good long layover!"

DENALI NATIONAL PARK!
After my bout with sickness in Fairbanks I made it to Denali (the great one) home of the highest mountain in North America. I would find myself content to spend ten great days exploring this great place!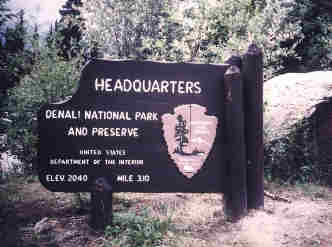 At the entrance boundary.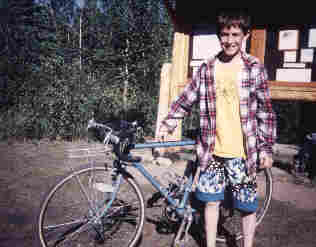 I met this 12 year old boy from Anchorage in the campground who was bicycling to Fairbanks with his dad. He was quite talkative and evidently excited about their great summer adventure, and I enjoyed listening to his stories!
Explore Denali with me on Page 3!...