| | |
| --- | --- |
| | CABIN PHOTOS-PAGE 4! |

BUILDING FURNITURE, CHICKENS, & THE GARDEN!
| | |
| --- | --- |
| Creating new kinds of furniture became one of my most contented pass times once the cabin was finished. Here's a willow chair that I came up with. As a matter of fact I built and sold a ton of these chairs and another design that I created out of pine poles. | |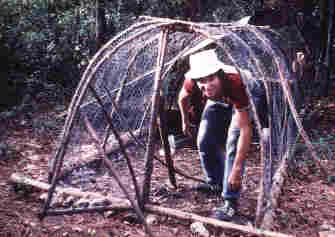 Once that most of my furniture was built I had time for other things, like Chickens! A neighbor down the mountain wanted to get rid of his backyard egg machine, so he gave me five fine laying hens and a rooster. Before I went to pick them up I had to build this nifty chicken coop by bending over small saplings and nailing down some chicken wire that my friend also gave me. This whole chicken hotel cost me about 25 cents!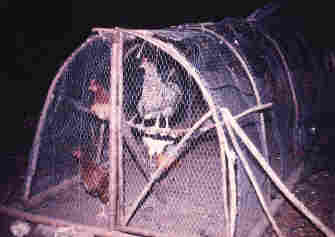 And here they are! At sunrise each day I'd open the door and they'd peck around my cabin all day, then as the day got dark they would just automatically go back into their cage to roost safely for the night. Every morning I'd gather about 3 or 4 eggs for breakfast.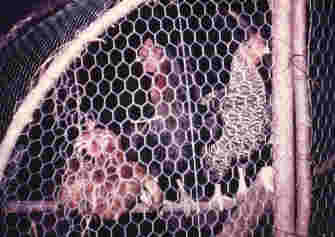 From the left it's Brownie #1, Blackie, and Checkerboard! And what fine chickens they were!

| | |
| --- | --- |
| | This is what happened when I'd leave the door of my cabin open for too long... those chickens would try to come right inside with me! |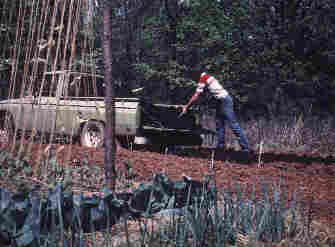 During that first summer I managed to hand plough a 500 square foot garden and I used the French biodynamic intensive method of growing my fresh vegetables. Fortunately, I was in the heart of big cattle country and it was no problem finding plenty of cow manure to enrich the soil.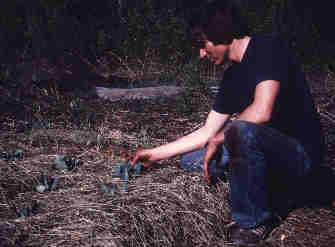 These are a few small cabbage plants that I'd just set out.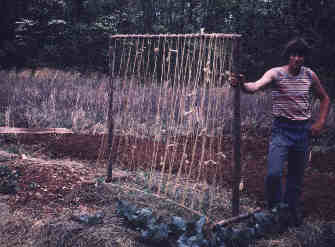 I also put up a trellis for my sugar snap peas. Notice how those cabbage plants are growing!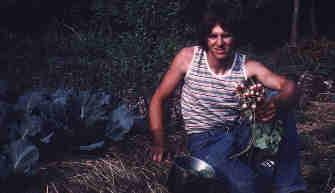 Those cabbage plants just kept growing and growing plus a fine batch of raddishes are ready.

| | |
| --- | --- |
| Just look at those cabbage plants now! I highly reccomend cow manure and deep cultivation... two keys to a healthy garden! | |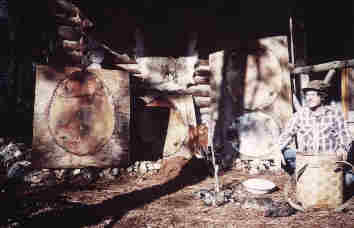 During the winter months I ran a full time trapline and would bring home quite a lot of fur. Here's a few beaver (streched round on boards), and several unskinned muskrats beside me. Be sure to see my trapping pictures off the homepage because this is a whole story in itself.

| | |
| --- | --- |
| | In conclusion, may I invite you to visit my outhouse with personality! During hunting season I'd always tote my shotgun and hunt for squirrel while relieving myself! Now that is living!!! |

Sure hope that you enjoyed my personal log cabin experience as much as I enjoyed presenting and sharing it with you!
THE END