Continued with Page-9 (of 9 pages)

| | |
| --- | --- |
| | This is me in front of the cook tent at the Silver Spoon camp, far up into the high country and three full days by horseback from the ranch. |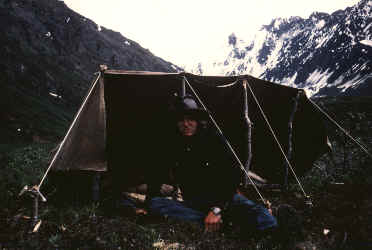 While at the Silver Spoon I built myself a lean-to about a hundred yards outside of campsite where I could get some rest if everybody but me stayed up and partied.

| | |
| --- | --- |
| Mark guiding a pack horse into camp after several days out of the ranch. | |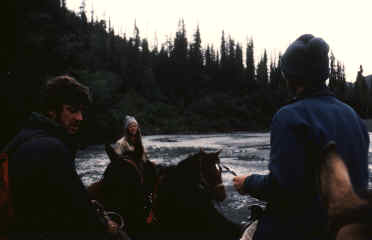 Crossing the river.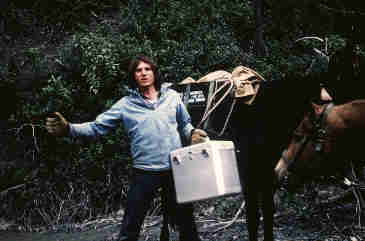 During the summer of 1980 I came back to Alaska to help guide a team of geologists with the U.S. Geological Survey back into the mountains. The equipment that I'm holding in the photo is a gravity meter which cost $25,000.00 and measures the density of the rock below the surface. Somehow they knew how to know what kind of rock was beneath my feet with this thing. I told them that for only $25.00 I could narrow their choices down to three: Igneous, sedimentary, or metamorphic!

| | |
| --- | --- |
| | Here's Laura, one of the geologists entertaining us around the evening fire with her fiddle! |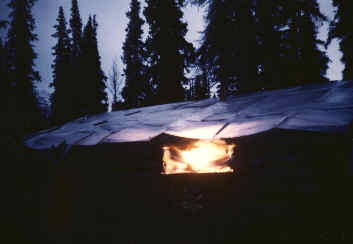 All good things must come to an end and this is the lit window of the base camp log cabin on my last night there. Austin would always let me stay there alone at the end of the hunting season until the first snow began to fly. I miss the cabin and would like to return again some day!

When Mike finally came in to fly me out I snapped this picture from the plane of the frozen stream near the cabin as it etched out such a mystical contrast upon the landscape! I miss this place so much.

| | |
| --- | --- |
| And finally here we are landing on the air strip at the ranch. Another season gone by, another year, and a lifetime of unforgettable memories. | |

Thanks for letting me share a bit of my Alaskan experience with you!
The End