Continued with Page-7 (of 9 pages)

Grizzly Country!
| | |
| --- | --- |
| | On one of my hikes to the glacier for ice I began seeing grizzly bear tracks in the fine silt beside the river. Well, like any reasonable person I began taking pictures of them, then suddenly as I walked closer to the ice cave those tracks turned wet on the rocks! Judging from the clearness of those wet tracks I figured that the bear had to be close by. I then drew my gun and immediately headed for higher ground. Fortunately there was no show down but that's one time that I had to catch my heart and put it back into my chest it was beating so fast! |

| | |
| --- | --- |
| Here's a front and rear paw shot. Geez, all I wanted was some ice! | |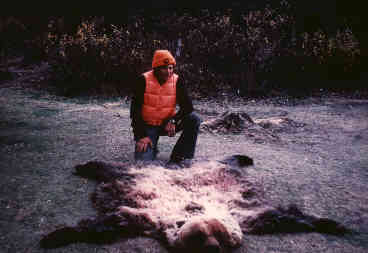 One of our German hunters took this grizzly, but don't I look good in the picture?!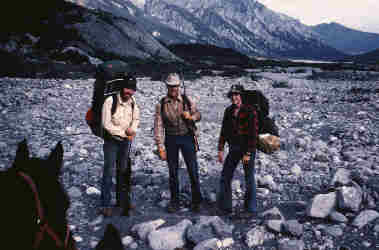 From left to right is Mike (guide and bush pilot), Ken (a hunter from California), and me. On one of our daily hunting hikes notice that all the high paying hunter had to carry was his gun! Working for an Alaskan outfitter is one of the hardest jobs that I've ever loved! During the main hunting season in August it was rare to get more than 4 hours sleep each day. At about 4:00a.m. I was up to fetch and feed the horses, then saddled them. Next I had to get breakfast cooked for all who were in that particular camp and pack lunches for the day's hunt. After the hunt I had to cook supper and skin any game that had been taken. Wash the dishes, feed the horses and all the time continue to entertain our guests. I'd be luckey to bed by midnight at the earliest!

| | |
| --- | --- |
| | Here's a good shot at the base of the glacier. We are actually walking on solid ice which is mixed with gravel. The ice we are standing on must be thousands of years old. Simply amazing! |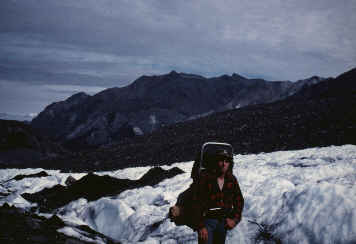 Moving more into the high country here's me standing on top of the glacier.

| | |
| --- | --- |
| Here's a view straight down into a crevase. If you fell into one of these bottomless cracks in the ice you'd never be found. When walking on glaciers the rule is simply not to make mistakes. | |

| | |
| --- | --- |
| | Here's Mike scanning the mountainous terrain for dall sheep. |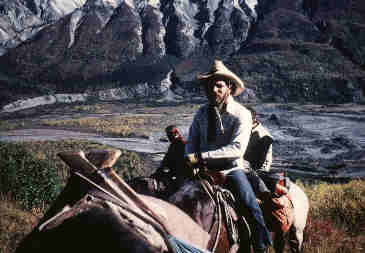 Here's a great perspective shot of Randy as we were leaving Camp Glacier for the Silver Spoon camp high above the tree line.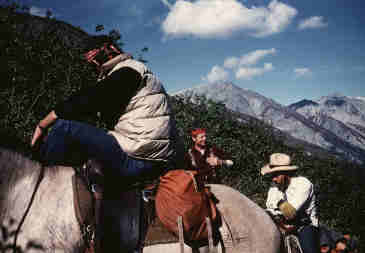 That is Wayne with the red bandana on his head and the forest and recreation manager for an Alabama paper corporation that helped me get this job. He provided us with a lot of hunters through his company and had come up to check things out.

Join me for more hunting in the high country by clicking on to page 8!