Continued with Page-4 (of 9 pages)

Living the good life, alone and deep in the Chugach mountains!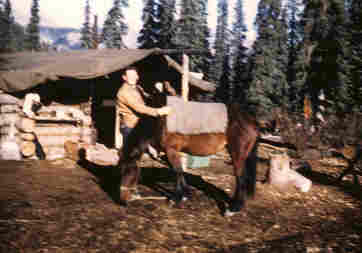 Here's a picture not taken by me of the base camp cabin back in the 1950's. Amazing that it's still standing strong today, but the family has taken good care of it over the years. As late as the mid 1960's you could build a cabin just about anywhere that you wanted in Alaska, but the era of homesteading has ended. Those cabins already standing were okay so they have taken care of this one every year.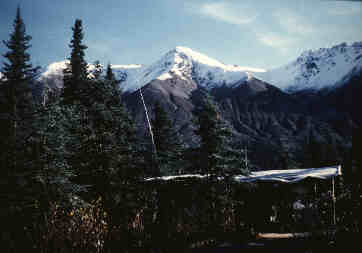 About 20 yards away is another cabin which was built by an old trapper named "Eek" in the 1920's. According to the story Eek was a true loaner and didn't function well in society so he lived and trapped here until he was discovered dead one spring inside the cabin. I wish that I could have met him! Today this cabin is used as the kitchen and the bigger cabin is used for bunking.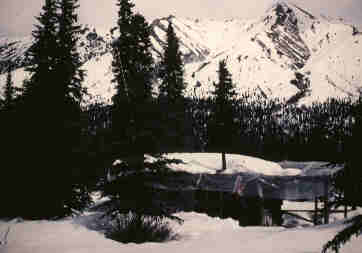 Here's the kitchen cabin after a nice snowfall. Note the radio antenna in both photos which was my only line of communication with the ranch.

| | |
| --- | --- |
| | Now this picture should give you an excellent perspective on just where I was living. Look for the two tiny white dots in the lower left side of the photo, which is base camp... the two cabins mentioned above! I took this shot from far up on the mountainside while on a day hike. |

| | |
| --- | --- |
| Now back down to ground level I always had plenty of work to do, most of which was building up a good supply of firewood for the season. During the summer it could get comfortably warm during a sunny day but nights were always cold and a pot belly fire was the norm. I always kept my 44 magnum handgun on my hip even while at the cabin because this area had a VERY healthy grizzly bear population! | |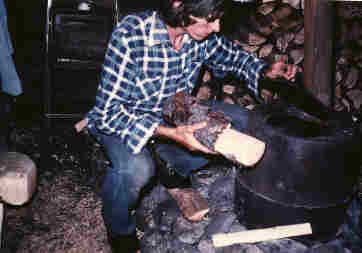 Just keeping the fire stoked for another great evening in the wilderness! Notice the fresh chainsaw sawdust which I would sprinkle on the earthly cabin floor. I just called it my carpet!

| | |
| --- | --- |
| | For your viewing pleasure here's a shot looking out the cabin door with the kitchen cabin in the distance. |

| | |
| --- | --- |
| And here's looking out that same door after an early spring snow! | |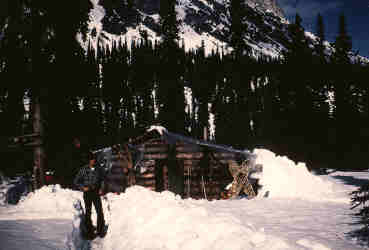 There's me in the front lawn after a strong winters snowfall. I kept busy for weeks making repairs on the roof, hitching rails, and a million odd jobs.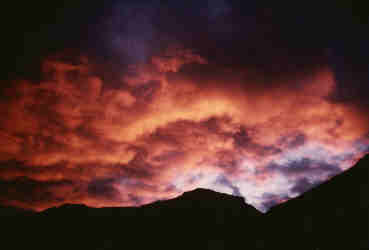 An Alaskan sunset just outside the cabin door! If you've never seen an Alaskan sunset then I can't explain.

See more about how I spent my time in base camp...just click on to page 5!