Continued with Page-3 (of 9 pages)

Just a little more ranch life!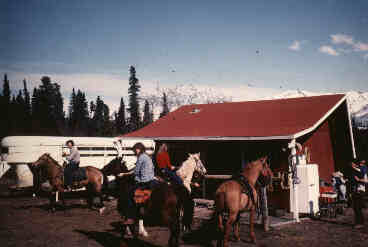 While working on the ranch Sundays were reserved for rest and relaxation until the first clients arrived so we did a lot of things like horseback riding on the nearby trails.

| | |
| --- | --- |
| | "Swinger" was another hand, 19 years old and from southern California. |

A lazy Sunday ride up into the Talkeetna mountains.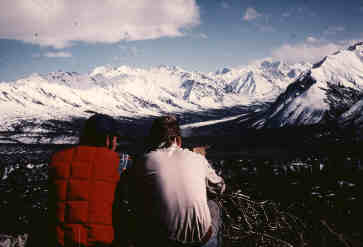 Dave and Swinger get a bearing on the surrounding terrain. Swinger is pointing directly into the valley that we'll be working from in another month or two.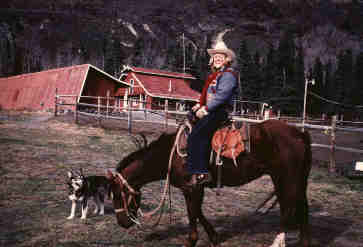 Another family friend and guest.

Even the dogs are lazy on Sundays!

Now back into the mountains to "base camp"
Everyone knew that I greatly preffered to be working way back in the mountains and away from the constant bustle of ranch life, so Mike (one of the family pilots) always got me back into the bush as soon as he could. Those months prior to the hunting season that I spent living alone far back in the wilderness were as close to paradise that I'll ever get to on this earth!!!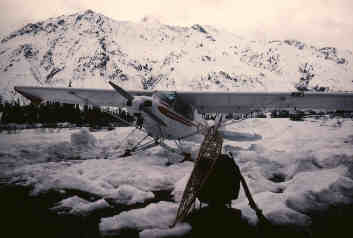 Here I've gathered all of my gear and a 7mm rifle for bear protection, just awaiting Mike to fly me back to base camp. Until all of the snow was melted Mike had a set of skis on the plane.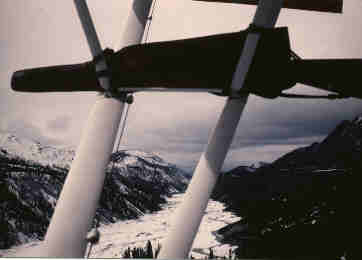 An aerial view from the plane. In about ten minutes Mike had me 20 miles into the valley, a trip that took almost a full day by pack horse. Whether the plane was equipped with skis or wheels, Mike could land it quite well on the gravel bar of the river.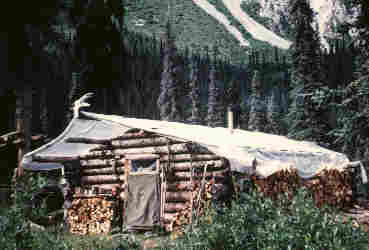 Here is the place that I would call home for months on end. Austin had built the cabin back in the 1940's as part of his guiding operation and it still stands today. We referred to it as "base camp" and Mike would drop off groceries for me once a week.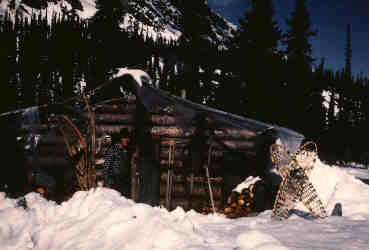 Here's a shot of the cabin when I arrived in early spring.

See more about living in a secluded log cabin deep into the Alaskan wilderness...by clicking on to page 4!